How To Get The Perfect Pixie Braid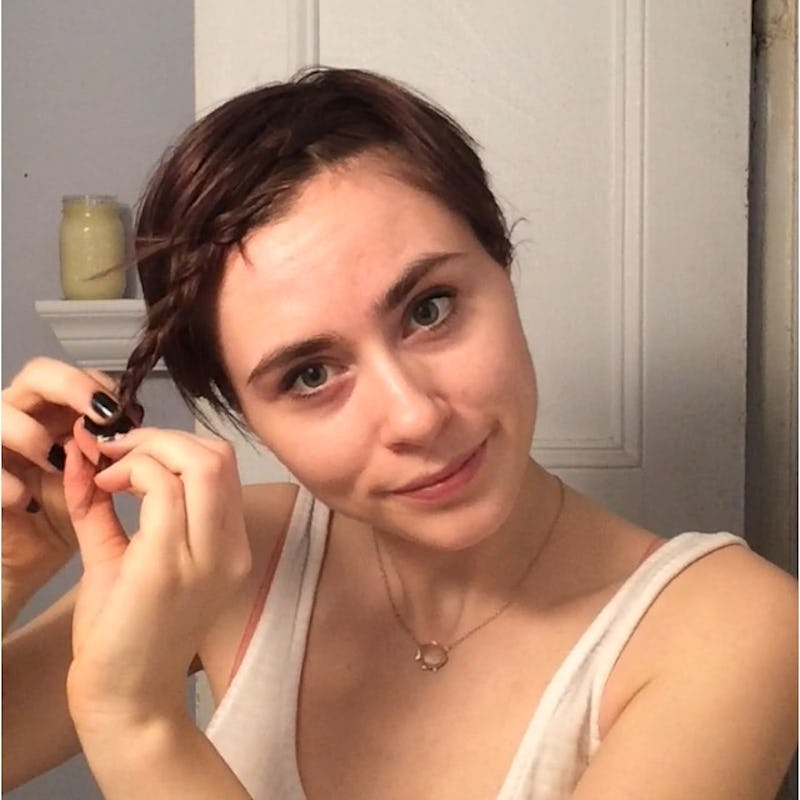 As a girl that has had hair that reached halfway down her back before, adjusting to pixie cut life has been, well, a bit of a challenge. Long hair made it easy to change up my look constantly, but luckily, I learned how to get the perfect pixie braid to mix up my short hair look. Pixies really do have a lot of versatility — they just require an extra dose of creativity.
If you've been on the fence about cutting your hair off, I'm here to tell you not to be afraid! You should totally get a pixie for the first time. Even though I have days where I'm like, "Oh mah gah, I am Justin Bieber reincarnate," those emotions usually fade as soon as I shake in a little styling product.
You'll need a slightly longer pixie for the braid tutorial below, but if yours is mega short, definitely check out all these ways to style a pixie instead. To rock the braid, you should also have two to three bobby pins, a good mirror, and a little hairspray on hand. You should also know that the braid stays better with a bit of grease in your hair, so either wait until a day after you've washed your hair to try this, or mix in a decent amount of product when braiding.
Here's what you do!
1. Start With Greasy Hair
Yup. The more, the better.
2. Grab A Section To Braid In The Front
Aim for one that' two to three inches thick.
3. Start Braiding
Whether you prefer starting "under" or "over," it's going to look good. I promise! Try to keep the braid along your hairline so it stays in front and frames your face.
4. Braid It To The End
Gradually add bits of hair until you end up with a little length at the end.
5. Tuck The Braid Behind Your Ear
Once it's tucked, secure with a bobby pin or two.
6. Make It Messy
I personally prefer my braids to look a little "boho chic," so I use the remaining bobby pin to loosen the braid and pull a few strands out.
7. Rock Your Braid!
You can secure your braid with hair spray if desired, or just leave it au natural like I do.
This braid literally takes three minutes once you get the hang of it, and is the perfect way to keep your pixie feeling fresh.
Want more style tips? Check out the video below, and be sure to subscribe to Bustle's YouTube page for more hacks and tricks!
Images: Author's Own