How To Style Your Pixie Cut For Prom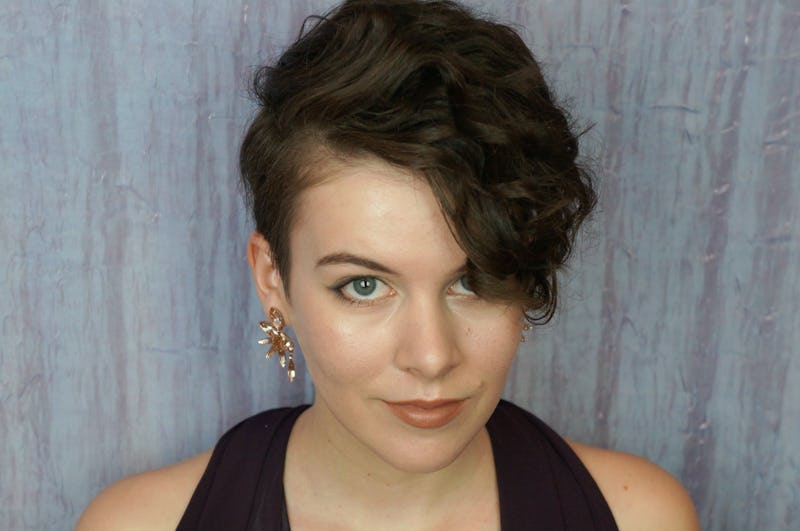 Prom is quickly approaching, and with it, all the decisions that need to be made. You need a dress, a date, a specific makeup look and manicure, shoes... The list goes on. Finding a short hairstyle for prom makes an overwhelming situation even more exhausting — every "Prom Hairspiration :) :)" board on Pinterest seems to be filled with flowing waves and long, intricate braids. If you have a short crop, and I'm not talking about a lob here, it might be tempting to throw up your hands and leave it be. That's the beauty of having a pixie cut for prom, right? You don't really have to style it because it's a style in and of itself.
However, prom is a special occasion and there's nothing wrong with wanting to present the most glamorous version of yourself possible on this night. You might be surprised by how many different formal styles are available for girls with short hair. I'm going to show you four different styles that you can do for prom with a pixie cut, none of which require a lot of time or product.
Each style takes only about 10 to 15 minutes to do (and you can easily do them yourself, no matter what your skill level). You only need one or two products for each style and they're probably already sitting in your bathroom. No worries if they're not, though, because I've got some awesome product recommendations as well. OK, short-haired girls: Let's do this!
1. Easy Glamour
This style is probably the fastest and simplest, and it's suitable for pixie cuts of any length because it's easy to customize to your hair. For my longer pixie, I decided I wanted some volume so I brushed my hair back and up, away from my face, and teased it a little with my fingers.
It will look messy at this stage but that's OK. Next add the glitziest, most glamorous headband you own. Ulta is a great place to look for this, and you can also find unique headbands on Etsy. Push the front part of your hair forward a little with the headband for lift and volume.
Finally you need to add some kind of hair spray or setting spray to give your style enough hold so that you don't have to worry about hair coming out of your headband all night. I like to use Lea Journo Voila Finishing Spray ($28, sephora.com) because it smells great and makes my hair shiny but not sticky or crunchy.
A few generous spritzes of this spray and maybe a few bobby pins if necessary, and you're done.
If your pixie cut is extremely close-cropped, you don't need to worry about styling your hair first at all. Simply place the fancy headband on and you're good to go! You could even skip the jewelry if your headband is glitzy enough.
2. Face-Framing Curls
This hairstyle uses heat, but if you prefer to not use heat products on your hair you can do it differently with a little planning. See a tutorial for overnight rag curls here.
I use a mini flat iron whenever I want to straighten or curl my pixie; mine is from Cortex. I simply wrapped different-sized pieces of hair around the iron for a few moments for bouncy curls, focusing on the sections of my pixie that were long enough.
Of course, be sure to use a heat protectant spray before using heat tools of any kind. When I use Ken Paves You Are Beautiful Detangling Thermal Protectant Spray ($17, walmart.com) I never notice any kind of heat damage afterwards. Plus the bottle is the prettiest.
Here's the final look, which made me think of Meg from Hercules minus the ponytail:
Be sure to run your fingers gently through the curls to loosen them up a little, and finish it off with a good hairspray for hold.
3. The Faux Updo
This hairstyle is great for pixie cuts that are longer in the front. It gives the illusion of having enough hair to do a fancy updo. All you need is something to give your hair hold, like the Lea Journo Finishing Spray, and a ton of bobby pins (any kind will do).
All I did for this was tease the front and sides of my hair up and back and then pin the ends into place with bobby pins. You do not want to pin your hair flat to your scalp. If your hair doesn't have a lot of natural wave, you may want to do a few curls with a mini flat iron to help with volume. It also helps if your hair is a little dirty, because it will have better hold and texture.
This is what your hair will look like on top: messy and covered in bobby pins. That's OK, since the messiness looks intentional and nobody will be looking closely enough to notice the bobby pins (although you may want to hide them better if you have blonde hair).
If you want, you could also place a giant, glitzy hair clip on top to hide the bobby pin craziness.
Here's another view of this style:
Remember, the goal with this style is to get the front part as high and tousled-looking as possible, so just play around with it. I just used my fingers to tease pieces here and there. Finish it off with hairspray.
4. Sleek Waves
This hairstyle reminded me a little bit of Anika on Empire, since she favors sleek styles for her pixie cut. Start with wet hair and make a deep side part (lining up the part with the arch of your eyebrow helps). Use a liberal amount of a gel or cream with strong hold in your wet hair; I love Lush Dirty Hair Cream ($16, lushusa.com). It smells fresh and sexy, and it gives the strongest hold without any stickiness.
Once your hair is damp or mostly dry, use a mini flat iron to make very gentle waves on the one side of your head. You're not wrapping hair around the iron and twisting it around to make tight curls; it's more like making a half-twist of the wrist in one direction for a few moments, then going down that piece of hair a bit and doing the same thing.
I finished this style by tucking my hair behind my ear and pinning it in place with a bobby pin. Hairspray isn't really necessary since the Dirty Hair Cream has such a great hold.
Now have a great time at prom, and don't forget to bring extra bobby pins and a mini can of hair spray in your clutch.
Images: Kelly Dougher