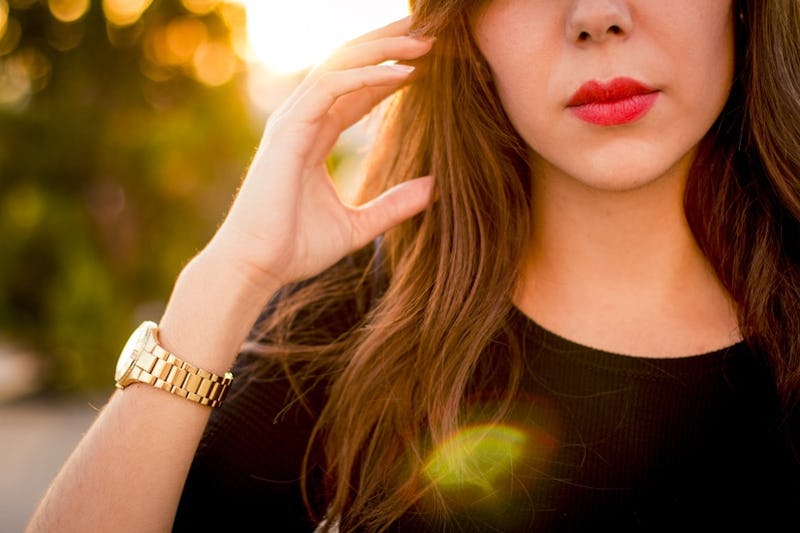 Thin hair and volume aren't necessarily synonymous, but just because your hair might not be super thick, doesn't mean you have to reconcile yourself to limp locks. Your hair might not have a lot of bounce naturally, but there are plenty of styling tricks for thin hair that'll help volumize it and make it way thicker than it actually is. Trust me, you're going to be wondering where these tips have been all your life.
If you think that having fine hair is the kiss of death, it's definitely not. There are plenty of reasons to embrace having thin hair, and while volume might not be one of them, it's certainly something you can fake easily enough. I spoke with éprouvage global stylist, Sam Lavella, to get some professional advice on how girls with fine hair can fake it til they make it in the volume department, and it all comes down to the tools you use, the right products, and your technique in styling. So no, you absolutely don't have to pay tons of money for extensions/hair pieces to have flowing, bouncy hair.
If you have thin hair, follow these seven tips to help give yourself some added volume.
1. Choose The Right Brush
Diane Small Round Brush, $5.50, Amazon
"When styling fine, thin hair, the proper brush selection is everything," Lavella says. Smaller round brushes work better than large ones for thin hair, and you want to make sure you aren't using any brush with more than a 2 inch diameter.
2. Dry In Small Sections
You can't just dry and go, you have to work with your hair in small sections to maximize volume. "Starting at the bottom of the head, take small sections and lift the hair around the appropriate size round brush and over, directing the hair above the part and applying heat. Continue styling the entire head section by section to produce maximum volume and fullness," Lavella says.
Try Babyliss Pro Ionic Hair Dryer, $54.95, Amazon
3. Pay Special Attention To The Top
Dry your hair until it's about 20 percent wet on top, and then get to work with your brush. "Take a vented brush and push it into the hair right at the hairline on top of your head. Once the brush is in the hair, slightly pull back on the brush creating a soft bend in the hair. Apply heat from the blow dryer until the hair is completely dry. Next, remove and gently brush through the hair. This will produce nice volume at the scalp, making the hair appear thicker with more volume," Lavella says.
Try Black Boar Bristle Hair Brush, $14.95, Amazon
4. Backcomb
Vidal Sassoon Tail Combs, $1.50, Amazon
To disguise thin hair, learn how to backcomb to pump up the hair from the bottom. "Start by clipping the top layer of the hair up. Lift a section of hair up and place a fine tooth comb into the hair you are holding and gently push the comb back into the hair towards the scalp and remove the comb. Continue working around the bottom of the hair creating nice volume and density. Drop the top layers down and smooth the layers over the backcombed sections," says Lavella.
5. Use A Volumizing Shampoo/Conditioner
éprouvage Gentle Volume Shampoo, $15, Ulta
Help boost your hair's volume before you even get to the styling part.
6. Try A Thickening Spray
éprouvage Thickening & Plumping Spray, $18, Ulta
After towel drying, spray a thickening spray throughout the hair, "focusing on the roots to hold volume from styling," Lavella tells Bustle.
7. Use A Scalp Serum
éprouvage Restorative Scalp Serum, $30, Ulta
For thicker hair over time, Lavella recommends using a restorative scalp treatment.
Want more style tips? Check out the video below, and be sure to subscribe to Bustle's YouTube page for more hacks and tricks!
Images: ULTA; Amazon