Micellar Water Is A Must-Have For All Skin Types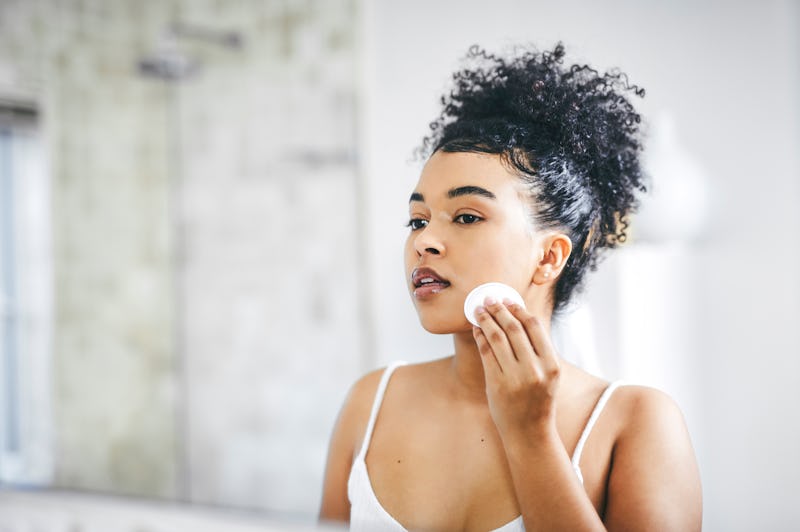 Charday Penn/E+/Getty Images
Micellar water is the latest in trendy skincare products that many are claiming is a total miracle. But as anyone dealing with spots knows, lots of products promise to help with acne, but not all of them do. So, before you get your hopes up for a, there's one big question to ask: does micellar water help control acne? According to Dr. Jessica Weiser of New York Dermatology Group, micellar water is not specific to acne and doesn't control it, per se. However, that doesn't mean it can't help!
In an email to Bustle, she explains that the way micellar water works can be beneficial to all skin types, including acne-prone skin. "The micelles are helpful for clarifying the skin and also to ensure the skin is hydrated," Weiser says. "The hydration helps to decrease oil gland activity which can be helpful for acne."
The micelles Weiser mentioned are little balls of oil that attract debris, excessive skin oil, and makeup — all in one swoop of a cotton pad. Because the micelles are gentle on skin, Weiser explains that micellar water is much more cleansing and hydrating when compared to foamy soap or alcohol-based cleansers, which can strip the skin and create residual dryness. Finally, micellar water doesn't even need to be washed away — which, to a lazy beauty fan with acne prone-skin like me, sounds pretty fantastic.
Although micellar water is not specifically antibacterial or anti-inflammatory, meaning it doesn't target those pesky acne bacteria that clog up our pores and make zits and pimples form, Weiser says that someone with acne-prone skin can use it "as an evening cleanser to remove makeup, impurities and debris from the skin surface." This helps to avoid clogged pores and lingering makeup, both of which can cause acne.
So, even though micellar water isn't specific to controlling acne, it seems like there are only benefits to using it. You won't have to search high and low or spend a fortune to see if it will work for you. Plenty of big beauty names and brands already have micellar products available, so check out below for a few different options.
1. Garnier Micellar Cleansing Water
Garnier Skin Active Micellar Cleansing Water, $7, Amazon
Garnier's Skin Active line includes this micellar water, which the brand recommends using on a cotton pad to remove make up and cleans the skin.
2. Boots Botanics
Boots No7 Botanics All Bright Micellar Cleansing Solution, $7.49, Amazon
This Boots version combines micellar water with hibiscus for a cleansing solution that promises to remove dirt and makeup, all while brightening skin. Definitely put this on your "To Buy" list the next time you're at Target.
3. Simple
Simple Cleansing Micellar Water, $5, Amazon
With a name like Simple, you better believe this brand is going to give you flawless basics. Their simple (see what I did there?) micellar cleansing water can be used as a makeup remover, as a toner, or even as a cleanser.
4. MILK Makeup
MILK MAKEUP Micellar Water Makeup Remover Wipes, $14, milkmakeup.com
This contains individually packaged makeup remover wipes. Store one in your wallet, your pocket, every bag you own... it's always good to have one of these on hand.
5. BIODERMA
BIODERMA Sensibio H2O Solution Micellaire Cleanser, $23. Amazon
This Bioderma product is considered a global cult-favorite. While it used to only be available to those who were abroad, it's now widely available online and ships to the U.S. If you've always heard of this product but never tried it, now might be the time to pick up a bottle.
6. La Roche-Posay
Physiological Micellar Solution, Sensitive Skin, $20.99, drugstore.com
The beauty set loves La Roche-Posay, especially when it comes to acne-treating products. It makes sense the brand also has a micellar water designed specifically for sensitive skin.
7. L'Oreal Paris
L'Oréal Paris Skin Perfection Micellar Cleansing Water 3 In 1, $7.39, beautyspin.com
This 3-in-1 solution by L'Oreal Paris is a perfect multi-tasking product to accompany you while traveling. No need for water here!
9. Lancome
Lancome Eau Fraiche Douceur Micellar Cleansing Water, $51, nordstrom.com
It may have a fancy name, but rest assured, this is a micellar cleansing water.
So, with dermatologist approval and tons of different options to choose from, micellar water is definitely worth trying if you haven't already.
Want more skincare tips? Check out the video below, and be sure to subscribe to Bustle's YouTube page for more hacks and tricks!
Images: Charday Penn/E+/Getty Images, Courtesy Brands