11 Habits of People Who Have Beaten Acne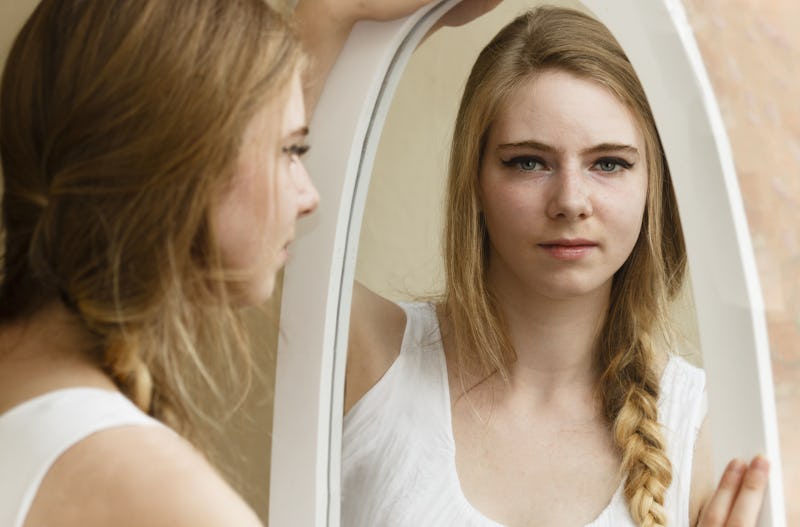 Acne sometimes feels like an untamable beast. Whether you're dealing with stress-induced breakouts, hormonal acne, or the occasional morning blemish, it always seems to crop up just when it's most unwanted. First date? It's there. Annual review at work? There it is. Minding your own business and doing absolutely nothing (or so you think) to cause the wayward zit? You better believe it's going to happen anyway.
Breakouts happen to pretty much everyone, but that's a small comfort when it's your day to sport the skin issue. But luckily, there are actually a ton of lifestyle changes you can make now — before said breakouts occur — to keep the blemishes at bay. Keeping acne away for longer periods of time simply comes down to taking care of yourself, either by getting your body the specific nutrients it needs or giving yourself a much-needed break from time to time.
By applying these small habits in your own life, you can finally fight off blemishes, whiteheads, and zits with a tried-and-true lifestyle routine that keeps your body in tip-top acne-fighting form. Plus, watch out for the mistakes you might already be making every day that make bad skin issues worse. Ahead, the 11 steps you can take to keep acne from taking over your life.
Consider Fish Oil Supplements
Pure Fish Oil Supplements , $13, Amazon
These supplements are USA-made and contain vitamin E and vegetable glycerin, in addition to the omega-3 fish oil — a natural balancer when it comes to hormonal acne. This brand is the best-rated option on Amazon because of its consistent, unchanging formula and value. Studies show fish oil can actually reduce inflammatory acne by up to 42 percent, especially if yours is hormonal-based. (Chin breakouts can be a telltale sign yours is hormonal acne.)
Wash Face With Lukewarm Water and Gentle Cleanser
This dermatologist-recommended gentle cleanser was created to work on all skin types — meaning you can safely use its soap-free formula on any body part suffering from breakouts. Its mild formula will clean without stripping skin of its essential oils and moisturize without clogging problem pores. Use lukewarm water, as both freezing cold and scalding water are bad ideas for sensitive skin.
Always Choose Sulfate-Free Shampoo and Conditioner
Triple Thread Shampoo and Conditioner, $12, Amazon
Not only is this shampoo and conditioner free of the sulfates, parabens, and sodium chloride that cause breakouts along the hairline, but this set's specially formulated with keratin to restore heat-damaged hair. The larger bottles mean the formula lasts longer, and users rave about this brand's ability to create a gentle, deep-cleansing lather without needing harsh cleansing agents to do so.
Upgrade Your Laundry Detergent
Puracy Natural Laundry Detergent , $16, Amazon
This natural detergent's plant-based enzyme-powered formula is strong enough to clean your clothes without stripping skin of its natural luster. Believe it or not, the harsh chemicals present in generic detergents and many fabric softeners can be a serious irritant to your face. Perfumes, dyes, and allergens wreak havoc on skin, but you can get your clothes just as clean with Puracy's unscented natural formula, which is completely free of phosphates, sulfates, chlorine, and animal byproducts.
Sleep On Your Back
JuveRest Sleep Wrinkle Pillow , $160, Amazon
If you frequently sleep on your stomach, pressing your face against your less-than-pristine sheets could be the cause of unwanted acne. This pillow, designed by a board-certified plastic surgeon, keeps your face from touching your sheets and helps your face stave off wrinkles. One user reported seeing a difference in her skin after just two nights' sleep. Properly positioning yourself before falling asleep could be the difference between waking up with irritated skin or a clean complexion.
Change Your Pillowcase Frequently
Nufabrx Pillowcase for Blemish-Prone Skin , $37, Amazon
As touching a few pillows might be unavoidable in bed, use these aromatherapeutic pillowcases that have a 220-bamboo thread count (and were specially created with problem skin in mind). Their skin-calming ingredients like lavender, tea tree oil, and lemon balm are a definite upgrade from whatever you're resting your face against now, and you should be changing your pillowcase every few nights to keep your complexion in top form.
Choose Chemical Exfoliation — Not Manual
Proactiv+ Skin Smoothing Exfoliator , $40, Amazon
Scrubbing the bejesus out of your face by hand does more harm than good. While the entire Proactiv+ package can be pricey, this chemical exfoliator has no equal. You've heard of it because it works: Its glycolic acid toner increases cell turnover, while a 2.5 percent benzoyl peroxide formula kills acne-causing bacteria. Refrain from injuring your skin further with abrasive pads and sponges, as it's tough for you to tell when you've removed the correct amount of dead skin cells.
Get Your Hair Its Own Towel
Softees Towels With Duraguard , $26, Amazon
Using the same towel for your body, hair, and face may seem like no big deal, but it's actually huge no-no. By treating your hair, face, and body to these microfiber super-absorbent towels, each part of your body keeps its own oils to itself. These towels are six times more durable than cotton, three times more absorbent, and come ten to a pack. You'll never need to mix body oils again!
Select a Specialized Moisturizer
Sephora Acne-Fighting Mattifying Moisturizer, $37, Amazon
Don't sacrifice your favorite makeup routine for your skin when this moisturizer exists. Formulated by the makeup masters, this top-rated lotion absorbs quickly and keeps combination skin looking matte — not cakey — even when 3 p.m. rolls around. Its 2 percent salicylic acid formula fights blemishes, so you can keep doing you.
Relax Before Bedtime
Inerzen Foot Massager, $100, Amazon
In case that all-night study sesh or picture-day pimple wasn't enough of a clue: stress causes breakouts. If you know your acne is related to environmental stressors, use this foot massager to get anxiety levels at an all-time low. You're already kicking back for some Netflix anyway, why not use this machine's air pressure feature, warming function, and Shiatsu massage setting to really treat yourself.
Carry A Reminder to Drink Water
Contigo Autospout Water Bottle, $10, Amazon
Carry this water bottle to remind yourself to drink up! Its one-touch button release means one-handed drinking (great for working out), while a spout shield keeps dirt and other gunk from getting inside. Your body is about 70 percent water, so when you don't drink enough of it, your skin really feels the burn. Toxins and other pollutants get trapped in your body without proper moisture to flush them out. Everyone's body is different, but you'll generally want to consume eight cups a day. (TMI Alert: You'll know you're properly hydrated when your pee is clear.)
Bustle may receive a portion of sales from products purchased from this article, which was created independently from Bustle's editorial and sales departments.
Images: Fotolia (1), Amazon (11)