Stassi Pays the 'WWHL' Clubhouse a Visit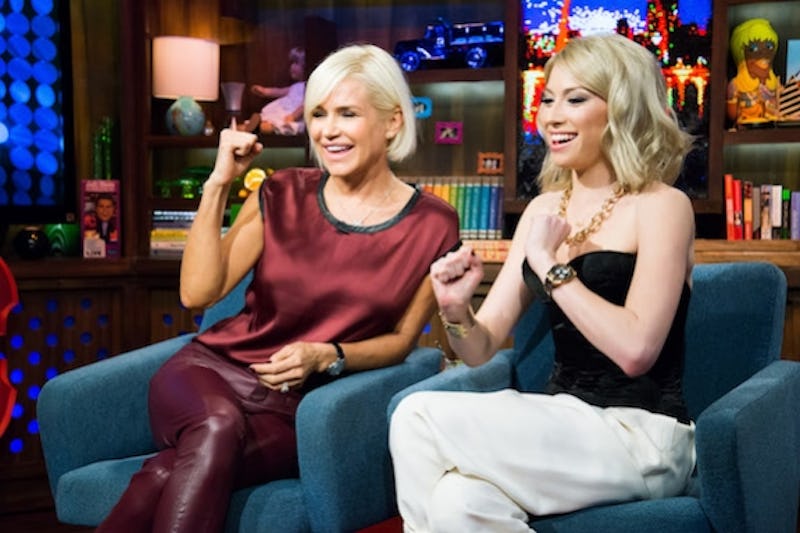 After Monday night's very rewatchable episode of Vanderpump Rules (I've already sat through it three times, and it's only Tuesday) grabbed us by our shirt collars and demanded our full attention, VR star Stassi Schroeder (and Real Housewives of Beverly Hills' Yolanda Foster) stopped by the Watch What Happens Live Clubhouse. YES! What a dynamite pair. Both ladies showed off their fresh haircuts (bobs for days!), played "Did They Bang?!," and chatted with Andy Cohen. Though I was interested in what Foster had to say, I couldn't help but hang on every word that came out of Schroeder's mouth. Why? Because I had yet to move on from what had transpired during the latest VR ep. My head was spinning. I needed answers. I needed gossip. I needed hints as to what I could expect from next week's finale.
Schroeder couldn't spill too much tea, but she did say that the season 2 finale will answer questions about what happened between Jax Taylor and Kristen Doute. OOOH! This is a big promise, Schroeder. I have a lot of questions. Don't let me down.
When asked if she will ever forgive Doute for lying about sleeping with Taylor, Schroeder said, "No, absolutely not." Par for the course. No one holds a grudge like Schroeder. But hey, no shame in her game.
Did she and Taylor ever get back together? Uh, heck no. "I haven't been with Jax for a very long time," she said. YAAAS, Schroeder! Kick that jerkwad to the curb and never look back.
As many Vanderpump Rules fans are aware, Schroeder has a new boyfriend. Patrick Meagher, a New York City-based radio DJ, and Schroeder have been a thing for a few months. Schroeder might've relocated to NYC (and many suspect she won't be back for VR season 3) to be closer to him. NOOOOO! What will VR be without Princess Stassi?!
Okay. I suppose I can't be too upset because, as one viewer noted, Schroeder does seem noticeably happier lately. Cohen asked if the cause of her joy is her new BF, and she said that she thinks he is. Aw. She smiled and said she's "very happy." YOU DESERVE ALL OF THE LOVE AND JOY, SCHROEDER. She added that she doesn't let her boyfriend watch Vanderpump Rules (fair), but she did say that he's curious as to why some viewers think she's so awful. It's because they don't understand Schroeder's brilliance, duh.
Though she is not on good terms with Doute, she said she regrets slapping her across the face. "I was embarrassed," she said. "I was so emotional, I had all of this built-up rage that they had organized all of these texts and all of these things to make me feel like I was a bad friend. And then to have it all be true… I couldn't even—I don't condone violence and I have nothing to say for myself."
One caller said, "You are perfect and don't ever be embarrassed for anything you say." That same caller asked if Schroeder would ever revenge-bang Tom Sandoval.
"Absolutely not," Schroeder laughed. "Normally, when I'm fighting, I feel like, 'An eye for an eye.' (Laughs) No. No. No."
Come on. Schroeder is ruthless, but she wouldn't stoop that low. Yuck.
Images: Bravo; wwhlgifs/tumblr