What Happened When I Ditched My Makeup Brushes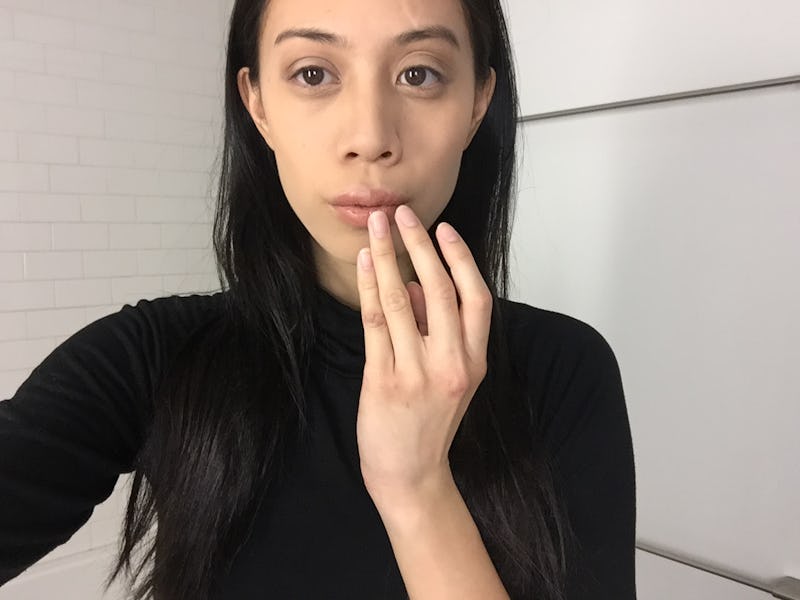 If there's anything I'm mildly obsessed with when it comes to makeup, it would definitely be my brushes. From contouring brushes to kabuki brushes, I'm pretty much always making sure they're clean and in tip top shape because they're that important to me. But then one day I questioned my obsession and thought, "What would happen if I completely ditched my makeup brushes and used my fingers to apply makeup instead?" I was on the fence with this one, because I couldn't imagine my fingers giving me that precise and crisp look that I can always achieve with my brushes, but in the name of beauty journalism, I decided to give it a shot.
Don't get me wrong — I've definitely used my fingers in emergencies before. You know, like touching up your concealer during a date or smoothing out lip gloss or lipstick. But doing a complete, full-on contour look with your fingertips? I was skeptical it was even possible.
However, after doing some research, I've found that using your fingers could actually be a better way to do your favorite makeup looks. Even makeup artist Clarissa Luna told Refinery 29, "Applying makeup without brushes is really a lost art, there was a time — believe it or not — that nobody had makeup brushes, so they had to apply their makeup completely by hand."
There are still some creatives who, to this day, hold on to this "lost art," and prefer it over makeup brushes. P&G's Global Creative Design Director told Elle, "There's nothing better than mixing your foundation with moisturizer in the palm of your hand and then applying it to your face with your fingers like you would a cream, then tapping a bit more moisturizer on the cheekbones. It makes the skin look really alive."
After learning that using your hands and fingers might be a better way to apply makeup, I decided to put my trust in these fellow beauty aficionados and try it out for myself.
Here's what happened when I ditched my brushes for my fingers:
Foundation & Concealer
OK, so this was probably the easiest thing to put on sans brushes. Concealer and foundation are both easily manageable and truly work well when you use your fingertips. I enjoyed being able to apply the products all around my face with a natural touch. It made me feel more in control of my skin and what to cover.
All I did was apply foundation starting from my nose and moved outward. For concealer, I applied it under my eyes and moved outward as well.
Contouring & Blush
I found contouring to be a little more difficult, especially around my nose area. I didn't get to really slim out my bridge or the center part around my nostrils because my pinky finger wasn't small enough to get into the crevices of my eyes and nose.
However, surprisingly, contouring my cheekbones worked really well. I used my thumb to make one hard stroke on my cheek and just blended it in with my fingertips. It was easy and efficient.
Eyeshadow
Eyeshadow was particularly fun when using my fingertips. I first put on a white shadow base and then put a brown eyeshadow over it. It was cool because I could create a smokey eye without using multiple brushes. The texture of my fingertips really allowed me to create a more sultry look on my eyelids. Definitely going to use my fingertips more often for eyeshadow!
Eyebrows
Not going to lie, this was probably the hardest thing to do. I honestly didn't know how I was going to do it. Clarissa Luna told Refinery 29 to "use your pinky, so there's very little pressure and be sure to start just before the arch of the brow and blend out."
I have to usually fill in my eyebrows with eyeshadow and pencil, but using my fingertips didn't give me that fullness I usually get with a brush. This technique just didn't seem to fill as much of my brow as I wanted it to.
Lipstick
Using my fingertips for lipstick made the most sense. Since I use it for lip balm on the daily, it felt pretty normal to use my fingers to apply lipstick. Still, I think it's probably best to use a lip pencil to mark the lines of your lips.
Sometimes my pinky would smear on my upper lip and leave a bunch of lipstick where it's not supposed to be. Again, you can be more precise with a brush versus your finger.
The Verdict
I think that using your fingertips is a great way to wear an all-natural, relaxed look, but when you're trying to go full-on glam, it's probably best to stick to your brushes. I definitely understood when makeup artist Diane Kendal said that fingers are better, "for doing raw, fresh beauty."However, I didn't really like how I had to repeatedly use makeup remover wipes for my fingertips. I had to use it each time I moved on to another product so that I could avoid blending bronzer with lipstick or eyeshadow with concealer. Also, my fingertips aren't as precise and delicate as my smaller brushes that I use for specific things like my eyebrows or nose.
In general, using your fingertips can be great if a fresh-faced, '90s supermodel bare look is what you're going for. But if you want to pull a Kim K., you should probably stick to your trusty brushes.
Want more style tips? Check out the video below, and be sure to subscribe to Bustle's YouTube page for more hacks and tricks!
Images: Danelle Sandoval