11 Super Bowl Recipes That Are Straight Up Insane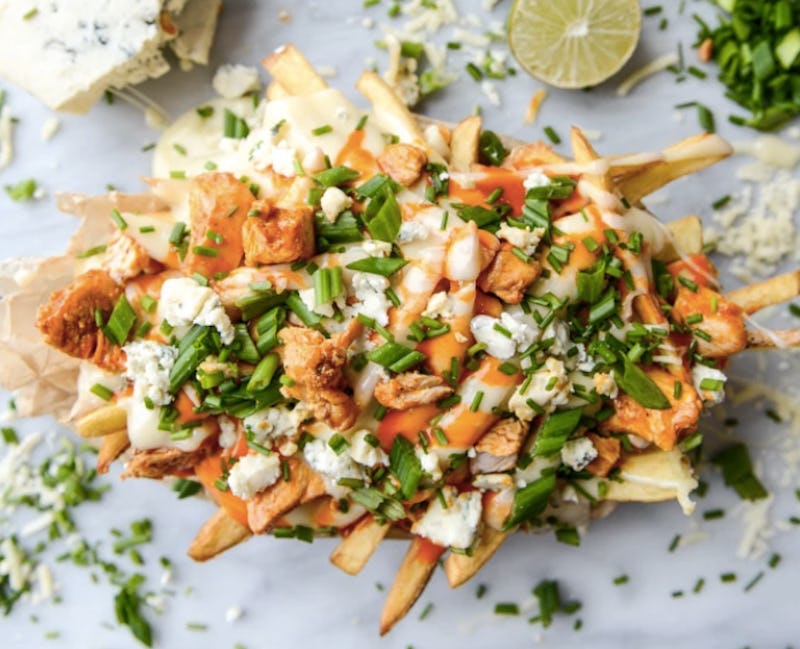 The annual weekend full of beer, food, and football has finally arrived! That's right, it's time for the Panthers and the Broncos to face off and find out who the best team in the NFL really is, which means it's also time for you to decide what over-the-top insane Super Bowl recipes you'll be serving your guests this year. I'll give you a hint: You're going to want the answer to be all of them.
The Super Bowl is well loved for a lot of reasons, among them the intense athletic competition, the iconic commercials, the endless amounts of cold beer, and the platters upon platters of delicious finger food. You see, the Super Bowl isn't just about football. It's about getting your friends and family together on a Sunday night where it's acceptable to wear baggy jerseys and sit on the couch and stuff your face for four hours straight. If that doesn't sound like the American Dream, I don't know what does.
You know that expression, go big or go home? Don't let it just apply to the teams actually competing in the Super Bowl this year. Instead, adopt it as your mantra when you're deciding what to cook for your party, too. Don't be afraid to add cheese to this, bacon to that, and, when in doubt, break out the deep fryer. Come on, it's the Super Bowl! It only happens once a year, so you better live it up.
Need help finding some inspiration? Here are 11 over-the-top Super Bowl recipes that will make your mouth water just looking at them:
1. Cheesy Pretzel Chicken Pops
If a few of your favorite foods include chicken, cheese, and pretzels, then you're in luck, because A Spicy Perspective has found a way to combine all three in a mouthwatering snack on a stick. The only thing that makes this appetizer more appealing is its homemade honey mustard sauce that's so good, you'll want to dip everything in it.
2. Twice-Baked Loaded Ranch Potatoes
Baked potatoes on their own can be pretty bland, but when you add guacamole, bacon, and ranch like they did at Table for Two, they become delicious, over-the-top snacks that will please everyone at the party.
3. Fritos Chili Pie
Want to make a unique and yummy snack for your party guests that requires minimal clean up? Look no further than A Cozy Kitchen's Fritos chili pie, which combines crunchy, salty corn chips, spicy beef, and plenty of cheese in easy-to-serve individual bags.
4. Tex Mex Popcorn
There's no end to the number of things you can do with popcorn, but A Spicy Perspective sets the bar high with this Tex Mex twist. Complete with avocados, sun dried tomatoes, chorizo, and (obviously) cheese, this snack packs a serious punch.
5. Bacon Cheddar Jalapeño Poppers
Jalapeño poppers are already an over-the-top cheesy, deep-fried appetizer, but The Kitchn's bacon-wrapped poppers take it a step further. Crispy, spicy, salty, gooey — is there nothing these tasty snacks don't have to offer?
6. Loaded Mashed Potato Balls
Crunchy on the outside, soft and cheesy on the inside, Damn Delicious' loaded mashed potato balls are the easy-to-make crowd-pleasers you need to have at your Super Bowl party this Sunday.
7. Loaded Cheddar Hot Dogs
Sure, hot dogs are usually baseball's staple food, but this Super Bowl Sunday, claim it as your own. From How Sweet It Is, these hot dogs aren't any old ballpark franks — these ones are loaded with onions, mushrooms, and, yes, bacon and cheese. Are you starting to see a pattern here?
8. Buffalo Chicken Beer Cheese Fondue Fries
Speaking of excessive cheese, you need to check out these over-the-top loaded fries from How Sweet It Is that have everything football fans love and require on game day: cheese, chicken, and beer.
9. Buffalo Cheeseburger Dip
It isn't a Super Bowl party without some kind of dip, and nothing beats the excessive meaty, cheesy offerings of Whitney Bond's buffalo cheeseburger dip. Are you ready to dig in yet?
10. Bacon-Fried Mozzarella Cheese Sticks
No matter the outcome of the game, you and your party guests will feel like winners when you bite into these crispy, gooey, and salty bacon-fried mozzarella cheese sticks. Just beware, because they are addicting.
11. Bacon Cheeseburger Skillet Pizza
Can't decide between pizza, burgers, and breakfast meat? With this bacon cheeseburger skillet pizza from How Sweet It Is, you don't have to. When it comes to the Super Bowl, just remember: There are no limits to your snacking possibility.
Looking for more football ideas? Check out Bustle on YouTube.
Images: Sadie Trombetta; The Kitchn; A Spicy Perspective (2); Table for Two; Damn Delicious (2); How Sweet It Is (4); Whitney Bond