'Pump Rules' Stassi & Kristen Are Still Friends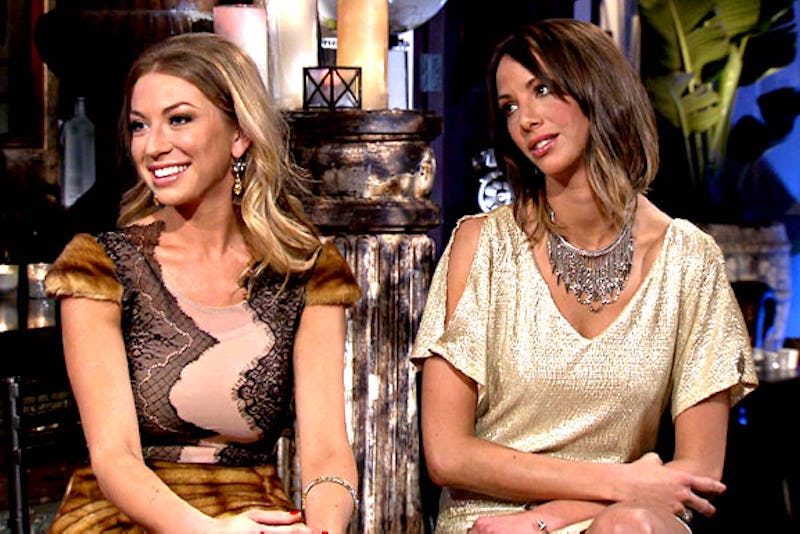 Have you ever found yourself watching Vanderpump Rules thinking you need to start journaling about the friendships that form and crumble on the show? You're not alone. If you've watched the show since Season 1, then you, too, have been on a four season-long roller coaster of the Stassi Schroeder and Kristen Doute friendship. In Season 4, the two women are currently "friends," despite everything that has happened in the past. But now that filming is over, you might be wondering if Stassi and Kristen are still friends post- Vanderpump Rules Season 4, or if things went back to being ugly between them (like, Stassi's birthday party, ugly).
As one would do in 2016, I turned to social media to figure out if these two were still friends. When Kristen appeared on Watch What Happens Live in December, she was accompanied by Stassi, which set off alarms in my head that there was a truce coming to Vanderpump Rules. Lo and behold, when Stassi made her grand re-entrance into this season of the Bravo show, she was friends with Kristen. And, it appears nothing has changed since.
Judging by their social media posts, these two seem to still be friends with each other. It kind of gives me hope that if they can be friends again, anyone can be friends again (read: get back together — Tom Sandoval and Kristen).
Let us look back at what exactly went down between these two, shall we? It all started in Season 1, when Stassi, Katie, and Kristen were the three best friends that anyone could have. Out of nowhere, rumors started flurrying Sur that Kristen and Jax (Stassi's boyfriend at the time) had slept together. Despite a season of denying it, Kristen confessed to the affair in Season 2 where things got physical between the two women. Season 3 was a complete ice out on Stassi's part, although the reunion seemed to hint that Kristen was trying to mend fences. And that brings us to Season 4, where the two are friends once more.
At this point in the season, Kristen is really the only tie to the cast that Stassi has, despite her Queen Bee status early on in the series. Time will tell if the others accept Stassi back into their hearts again, but as for now, at least these two are friends, right?
Images: Bravo