Why Does Hair Get Greasy When You Air Dry It?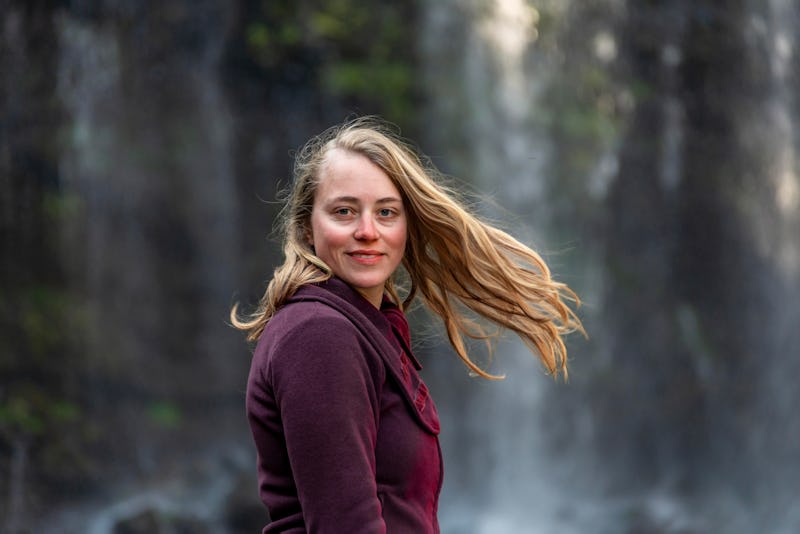 imageBROKER/Moritz Wolf/imageBROKER/Getty Images
I've lost count of the number of times that I've read articles about the benefits of air drying your hair. You don't expose your hair to heat, and people who consistently air dry their hair are likely to have healthier locks than the rest of us. Despite knowing this, I almost always blow dry my hair. Why? My hair gets greasy faster when I air dry it, and I had to figure out how to fix it.
I'm a longtime fan of showering at night. I love feeling clean when I slip into my sheets at night, and it makes my morning routine go way faster when I don't have to deal with showering. I also love to go a few days between washing my hair, so I typically will blow dry my hair at night then style it in the morning. I know it's better for your hair to air dry it, so I've attempted it a few times. However, without fail, my hair ends up a big greasy mess within a day or two when I do that.
I was confused as to why this kept happening, so I did some digging. Turns out, hair that's dried using a blow dryer has a rougher texture, so the oils on your scalp show up less quickly than with air dried hair. Also, sleeping on wet hair can mat it to your head and cause grease. Here's what you need to do if you also deal with this problem:
1. Air Dry During The Day
People who shower at night, this might be bad news. However, air drying your hair during the day will mean two things. First, it'll be exposed to sunshine and fresh air (assuming you go outside), which will help it dry faster. According to stylist Nicholas Penna Jr., sleeping on wet hair causes it to tangle and get matted to your head more easily. When that happens, it can get greasy fast. Of course, it's much easier to air dry outside during the summer, but it's possible in the winter. Read my next tip to see how.
Harry Josh Pro Tools Pro Dryer 2000, $305, Amazon
This is a great solution if you deal with greasy patches near your roots when you air dry it. According to Allure , blow drying your roots boosts volume and prevents that grease from appearing.
Garnier Fructis Sleek & Shine Serum, $5, Amazon
Air-dried hair can be prone to frizz because heat smoothes the hair cuticle and keeps hair frizz-free. That's why stylists like James Cornwell always suggest using product. "There are very few hair textures that will dry naturally without product and look fabulous," he told Fox News Magazine. "Achieving 'beautiful air-dried hair' takes a little effort. Product is your friend." However, if you put that product near your roots, it could be grease city. Apply frizz serum sparingly, and only to the ends of your hair.
4. Don't Forget Dry Shampoo
Dry Bar Detox Dry Shampoo, $32, Amazon
You know this was coming, right? Dry shampoo is the little miracle solution for greasy roots. I love applying this preemptively as a way to keep my air-dried hair from getting greasy.
Although I'll never air dry my hair 100 percent of the time, I'm glad I have these tricks up my sleeve so I never have to deal with greasy roots again.
Want more style tips? Check out the video below, and be sure to subscribe to Bustle's YouTube page for more hacks and tricks!
Images: Getty Images (2); Courtesy of Brands