Starbucks Has Three New Drinks For Valentine's Day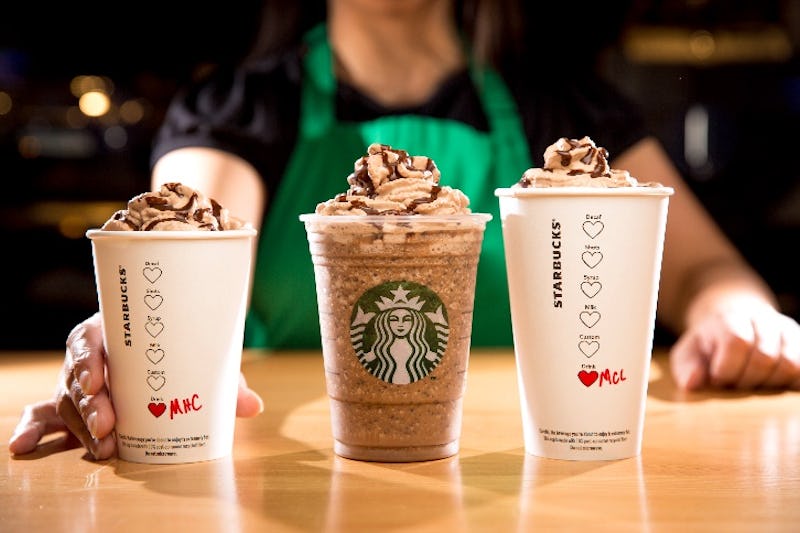 Good news, friends, family, and Starbucks lovers: Starbucks has three new Valentine's Day drinks out for a limited time only, and if chocolate is kind of your thing, then you have extra reason to celebrate. The new decadent lineup, available Feb. 8 through Feb. 14, includes a Starbucks Molten Chocolate Latte, a Molten Chocolate Frappuccino, and a Molten Hot Chocolate. My heart is warm and my head is swimming, and it's probably because I'm in love, right?
Forget the cliche heart-shaped box of chocolates, and head to Starbucks instead. Clearly, it's what Cupid wants, and who can blame him? According to Starbucks, each new beverage will be available at participating stores in the U.S. and Canada for one week only, meaning that while your love affair with all things molten and espresso-laden will be passionate and fulfilling, it will also be heart-breakingly brief. Still, it will be one to remember. Each beverage comes so packed with chocolate, you're going to wonder if you will ever be able to go back to your regular, cafe mocha-drinking ways ever again. Not to worry, though. Life will soon return to normal, spring will be in the air, and you'll have other things to look forward to — like iced coffee season.
But first, take a look at this lineup:
1. Molten Chocolate Latte
What makes a chocolate latte a molten chocolate latte? I'm so glad you asked. According to Starbucks, "Chocolaty chips are melted into espresso and topped with steamed milk combined with bittersweet mocha sauce." And then, to top things off, the drink comes with a "special mocha and espresso-infused whipped cream" and a drizzle of espresso mocha. Basically, heaven. Get it iced, if you want.
2. Molten Chocolate Frappuccino
The more chill counterpart to the Molten Chocolate Latte, this frapp includes coffee, mocha, and chocolate chips, blended together with ice and milk. Oh, and then there's more of that espresso whipped cream. Naturally.
3. Molten Hot Chocolate
I'm a major coffee drinker, but this is the one I think I'm most excited to try. There's just so much chocolate happening at once. According to Starbucks: "Bittersweet mocha sauce and chocolaty chips melted into steamed milk for a smooth and creamy taste." Mocha and espresso-infused whipped cream and espresso mocha drizzle turn this beverage into a bonafide masterpiece.
Which one will be your one true love? You won't know until you try, so hit up your local Starbucks, ask for them all, and then report back. Finally, Valentine's Day seems worth celebrating.
Images: Starbucks; Giphy