Puppy Monkey Baby Memes Make The Ad More Bearable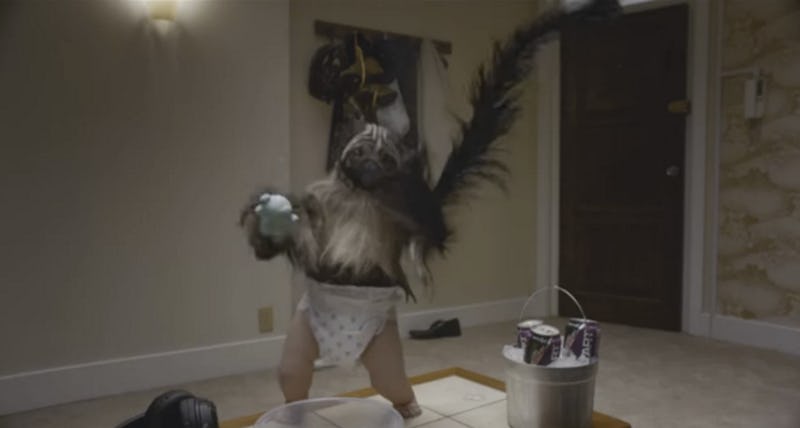 No Super Bowl 50 commercial was more profoundly unsettling than Mountain Dew Kickstart's "Puppy Monkey Baby." And when the Internet gets its hands on something this creepy/scary/fascinating, there is only one thing to do: create Puppy Monkey Baby memes. So if you still can't decide if the song is a catchy tune that will be stuck in your head all day or a devious earworm that will haunt your nightmares, maybe use the Internet's best comedic offerings in order to help make up your mind. From despising the creature and wishing for its demise to turning it into a representation of every awkward or weird moment you go through in private, it seems that the real meaning of Puppy Monkey Baby is in the eye of the beholder.
It seems to be a trend that every year, a fake animal will take hold of the Internet's attention during the Super Bowl. Last year, that honor went to Left Shark during Katy Perry's halftime show, but during Super Bowl 50, Mountain Dew introduced the world to its latest meme fodder during the commercials. Even though it only graced our screens for about 30 seconds, Puppy Monkey Baby will not soon be forgotten (even by those who wish they could). The animal-human hybrid may be pretty terrifying, but at least some good old fashioned online humor can help to make sense of the nightmare that is the combination of a pug, capuchin monkey, and infant. And hey, maybe if we laugh at it enough, it'll be less scary.
Vote Puppy Monkey Baby
Politics writer Andrew Peng jumped on Bud Light's "caucus" theme in order to suggest that maybe Puppy Monkey Baby would make for a good Presidential candidate.
Family Guy Weighs In
And it may be in the mouths of Family Guy characters, but I'm sure a lot of people agree with Brian Griffin on this one.
Turning Puppy Monkey Baby Into All Of Us
Not sure if I can get behind Puppy Monkey Baby turning into an avatar for awkwardness, but I have to admit Twitter user Eliza Bayne did manage to capture a particularly #relatable moment.
South Park Deja Vu
There is a hint of "ManBearPig" about the "Puppy Monkey Baby," though Al Gore's arch-nemesis never had his own theme song.
The Most Interesting Commercial In The World
I think everyone who watched this ad for the first time during the Super Bowl had a feeling that it was going to be a unique experience.
Yoda Shares Some Wisdom
Even a long time ago in a galaxy far, far, away (one that has Wookiees and rancors, no less!), there's nothing quite as disturbing as this commercial.
The Unconventional Opinion
I think almost everyone else would disagree, but for those who want to celebrate the Puppy Monkey Baby, here's a meme for you (shudder).
Everyone's First Reaction
Tumblr user raakin710 managed to nail the face people across the country made as they first saw the Puppy Monkey Baby. Check out the full commercial below — maybe you'll be inspired to create a meme of your own. Once you've recovered from the fright of seeing the Puppy Monkey Baby.
Image: Mountain Dew/YouTube