10 Quick & Easy Styles For Greasy Hair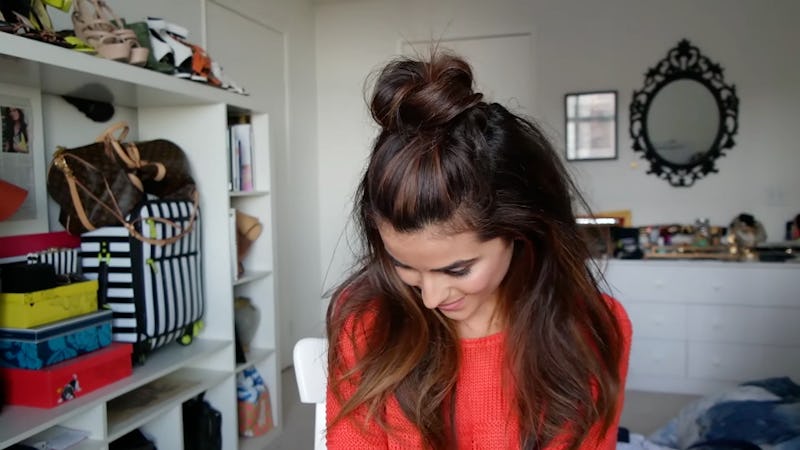 Something I like not having to wash my hair for three days. Something I don't like looking like I haven't washed my hair in three days. Which is why having some quick styles for greasy hair on hand can be helpful. When hair gets oily, it can be hard to simply wear it down without it looking limp and, well, greasy. But not only does styling greasy hair help hide the fact that it might be time for a wash, but greasy hair can actually hold styles better than freshly washed locks.
So the best time to rock that top knot or fishtail braid is usually on second or third-day hair. And all you'll need are a few key products to help get you there. When it comes to taming greasy strands, all you need in your kit are: Dry shampoo, a texturizing or sculpting spray, a hair tie (that one around your wrist will do), a few bobby pins or hair clips, and some hairspray. Then, you can easily master any and all of these 10 hairstyles. Plus, besides being quick and easy, these styles are so cute that no one will even notice your hair is greasy. Trust me.
Greasy Hair Kit
Schwarzkopf Dry Shampoo, $14, Amazon; Lots of Bobby Pins, $7, Amazon; Got2b Sculpting Spritz, $10, Amazon; Hair Ties, $4, Amazon; Got2b Hairspray, $8, Amazon
1. High Ponytail
An oldie but a goodie. A ponytail is a quick fix to a greasy hair situation. Just use some dry shampoo to absorb some of the oil and add a little volume.
2. Messy Top Knot
For the frequent shampoo-skipper, a top knot is a repertoire necessity. A little texturizing or sculpting spray will help hold that messy look (and spritzing a little on your bobby pins will help them grip better too).
3. Tuck and Roll
Headbands are a greasy-haired girl's best friend. They hide some of the oil on top, and help keep hair on the bottom out of the way. It's a win-win.
4. French Braid
This classic braid will get all of that greasy hair out of your face. And tugging on the braid to loosen it a little will give some volume to make your hair look fresh again.
5. Fishtail Braid
People will be so distracted by how chic your plait is that they won't even notice how oily your locks are.
6. Milkmaid Braid
If you just need to totally cover your roots though, a milkmaid braid is the way to go. Ends never seem to become as greasy as roots do.
7. Half-Up, Half-Down
If your ends are still fresh, just tie up the greasy bits into a half-up, half-down look.
8. Half-Up Top Knot
The perfect marriage between a top knot and the half-up, half-down 'do, this style is for those days when you just can't decide.
9. Messy French Twist
A style that never goes out of style.
10. Rope-Braid Bun
This look may require a little more time and hairspray, but the results are so worth it.
Image: Sazan Hendrix/YouTube; Courtesy of Brands