Zooey Deschanel Will Be Back On 'New Girl' Soon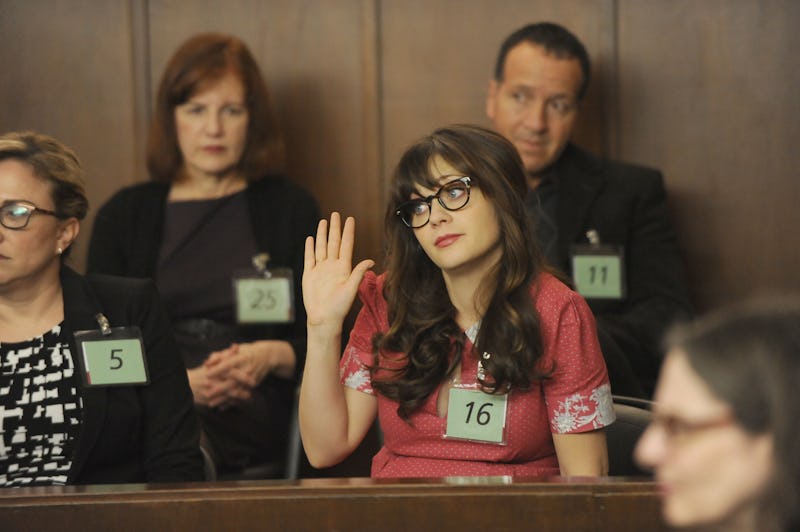 Television has employed a lot of "creative" methods to hide actors' pregnancies over the years when their characters were not in the same condition, but I will forever be obsessed with New Girl's decision to just allow their star to go home. Starting on Tuesday, Megan Fox replaces Zooey Deschanel on New Girl for multiple episodes as Reagan, a new temporary roommate. While this is both exciting and creative and a way to let her actually have a maternity leave, when will Zooey Deschanel be back on New Girl ?
If you're missing that quirky juror, never fear. Jess will be back in one month. According to HitFix's interview with creator Liz Meriwether (who will also cameo in the first Megan Fox episode), Deschanel will be gone for six episodes total this season. Two of those have already aired, which leaves four episodes for Reagan, and puts Jess' return at Season 5, Episode 10 on March 8. Meriwether also said that Jess and Reagan will interact in the show's 100th episode.
The show has utilized a variety of ways to give Deschanel a break that go against the norm, including having her break both legs and be confined to a wheelchair in the Season 5 premiere, plus the jury duty sequestering and an entire scene done in shadow from a high window. The show has been on since 2011, and I'm sure the writers appreciated the challenge — it shows! The addition of Megan Fox, who is only recently known for comedy and still primarily a movie star (unless you were a big Hope & Faith fan back in the day), should be perfect.
Where did they come up with the idea to send Jess on jury duty? It's kind of perfect, now that you think about it. First of all, it didn't hurt that Meriwether herself had just lost a week to the legal system, according to the same HitFix interview. "We didn't have enough big potted plants on our set that we could just have her stand behind plants," she said. "There was pretty much no talk of her actually being pregnant on the show... We talked about her maybe going back to Oregon to be back with her family. What was difficult was that it just didn't feel plausible that she wouldn't be in contact with them, that she wouldn't be emailing and calling. We wondered if we should bank a bunch of generic Jess advice phone calls. And then we had this idea of sequestering her, because they live in LA and it's the kind of place where they have high-profile cases. What really sold us on the idea, honestly, was just the idea of Jess in a jury sketch."
Still, she's going to be back before long, and it's cool that this ensemble comedy can go on without their lead. Not only will Reagan be a fun new addition to the loft, but I've enjoyed seeing Winston, Cece, Schmidt and Nick getting more of the spotlight. When Zooey Deschanel finally returns to New Girl, the show will be better for it.
Images: Patrick McElhenney, Ray Mickshaw/FOX