Cristina Needs To Come Back To 'Grey's Anatomy'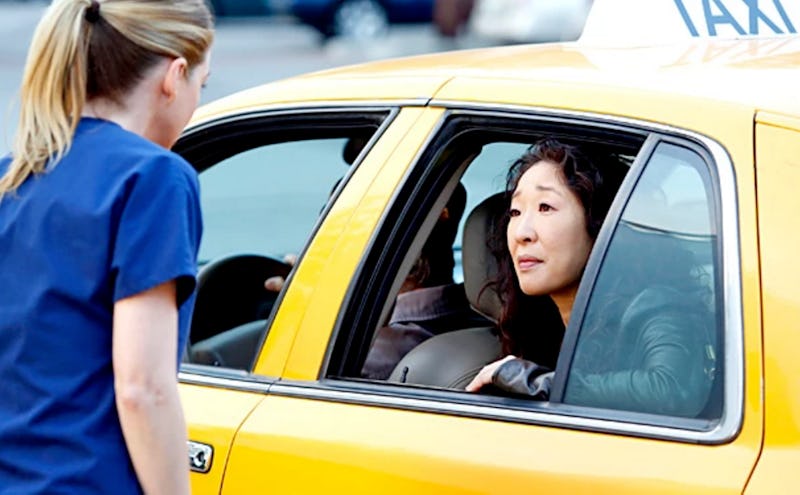 After a long, cold winter, I couldn't be more thrilled to welcome Grey's Anatomy back with open arms on Thursday. It's been such a long time since we last caught up with our favorite docs at Grey Sloan Memorial Hospital, and, once the second half of Season 12 kicks off, I have a feeling Shonda Rhimes has plenty of surprises up her sleeve, especially since poor Meredith (aka the unluckiest person on the face of the earth) is in for a literal world of pain. But, could one of those surprises have to do with bringing a beloved character back? Rumor has it that Sandra Oh may be returning to Grey's Anatomy for Season 12 , but, unfortunately, it seems like that's all the news is: A rumor.
Since the minute she left to take over Burke's hospital in Zurich in Season 10, I have missed seeing Cristina Yang on my screen every week, and I know I'm not the only person who feels that way. And, since she left the show without dying (unlike some surgeons I still miss), the door is definitely open for Oh to return to her old job — or at least for her to visit her recently widowed best friend, who is apparently the victim of a really scary attack according to promos, as if she hasn't been through enough already. I mean, she could probably use Cristina by her side. And, honestly, who wouldn't love to see this again?!
So, where did all these rumors start? It could have been when the Day Herald shared a totally unsourced tidbit saying that Meredith will reportedly be "teaming up" with Cristina, but that statement may or may not be credible, since it seems to have come out of thin air. The rumor sounds awesome, but, all things considered, it probably isn't true. So far, nothing has been confirmed or denied about a potential Cristina return — not by Rhimes, Oh, or even ABC, so for now, the speculation will continue unfettered.
One thing is for sure, though: It's not totally outside of the realm of possibility that Cristina would come back, whether it's this season or down the line. In 2014, Oh said that she'd be open to coming back to the show in the future, and she still hangs out with her old cast mates. For example?
If there's any truth to these rumors, hopefully confirmation will come soon. If not? Don't give up hope! This is Grey's Anatomy, after all. Anything can happen — and often, it does.
Images: Giphy, ABC