The 11 Best Things You Can Do For Thin Hair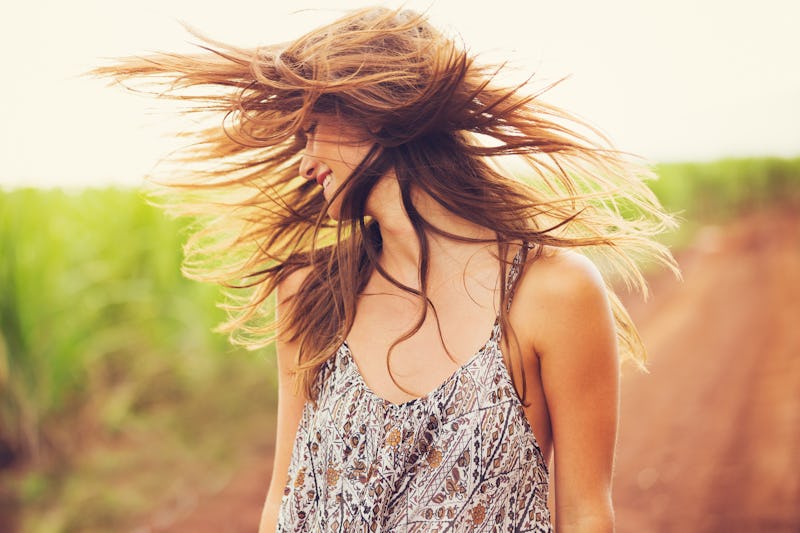 It's easy to suffer from hair envy when it comes to wanting thick hair that blows in the wind like Beyoncé or a truly amazing curly mane like Lorde's. For everyone who sports a head of hair on the thinner side, keep in mind you're actually free from the curse of girls with thick hair: For one, you don't get sore arms when you attempt to fully dry your hair, and two, you've likely never suffered through breaking your one-and-only hair elastic halfway through a long run. Plus, fine hair doesn't take forever to style, which can be a major time-saver for getting ready in a flash.
Yet, as we all know, the grass is always greener on the other side —and having thin hair comes with its own set of challenges. For all of your volume-lacking hair woes, there is an easy solution. Limp locks benefit from a spritz of a best-selling sea-salt spray, which adds the illusion of extra volume and texture. A little curl from a quick-heating wand can definitely add body to a mane that's lacking oomph. Ahead are the only 11 tricks you need to say sayonara to bad hair days for good. After working a few of these tips into your haircare routine, you'll be turning fine hair into fine hair in no time (see what I did there?).
1. Use A High-Volume Hair Dryer To Blow-Dry Hair Upside-Down
John Frieda Full Volume Hair Dryer, $31, Amazon
This volumizing hair dryer makes it easy to boost your roots — taking them to the next level with instant volume. The ionic generator is equipped with a cool blast for locking moisture in, while its included diffuser means curls and waves stay frizz-free. Users describe this John Frieda hair dryer transformation as being like "night and day" for a fine-haired mane, and titanium ceramic coating delicately ensures high-powered heat won't damage your strands.
2. Add Texture With This Best-Selling Dry Shampoo
Batiste Dry Shampoo, $6, Amazon
Use this best-selling dry shampoo to keep your locks healthy and looking oh-so-fresh between washes, even if your hair is color-treated. After all, shampooing too much can dry out fine hair, while shampooing too little can create greasy roots. The perfect balance is attainable by applying this texturizing, grease-absorbing dry shampoo that users praise for not leaving build-up behind.
3. Create Waves and Body With The Best-Selling Curling Wand
Remington Ceramic Curling Wand , $25, Amazon
Maybe she's born with it— or maybe she's using the best-selling curling wand on Amazon. Create natural looking waves with this ceramic wand, which heats up in 30 seconds to 410 degrees and comes with a heat-resistant glove. This wand helps you create the illusion of thicker hair in no time. Plus, there's a safe 60-minute automatic shut-off.
4. Style Defined Waves With A Cult-Favorite Salt Spray
Bumble and Bumble Surf Spray, $35, Amazon
Use this cult-favorite sea salt spray to inject your hair with salty, well-defined waves, compliments of its kelp and algae extract-packed formula. The matte-finished, texturizing sea salt spray will recreate the beach-babe hair status you love, giving you a fun, piece-y look that just so happens to smell like an instant vacay.
5. Adopt the Round Brush That Works With Hot Tools
Revlon Perfect Style Thermal Round Brush, $11, Amazon
Swap out your paddle brush for this ceramic barrel round brush while blow-drying. Its ion technology and ventilation evenly distribute airflow, which gives you a major volume boost that rivals any professional salon blow-out. Pro tip: Use a brush that works with your hot tool to cut drying time in half while eliminating frizz.
6. Get High-Volume Tresses With These Time-Tested Hot Rollers
Conair Xtreme Jumbo And Super Jumbo Hair Setter, $28, Amazon
This roller set by Conair gives you all the sizes you need to create fuller-looking hair that will last, and it only takes two minutes for the velvet-coated rollers to heat up. Ceramic-infused technology ensures smooth, shiny curls, while natural ion technology heats hair naturally. There's a reason your grandma swore by these hot rollers.
7. Stop Ripping Knots Out With Help From A pH-Balanced Detangler
Mane N Tail Detangler, $8, Amazon
This detangler is so good, one user said, that it was actually strong enough to comb out dreadlocks. The unique pH-balanced formula cuts through dry split ends, which makes any type of hair manageable. Nothing is worse than putting a brush to your already-fine hair, only to have precious strands tangle and get yanked out. Turn to this detangler instead of always using conditioner, which can leave a thin mane oily.
8. Plump Your Roots With A Lifting Spray
Sexy Hair Root Pump Plus , $11, Amazon
One of the easiest ways to create the look of full hair is to spray your roots with a lifting spray. After spritzing it on damp hair, strands are protected from humidity and held in place for intense, locked-in volume that lasts all day. Users praise the spray for giving their thin hair more texture and body without extra weight.
9. Shower With A Thickening Shampoo
L'Oreal Paris Thickening Shampoo, $5, Amazon
Be sure to pick the shampoo that caters to flat hair — and won't make you wait months to see a difference. Not only is this thickening shampoo rosemary-scented and sulfate-free, but one user said she saw results in under a week. The patented amino acid complex cares for the scalp and makes weak hair stronger, and its formula is 100-percent vegan.
10. Secure Hair Overnight With These No-Crease Hair Ties
A llydrew Ties, $5, Amazon
Use these colorful soft fabric hair ties to lightly wrap hair in twists while you sleep, which will have you waking up with natural waves, body, and much-needed texture. These ties are free of metal and plastic pieces that snag delicate hairs, which keeps you from further frustrating already-thin hair. Add a full-body hairspray to lock in your look.
11. Hold it All Together With a Volumizing Spray
Catwalk Bodifying Spray, $11, Amazon
Coupling this high-volume spray with your "I woke up like this 'do" means big blowout looks minus the frizz and fly-aways. Your full-bodied hair will hold its height as long as you need it to, and users say this sweet-smelling spray keeps hair bouncy, even with the extra hold.
Bustle may receive a portion of sales from products purchased from this article, which was created independently from Bustle's editorial and sales departments.
Images: Fotolia (1); Amazon (11)