8 Simple One Step Hair Tutorials For Thick Manes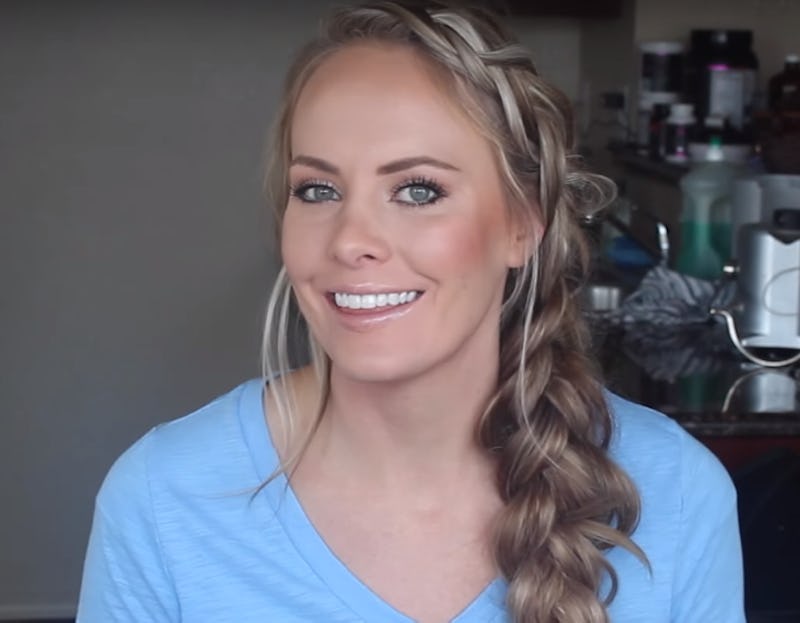 Thick hair is very unforgiving when it comes to quick, easy hairstyles. But don't get discouraged yet, because with some elbow grease and the help of your favorite YouTube vloggers, you can achieve one step styles for thick hair that will make you love and embrace your strong, unique strands. Chic braids? Effortless up-dos? Girly buns? Have no fear, thick-haired girls, because you can rock these looks just like anyone else!
You should trust me on this, because I speak from experience. Since my parents are both Eastern-European, I was blessed with super long, thick, dark hair — and lot's of it. While it was always somewhat of a struggle when I was younger, I've grown to love and appreciate my hair just the way it is. But some hairstyles are extra time-consuming and super difficult to achieve if you're only a beginner when you've got dense locks. Thankfully, though, the Internet has our backs. With just a simple search on YouTube you'll see that the opportunities for cute, pretty styles for thick hair are endless. The best part? They're super easy to achieve, too.
So, here are nine simple, one-step hairstyles for thick hair that will make you love and embrace your strands like you never had before. You can thank me later!
1. Beachy Waves
If you're already sick of winter, you may be craving a good relaxation session ot the beach. But alas, if this is an unattainable dream, at least you can channel the waves with your hair! If you've got thick hair and have never successfully pulled off beachy waves, then this is the tutorial for you. Stephanie Lange's video explains exactly how to achieve the look with specific tips and tricks for thick-haired girls. That beach getaway may not be as out of reach as you think!
2. Plaits & Ponytails
Taking it back to basics, BeautyByBriddy shows viewers how to achieve some classics. These hairstyles may remind you of your middle school days, but they are still so chic and relevant now. Imagine those rocking those matching ponytails with a choker and jelly shoes? Tell me you don't love that look!
3. All Of The Braids
Jodie Coetzee shows us not one, not two, but six different hairstyles perfect for thick hair. They all play off each other well, too. It's hard not get inspired after watching her video.
4. Messy Bun
That trendy messy bun you thought your thick hair could never handle? There's a tutorial for that! It's important to follow IndieRose's directions on creating two different ponytails, carefully placing the bobby pins, and then expertly twisting your hair to get a gorgeous, messy bun style. If you're all about having your hair out of your face, prepare to make this look one of your go-tos.
5. Sleek Bun
If you're more of a sleek bun kinda girl, then you may want to opt for this tutorial. Holly Tiara goes through a detailed account of how to achieve a gorgeous low bun with just a few steps and a few products. Perfect for formal events or professional endeavors, this look is definitely worth revisiting.
6. Bohemian Braid
I love a good braid, and Kylee from Kylees Korner shows How Does She viewers an easy step-by-step guide to achieving a a great one. Great for long manes, Kylee's braid mimics a a stunning mermaid-like style that's seriously worthy of a selfie. With some extra tips on how to make it look chunky and messy, there's no doubt thick stranded ladies will be fans.
7. Sleek & Long
AlexandrasGirlyTalk is glamorous and chic, and since her hair is curly and thick, she's a perfect example to follow. She expertly combs her thick, curly hair into a flat look and let's it dry naturally to reveal professional blowout level strands. No heat, barely any effort — sign me up!
8. French Twist
LianneLin speaks the truth when she says heavy, thick hair doesn't like up-dos. But with her direction, you can achieve a french twist that's perfect for more formal events and will work with your thick hair rather than against it. A few steps and a handful of bobby pins later, Lianne reveals a gorgeous up-do that your thick hair is guaranteed to love.
So to all my fellow thick-haired gals who always thought their hair was way too unruly for cute hairstyles: you're welcome!
Want more beauty tips? Check out the video below, and be sure to subscribe to Bustle's YouTube page for more hacks and tricks!