17 Bernie Sanders-Inspired Valentine's Day Gifts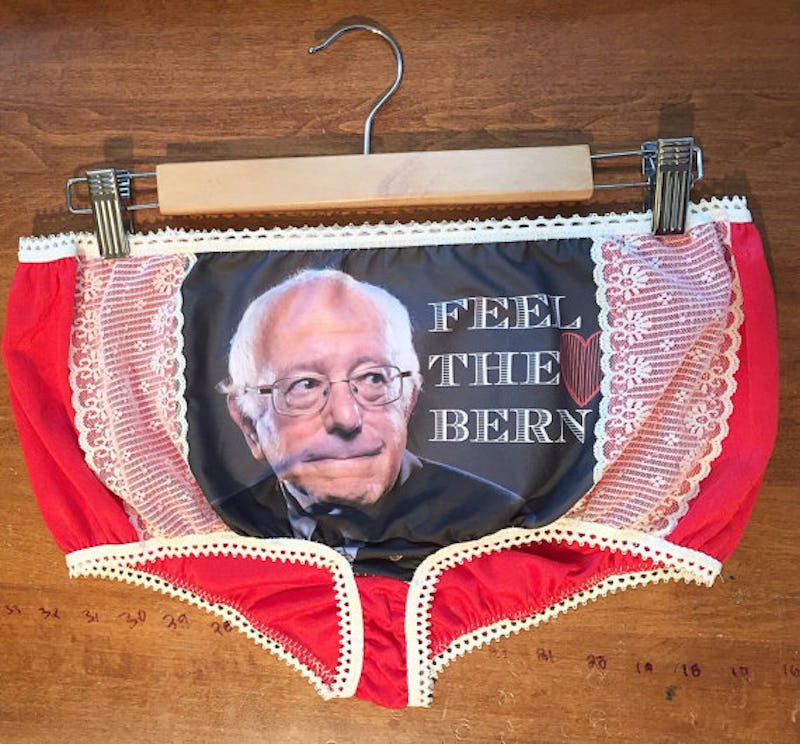 There exists a mantra that says you should never discuss politics or religion on a first date, but how could you not when there are so many spectacular Bernie Sanders Valentine's Day gifts out there? And with Sanders' predicted win in the New Hampshire primaries, it's possible that this presidential hopeful may be a hot dinner topic at your V-Day events later this week.
While some have claimed that women should support Clinton's bid based on her gender, Sanders has his own impressive record when it comes to women's rights. With his statements on intersectional feminism, reproductive rights, and education, Bern has won the hearts of many Millennials who identify with his messages.
And everything from Sanders' hair to his quips have become Internet fodder for not just memes, but also creative apparel, accessories, decor, and other gifts. Leave it to the Internet generation to show its political support through handmade prayer candles, artwork featuring Sanders on a unicorn, and T-shirts with slogans that play on pop culture and song lyrics.
When love is in the air on Valentine's Day, who says that it has to be romantic love and not a deep desire to fight the 1 percent and support some independent artists in the process? And why bring your valentine roses when you can bring them handmade red Bernie Sanders panties instead? Let your love bern with the following gifts.
1. Bernie Pride
Pride T-Shirt, $25, Bernie Sanders
Gay rights have been an important issue in the Democratic debates and Sanders' record has been part of that debate. But if you and bae support Sanders and LGBTQ rights, then this tee is the perfect Valentine's Day gift.
2. Cookie Cutter
Bernie Sanders Cookie Cutter, $6, Etsy
Bernie Sanders isn't your cookie-cutter politician. Show your love with some Sanders baked goods.
3. Bernie Is Bae
Bernie Is Bae Stickers, $10, Look Human
Bernie is bae definitely has a nice ring to it. I can totally see this sticker pack covering the lockers of those just-turned-18 voters' lockers.
4. Bernie On A Unicorn
Prints Bernie Sanders Riding An Alacorn Wielding The Sword of Truth, $25, Etsy
I think the title of this print ("Bernie Sanders Riding An Alacorn Wielding The Sword of Truth") really speaks to the level of Bern this artist is feeling.
5. Talk Bernie To Me Valentines
Printable Valentine's Day Cards, $7, Etsy
Something tells me that Sanders would cringe at a "oh baby, talk Bernie to me," V-Day card, but I think these are totally rad for the Sanders supporters in your life.
6. Bernie Love Notes
Bernie Sanders Spiral Notebook, $12, Etsy
Write your valentine a poem about justice and equality in this Sanders-y spiral notebook.
7. Feel The Bern Undies
Feel The Bern, $40, Etsy
If you are surprised that these handmade Bernie Sanders underwear exist, join the club. But if you decide to feel the bern on your crotch, 50 percent of profits from these handmade underwear go towards the Bernie Sanders campaign.
8. Red Campaign Tees
Bernie 2016, $22, All Posters
Roses may be red, but so is this super comfy Sanders support tee.
9. Stamp It
Bernie Sanders #FeelTheBern Self-Inking Stamp, $15, Etsy
This hand-drawn Bernie Sanders self-inking stamp is a perfect way to campaign for your valentine's heart. It's also important to note that this shop offers custom couples Valentine's Day portrait stamps for a more traditional gift.
10. Shrinky Dink Pin
Bernie Sanders 2016 Pin, $5, Etsy
This pin features an original illustration of Sanders and 25 percent of the sales go towards his campaign.
11. Bernie Hair Don't Care
Bernie Hair Don't Care, $23, Look Human
I actually laughed out loud when I saw this shirt because Sanders has that whole running for president with bed head thing down.
12. Leggings
Bernie Sanders Leggings, $54, Etsy
The fact that these Bernie Sanders leggings exist is phenomenal. And the fact that they are handmade is something I think even Sanders himself would approve of.
13. Tote
Bernie Sanders Screen Printed Tote Bag, $16, Etsy
Help your valentine store all of their school books and pray that free tuition becomes a reality with this Bernie Sanders tote bag.
14. Earring Studs
Bernie Sanders Earrings, $10, Etsy
These earrings studs made of Bernie Sanders' face are much more budget-friendly than a pair of diamond ones.
15. "Hotline Bling" Tee
Bernie Sanders "Hotline Bling" T-Shirt, $26, Etsy
Even though it was Trump who recreated Drake's "Hotline Bling" for SNL back in November, I have a feeling that people would much rather see Sanders attempting Drake's now-signature moves.
16. My Heart Is BERNing For You
Bernie Sanders Valentines Day Card, $5, Etsy
Bern puns never get old for me. This card is a great way to treat your socially conscious valentine with a sense of humor.
17. St. Sanders
Bernie 2016 — Bernie Sanders Prayer Candle, $15, Etsy
I can only imagine what Sanders critics will have to say about this, but hey, it exists. And that's all that matters.
Valentine's Day doesn't have to be purely romantic and devoid of any political leanings. So why not treat your partner or yourself to something that proves you'll be feeling the bern at this year's polls?
Images: Courtesy Brands