11 Ways To Moisturize Dry Hands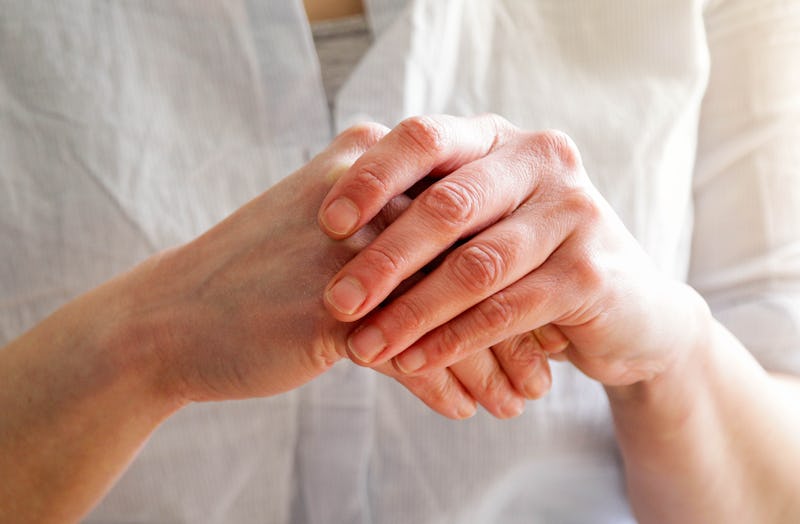 Kinga Krzeminska/Moment/Getty Images
Winter is still raging on, which can mean constantly irritated and dry hands. To help your skin stay as hydrated as possible until spring eventually shows, I've scouted out all the best ways to moisturize hands. Even incorporating just one of the tips below consistently will make a huge difference in how your skin feels this season.
I'm generally good about trying to take care of my skin during the winter, but learned this year just how much extra love my hands needed. My iPhone headphones with a mic recently broke (#thestruggleisreal), which means now I can't tuck my hands in the warm safety of my pockets while walking down the street if I'm on the phone. And worse, I don't have those cool touchscreen-friendly gloves, so my hands are totally exposed if I want to use my phone at all outside.
Weirdly enough, being lazy about getting new headphones and gloves has meant I've had to be extra cognizant about what I'm putting on my hands before heading out the door into freezing weather. Nothing zaps moisture from skin like whipping wind and chilly temps, so I've come to find out the hard way how to keep my hands soft.
Below are all the best strategies I've encountered so far for ways to keep hands moisturized.
1. Use Gentle Soaps
Glycerin Hand Soap, $20, Amazon
Harsh soaps can strip your skin of its natural oils. Opt for a mild glycerin bar in the winter to keep hands clean and soft.
2. Gently Exfoliate
Pumpkin Oatmeal Glow Gift Set, $37, Amazon
Similar to the rest of your body, hands need to be exfoliated to swipe away dead skin cells and produce healthy oils. Above is my favorite soft and gentle exfoliator.
3. Apply Olive Oil
Extra Virgin Olive Oil (2 Pack), $40, Amazon
Crunchy Betty swears by rubbing a little bit of olive oil over hands daily to keep things smooth and hydrated.
4. Take Omega 3 Capsules
Omega 3 Capsules, $28, Amazon
Another Crunchy Betty tip: take omega 3 capsules. "Absolutely without a doubt the thing that makes my skin glow and look terrific is taking an omega-3 supplement."
5. Wash Hands With Lukewarm Water
Even though it can feel so good, hot water leaches good oils from your skin. Aim to use warm to lukewarm water when washing your hands instead.
6. Try Body Butter
"Forever Young" Body Butter, $34, Amazon
Thicker than your standard moisturizer, body butter creates a barrier between you and the elements to keep your hands soft.
7. Invest In A Good Hand Cream
Lemon & Coconut Hand Cream, $26, Amazon
Spending a little extra money is well worth it for a product that will really sink into cracks and heal dried out skin. Get a cream, like this non-greasy, super nourishing formula from The Jojoba Company, that will keep you hydrated all day long. It's also small enough to take with you everywhere!
8. Try Petroleum Jelly
Petroleum Jelly, $18, Amazon
If your knuckles are seriously raw and cracked, consider swiping Vaseline over them so that no more moisture can sneak away from your hands.
9. Opt For Coconut Oil
Kirkland Organic Coconut Oil, $18, Amazon
If petroleum jelly isn't your thing, you can get similar protection from swiping on good old coconut oil.
10. Get A Humidifier
Ultrasonic Cool Mist Humidifier, $33, Amazon
A humidifier will not only help keep your hands soft in dry air, but can make your entire body less itchy and chapped.
11. Wear Quality Gloves
Women's Touchscreen Gloves, $20, Dahlia
A rule I obviously need to start following more consistently: Nothing can protect your hands against the elements like a warm pair of gloves.
Want more style tips? Check out the video below, and be sure to subscribe to Bustle's YouTube page for more hacks and tricks!
Images: Courtesy of Brands; Getty Images