Here's Your Anti-Valentine's Day Playlist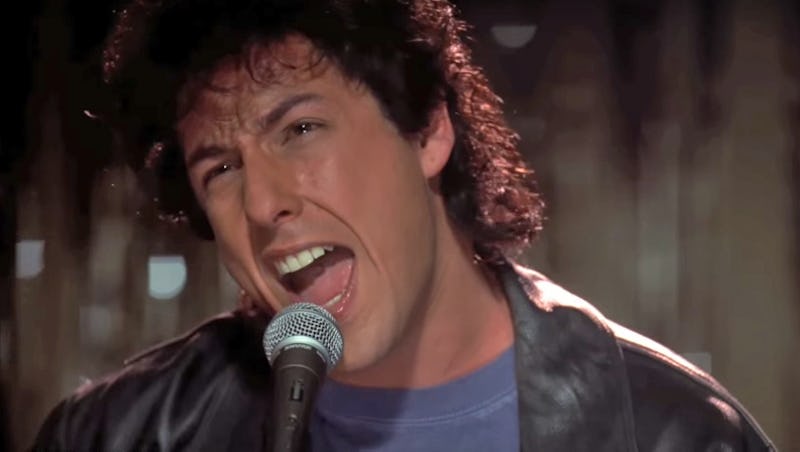 My feelings towards Valentine's Day change from year to year. Some years, I'm totally cool with the "Hallmark holiday"... and other years, I want to HULK SMASH every single display of heart-shaped boxes of chocolate I see. Every! Single! One! Valentine's Day 2016 is rapidly approaching, and if you're on the outs with love at the moment, chances are you're looking for a way to cope. Here's an idea: Why not find an anti-Valentine's Day playlist full of anti-love songs that you can blast everywhere you go on February 14? That sounds like a totally mature, totally non-disruptive way to deal with things, right? Right! Fortunately for you, I've put together just such a playlist.
Who wants to go out for dinner with a partner on Valentine's Day (boring!) when you can sit on your couch wearing sweatpants and a stained t-shirt eating Cheetos by the fistful and singing-along with some of your favorite anti-love tunes, instead? It's probably not healthy to wallow in your hatred of love all the time... but gettin' angsty every once in a while isn't going to hurt you. In fact, it just might be the best way to survive next Sunday. Check out my anti-Valentine's Day playlist below, featuring songs from Pink, Bruno Mars, Nicki Minaj, Maroon 5, and more.
Kelis, "Caught Out There"
"I HATE YOU SO MUCH RIGHT NOW!"
Well, it doesn't get much more "anti-Valentine's Day" than that!
Maroon 5, "Payphone" (feat. Wiz Khalifa)
"If happy ever afters did exist, I would still be holding you like this / All these fairy tales are full of s*** / One more f***in' love song, I'll be sick..."
Tell us how you really feel, Adam Levine.
Jazmine Sullivan, "Bust Your Windows"
"I bust the windows out your car / You should feel lucky that was all I did / After five whole years of this bulls*** / Gave you all of me and you played with it..."
*applauds*
Pink, "So What"
"So, so what? / I'm still a rock star / I got my rock moves / And I don't need you..."
You can always count on Pink for a dose of inspiration.
The All-American Rejects, "Gives You Hell"
"If you find a man that's worth a damn and treats you well / Then he's a fool, you're just as well / Hope it gives you hell..."
Oop.
Mariah Carey, "Infinity"
"Why you mad? Talkin' 'bout you're mad / Could it be that you just lost the best you ever had? / That's your bag / Yup, that's too bad / Show is over, you ain't gotta act..."
Nobody does a kiss-off song like Mariah. Nobody.
Robyn, "Dancing On My Own"
"I'm giving it my all, but I'm not the girl you're taking home / I keep dancing on my own..."
For when you start to feel a little sentimental.
Bruno Mars, "When I Was Your Man"
"When our friends talk about you, all it does is just tear me down / 'Cause my heart breaks a little when I hear your name..."
For when you start to feel a lot sentimental.
J. Geils Band, "Love Stinks"
"You love her, but she loves him / And he loves somebody else / You just can't win / And so it goes 'til the day you die / This thing they call love, it's gonna make you cry..."
I mean, basically.
Sugababes, "Hole in the Head"
"Seven hours since you closed the door / Started a diet, got a manicure / Erased your number from my telephone / And if you call me, I won't be at home..."
Bye!
Nicki Minaj, "The Crying Game" (feat. Jessie Ware)
"I'm losin' a thing I thought I'd win / And I'm coming undone, 'cause the tears don't end..."
A rare peek at Nicki Minaj's vulnerable side.
Avril Lavigne, "What the Hell"
"All my life I've been good, but now / I'm thinking, "What the hell?" / All I want is to mess around / And I don't really care about / If you love me, if you hate me, you can't save me, baby, baby..."
Love can sit on it, tbh.
Amy Winehouse, "Back to Black"
"You went back to what you knew / So far removed from all that we went through / And I tread my troubled track / My odds are stacked / I'll go back to black..."
*cries*
Carly Rae Jepsen, "Tonight I'm Getting Over You" (Remix feat. Nicki Minaj)
"Ain't tryin' to be mean, but / I am the queen, yeah / Ain't f***in' with no f*** boys / Get me, get me, should've got me then / 'Cause I would wear for real, and you would rock pretend / Yo, can I get another does of my oxygen? / 'Cause I been breathin' all this motherfuckin' toxin in..."
Tell 'em, Nicki!
Adam Sandler, "Somebody Kill Me" (from The Wedding Singer)
Perfect.
Images: New Line Cinema (2)