How To Throw An Anti-Valentine's Day Party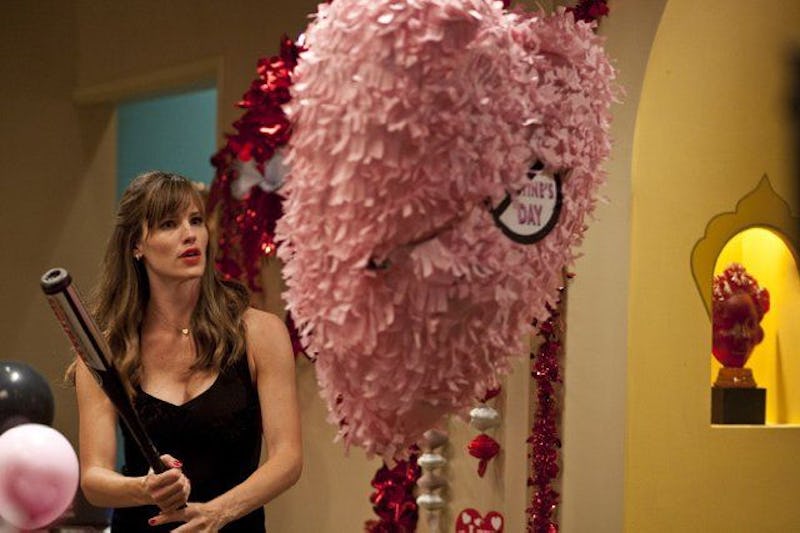 As we approach Feb. 14, a question forced upon everyone's minds is how they'll be spending Valentine's Day, a holiday enjoyed by few and suffered through by many. If you see the date more as Single Awareness Day (SAD), or a day when you'll be subjected to saccharine couples overflowing restaurants and bars, and more PDA than you can shake a stick at, here are a few anti-Valentine's Day party ideas to look forward to, because shaking a stick at a heart-shaped piñata is so much more gratifying.
Gather your girlfriends who are just as over it as you are, and set yourselves up for a night of non-romantic revelry. Whether guests have recently consciously uncoupled, or are still in a couple but have consciously committed to steering clear of cliché candlelit dinners, an anti-Valentine's Day agenda is something everyone can sign up for. Decorate your abode with hearts of the black or broken variety, and a menu lineup that will put any overpriced V-Day prix fixe to shame. In the company of best friends, you'll be experiencing true love by way of pepperoni pizza and a playlist that includes empowering numbers from TLC and Beyonce. Here's a roundup of helpful tips for throwing your anti-Valentine's Day party free of commercialism, consumerism, and pesky cherubs.
Invitations
The first step to your anti-Valentine's Day party is sending out the invitations. There are some really superb card options out there with plenty of anti-V-Day sentiment. You can have these double as greeting cards and requests to RSVP to your single's day soirée.
Scratch-off Cards, $6, Etsy
If you're looking for something a little more unified, check out these scratch-off cards from Etsy that reveal a customizable handwritten message when invitees scratch through the gold foil.
Decor
Once the date has been set (Feb. 14 is a no-brainer) and your guests have RSVP'd, your next priority is transforming your place into a sanctuary from all things sweet and sappy. Keep it festive sans the pink streamers and dainty doilies, unless you are aiming for an ironic effect. Oftentimes, ornamentation intended for Valentine's Day can be tweaked just enough to drive home your intended anti-Valentine's sentiment. All it takes is the addition of a few well-placed sassy captions, and taking a pair of scissors to intact hearts.
A Sassy Conversation Heart Banner
Anti-Valentine's Day Banners, $18, Etsy
Leave it to Etsy to have an impressive collection of anti-Valentine's Day banners. These conversation hearts say what you wished they'd said in middle school.
A Banner Declaring Your Party's Mantra
Love Stinks Banner, $16, Etsy
Another winner from Etsy.
A Black Heart Wreath
Black Heart Wreath, $75, Etsy
An easy way to set the mood is committing to hearts of all materials and sizes, as long as they're black. This Etsy wreath is a perfect addition to your entryway, and promises to ward off bad romance.
Food
Give your guests a balance of sweet and savory options to carry them through the evening. The holiday's side effects include an overabundance of sugar, and while it's only appropriate to indulge in treats of the sweeter variety, make sure there's plenty of savory options too. Food is another area in which you can play to a theme, so use your menu as an opportunity to underscore the anti-Valentine's attitude.
On-Theme Cupcake Toppers
Broken Heart Cupcake Toppers, $12, Etsy
Ready the palate with a classic February 14th offering of cupcakes, but top them off with these doomful decorative touches from Etsy.
Heart-Shaped Fries
Bring the saying "fries before guys" to life with this snarky snack from Fo Reals Life. Then serve them up in these adorable holders by Studio DIY:
Heart-Shaped Pepperoni Pizza
Celebrate your longest long-term relationship with a heart-shaped pie topped with cheesy goodness and heart-shaped pepperoni. The recipe from How Sweet It Is proves that true love comes in all shapes and forms (but heart-shaped is best, and pizza is the most delicious).
Music
No anti-Valentine's Day party is complete without the perfect anti-Valentine's Day playlist. Turn up tracks from M.I.A. and Nicki Minaj and classic hits from Destiny's Child and Alanis Morissette. Or really take your party to the next level with a Beyonce mashup covering "You Oughta Know".
Activities
In addition to mingling, eating, dancing, and boozing, give your guests an activity or two to partake in — like anti-Valentine nail art, or baking voodoo cookies.
Photo Booth
These cynical accessories from Etsy make setting up an anti-Valentine's Day photo booth super easy.
Piñata
Let out some anti-Valentine's Day aggression on this party piñata from Oriental Trading Company.
Party Favors
At the end of the night, send guests off with a few mementos to take home. For a personal touch, this roundup of anti-Valentine's Day gifts has something for everyone.
Anti-Love "Literary Lites"
You don't need a hot romance to light the flame, especially with these clever little matchboxes available on Etsy.
Conversation Heart Cookies
Spell it out on these short-tempered conversation heart cookies from Etsy.
Images: Warner Bros. Pictures; Giphy (5); Etsy (8); Fo Reals Life; How Sweet It Is