5 Pieces That Are Totally Worth The Splurge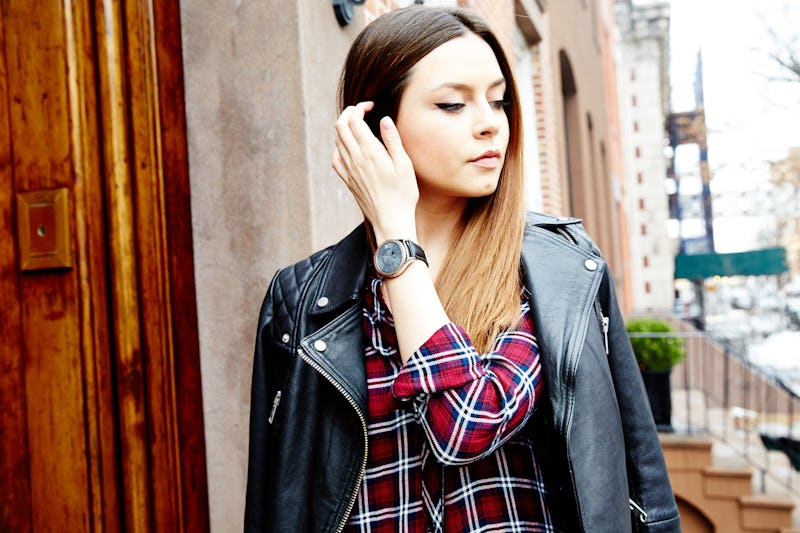 I'm convinced that every girl with a really great wardrobe knows the same secret: what to splurge on and where to save. Effortless style is all about a mix of high and low, and having an eye for quality — and quality often comes with a bigger price tag. Knowing which pieces are worth the investment is the trick, and once you've built your own personal arsenal of favorites, you're halfway to your dream closet. The pieces that ground your wardrobe tend to be the ones that cost the most. Seasonal trends, vintage finds, and things like basic tees and even jeans don't need to cost a lot to look good — but an awesome pair of boots usually do. It can be a little scary to pull the trigger on a piece that rivals your monthly food budget, but a little research and foresight can make big purchases way more exciting than stressful.
In partnership with the Samsung Gear S2 Classic (which is now available in very splurge-worthy Platinum and Rose Gold) we've devised a list of elevated essentials that are totally worth the investment. From a perfectly timeless leather jacket to the LBD that will change your life, these are the things that you'll never regret dropping a little extra cash on. Their uses are varied and many, and will have you looking polished and poised for years to come.
The Perfect Leather Jacket
Conroy Leather Biker Jacket, $650, All Saints
A good leather jacket that you love can literally last decades. Over tees or dresses, styled up or down, rain or shine, this is a year-round staple that is a must-have in any closet. Sure, you could pick up a black moto jacket at most fast-fashion chains, but this is an item that demands quality if you're looking for any kind of longevity. Plus, a super-nice leather jacket is like a great bag — it has the power to instantly elevate any outfit while giving off that effortlessly cool vibe that you really can't put a price tag on.
A Great Pair Of Versatile Boots
Reyes Bootie, $150, Sam Edelman
Like a leather jacket, a great pair of staple boots can make you feel totally put together, even if you're just throwing on jeans and a sweater. When shopping for your perfect pair of boots, there are a few important points to keep in mind.
Color is key. Choose the neutral that grounds your wardrobe (for me, that's definitely black). Brown, grey, taupe, and sandy colors are also very versatile.
Keep the details to a minimum. Less hardware almost always looks more expensive.
Mind your materials. You might like snakeskin now, but I doubt you will in three months. Also, fabrics like suede can be limiting when inclement weather hits.
Heel height is crucial. If they feel too high, they probably are. A good pair of leather boots will break in and get more comfortable as you wear them, but too-high heels will never stop being a pain. Go for whatever height you find most comfortable.
An LBD With Personality
Alice + Olivia Frances Flared Dress, $398, Bloomingdales
It is absolutely true that an excellent LBD can take you anywhere. It's the piece in your closet you can always count on, and can be easily dressed up or down for almost any occasion. However, even though it's a basic, your perfect LBD should still reflect your personal style. Little timeless details and a silhouette you love will really make the piece pop — and make it well worth the investment. Good quality construction and materials mean this dress will serve you well for years to come.
A Sophisticated Watch
Every grown woman should have a really good watch. One made of beautiful materials that gracefully blurs the line between statement jewelry and function — because you can totally have both. A smartwatch is the way to go these days, and really will make your life so much easier. The new Samsung Gear S2 Classic in either Rose Gold or Platinum will polish off your look but can ALSO order an Uber, deliver all your messages, tell you the weather, track your steps, and do a million other things that render traditional watches totally obsolete. Can your other jewelry hail a cab? Didn't think so.
A Grade-A Bag
Auxiliary Bega Satchel Bag, $398, Aritzia
When you use the same bag every day, it's easy to justify getting a really nice one. Just think of the per-diem cost! The perfect bag can easily fit all of your necessities, isn't annoying to carry around, and is expertly constructed out of materials that will stand up to a little abuse. Similar to boots, it's important to pay close attention to hardware and styling. An investment bag should elevate your everyday style while fitting seamlessly into your personal look, day to night.
This post is sponsored by the Samsung Gear S2 Classic.
Images: Lauren Perlstein