What To Know Before Getting Your Eyebrows Done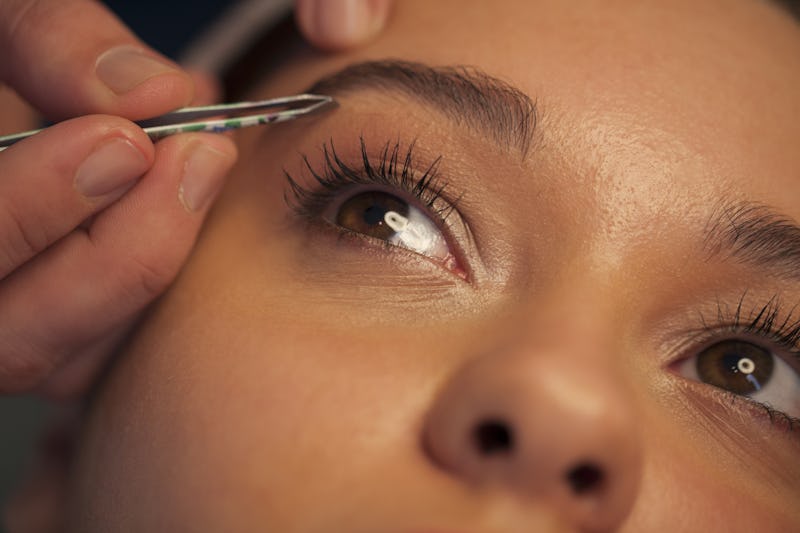 Before booking that salon appointment to get your brows on fleek, there are a handful of things to know before getting your eyebrows done. Because eyebrows can be the most important facial feature, it's extremely important to be aware of how to trim and maintain them. I mean, everyone can dream of having Cara Delevigne eyebrows, but the reality can be far from it sometimes. I personally know that getting eyebrows in tip-top shape is not as simple of a task as it seems.
I wish that I had known a thing or two before shaping my eyebrows. The first time I got my brows done was arguably the worst salon experience I've ever had. When I arrived at the salon, my brows were full and healthy. When I left, I had two skinny lines hanging above my eyes, because, well, that was the look that was in at the time! While this was totally my fault, I wish I had known better. If I had just known what to say, do, or show my eyebrow artist the kind of look I was going for (skinny, but not that thin), that would've helped immensely. I obviously wasn't fully prepared when getting my eyebrows done for the first time. Now, I know so much better.
If you feel disappointed every time you get your brows done, keep these things in mind to avoid mistakes and sad brows during your next appointment:
Do Your Research
Choosing an ideal eyebrow shape is important for sure, but so is deciding what eyebrow grooming technique to use. Whether you're looking to get your eyes waxed or threaded is totally up to you, but knowing the pros and cons of both will help you get a good idea of what you can expect. Personally, I've always stuck with threading because it works better with my skin.
Don't Wear Eye Makeup
Neutrogena Fresh Foaming Cleanser, $5, Amazon
This is extremely important to remember. Don't pile a bunch of eyeshadow or brow powder before you get your brows done. Make sure you have a clean, fresh face so that your eyebrow artist can easily see where your brow needs cleaning and shaping.
Make Sure You Have Enough Hair
Making sure you have enough hair to trim is something that might seem obvious, but is absolutely necessary. It's best to not tweeze between appointments so that the hairs are all evenly grown. This makes shaping easier and so much better in the long run.
Be Specific About The Trim That You Want
When you get your eyebrows done, it's always important to let your eyebrow artist know the kind of shape and style you want. Don't leave them guessing. If you're not exactly sure what you want, ask for their suggestions before they start.
Don't Pluck Beforehand
I used to have a real problem with overplucking my eyebrows. The thinner my eyebrows were from getting them done, the more I tweezed them. I guess you can say I became obsessed with making sure they were always clean and trimmed. But learn from my mistakes: definitely do not pluck before going to the salon. If there is plucking to be done, let your eyebrow artist do it for you.
Be Honest With Your Eyebrow Artist
Malynda Viglott, owner of Boom Boom Brow Bar, told The Huffington Post, "Communication is key because once you take the hair out, it's gone and takes months to grow in." I can definitely attest to that.
Also be sure to let them know if you have had certain procedures done to your eyes or if you use a special medication for them. Letting your eyebrow artist know these things will help make the process easier for you.
Be Calm
When I got my eyebrows done for the first time, all I remember was wanting to stop the whole process in between the threading. Whether you're getting waxed or threaded for the first time, be aware that it might be a little uncomfortable at first. And make sure to stay calm when getting them done. If they hurt too much, you can always let your eyebrow artist know!
Want more style tips? Check out the video below, and be sure to subscribe to Bustle's YouTube page for more hacks and tricks!
Images: Fotolia; Flickr/Walt Stoneburner/Amy G./Jason Saul/Ian Brown; Courtesy of Brands; Pixabay (2)