Jade & Tanner Photos Prove They're A Perfect Pair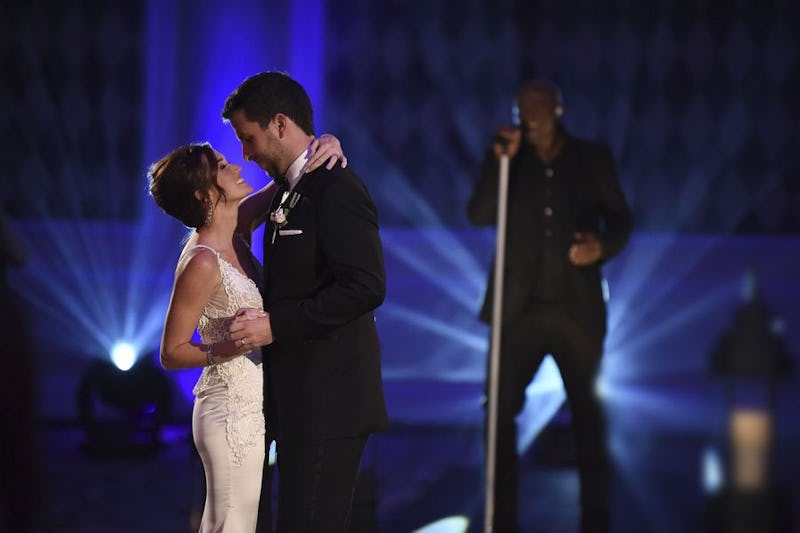 I have faith that Bachelor In Paradise Season 2 success story Jade Roper and Tanner Tolbert are destined to stay together. The pair already got married (and their wedding will be aired on ABC on Sunday), and every photo of Jade and Tanner proves they're totally meant to be, particularly the ones they post on Instagram. First of all, like all members of The Bachelor cast, they are unfairly good-looking, so any pictures featuring the two of them are bound to be nice to look at. But, more than just being an attractive couple, their pics prove their pairing is one that's going to last.
When Janner first got together on Bachelor In Paradise, it seemed like they were possibly just experiencing that vacation high. But, so far, each season of the spinoff series has managed to bring together a couple that is a perfect fit. Marcus Grodd and Lacy Faddoul also got married onscreen, and they're still a dream pair as well. So, while the reality TV curse has resulted in only a handful of Bachelor and Bachelorette couples staying together, surprisingly, it seems you really can find love in Paradise (unless you are Chris Bukowski). So, bask in the adorable love of one of Bachelor Nation's best couples.
1. When They Managed To Make Matching Cute
Couples wearing matching outfits (or in this case, sunglasses) is usually a sign that a pair has way too much time on their hands. But, Jade and Tanner don't look like they're trying too hard — they just both happen to look great in those shades (and it was for a good cause!).
2. When They Traveled Together
It makes sense for a couple who met on what's basically a televised vacation to be pros at looking good while traveling. It's one thing to eat pizza and watch Netflix together every night, but these two actually put on pants, got on a plane, and enjoyed a trip to Miami. They even took a cute picture in front of a piece of local street art.
3. When They Completed One Another's Heart
Come on, that could melt even a cynical person's heart.
4. When They Perfected The Prom Pose
Here's proof Tanner and Jade would even look good as a couple of 80s teens, mullet and all!
5. When They Spoiled Their Puppy
Of course their super cute dog, Pippa, is the center of attention. The whole family looks snug as "#threebugsinarug." And, check out Pippa's Instagram if you are a sucker for seeing a well-dressed Boston terrier pop up in your feed.
6. When Tanner Got Romantic
A husband who does romantic gestures like this is a definite keeper. And, the fact that Jade agrees just proves how compatible they are.
7. When They Invested In Their Future
Now, plenty of couples shack up together and wind up splitting up. But, Jade and Tanner bought four acres of land to build a house on, which could take years! That's commitment.
8. When They Watched The Bachelor Together
If these two are going to make it, they have to keep a good sense of humor about where and how they met. And, they've both remained huge fans of the show, tuning in to support Ben Higgins on his own journey.
9. When They Looked Good Face-Swapped
Until now, I thought that every couple would look disturbing with their faces swapped. I was so naive, because somehow Tanner and Jade actually still look like a pretty cute couple.
10. When Even Their Jokes Were Super Sweet
True love is letting your spouse post a sleeping pic on social media.
11. When They Shared Everything
Tanner is totally pulling off the gold chain. And, these two love a good pair of sunglasses.
12. When They Literally Swept Each Other Off Their Feet
I am slightly curious about who took this picture, but there's no denying it: Any couple who agrees to doing a fairytale pose like this, then posting it on Instagram, and still manages to look cute is destined to stay together forever. With a good sense of humor, true support between one another, and lots of romance, I'm calling it: Tanner and Jade are going to live happily ever after.
Image: Matt Petit/ABC