Ali & Dr. Rollins Might Not Marry Soon On 'PLL'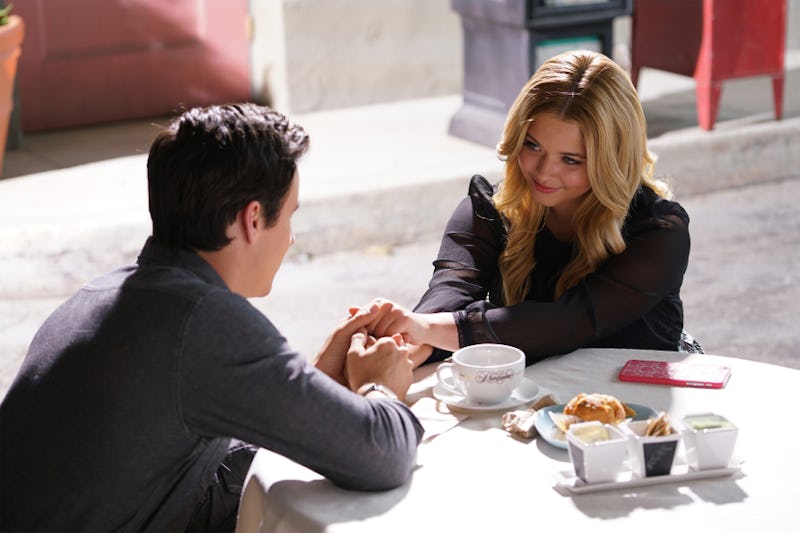 It's crazy how things can change in five years. Pretty Little Liars has jumped five years into the future, and, while the girls are still lying, stealing, and getting accused of murder, there have also been some major changes in Rosewood. Hanna and Caleb's relationship is officially dead (for now), and Hanna is getting ready to walk down the aisle with Jordan while Caleb is shacking up with his new love interest Spencer. (Excuse me while I go cry in a corner.) Even Toby is planning on popping the question to his girlfriend, New Spencer — err, Yvonne. It seems like everyone on Pretty Little Liars is getting hitched (what's up, Ella and Byron?!) but there is one person who is still a total question mark in terms of her marital timeline. When will Ali and Dr. Rollins get married?
We know that Ali and Dr. Rollins will walk down the aisle because of a flash-forward that we saw at the end of Season 6A. In that scene, Ali was writing the name "Mrs. Rollins" on the board of her classroom at Rosewood High. Hanna, Spencer, Aria and Emily then burst into the room and warn Ali that "he" is coming — and it sounds like this person could be Uber A. The scene proves that Ali and Dr. Rollins will get married eventually, even if the exact timeline is a little bit fuzzy. It turns out that the flash-forward that we saw at the end of Season 6A wasn't a direct correlation to the action that we are seeing in Season 6B. Instead, the scene that we saw will be from any even later episode in the series, possibly one at the end of Season 6B or even Season 7.
To be honest, it's a little bit of a relief that Ali and Dr. Rollins aren't zipping down the aisle. For one thing, I'm pretty sure that Ali has, like, just started referring to him by his first name, and not "Dr. Rollins." This is the guy who worked as Charlotte's psychiatrist for years — jumping into a public romantic relationship so shortly after her death wouldn't exactly be received well by the uppity people of Rosewood. It seems that these two are testing the waters of dating right now, but it's only a matter of time before the floodgates open and they become husband and wife.
Of course, there's always the theory that Ali and Dr. Rollins aren't getting married simply out of love — if Ali or Dr. Rollins is suspected of Charlotte's murder, there's a real chance that they decided to get hitched so they wouldn't have to testify against one another in court. In fact, Hanna mentions this in relation to Ella and Byron in the very last episode — could it be a wink at what's to come between the couple we know will make it to the alter?
Only time will tell... but we better start getting used to "Alison Rollins."
Images: Adam Taylor/Freeform; theliarsgifs/Tumblr