What Happened To Cute Voldemort?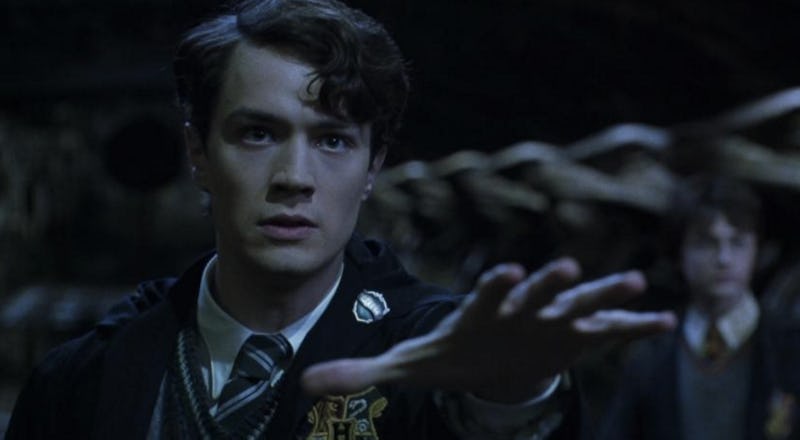 The first time Harry Potter fans saw He Who Must Not Be Named as a young dude with a nose was in the second installment of the film series, Harry Potter and the Chamber of Secrets. Though Tom Marvalo Riddle (remember when he revealed the anagram? What an evil mic drop) was played by many actors over the years, the first to play Tom was one of the best (and cutest): British actor Christian Coulson. Even though he was the fiercest Tom Riddle (in my own personal opinion), Coulson couldn't reprise his role as Tom Riddle because he got too old, unfortunately. But what has Christian Coulson been up to since Harry Potter and the Chamber of Secrets? He's been busy acting, of course.
Coulson's film career waned a bit, but he has acted on stage prolifically. (Side note: It seems like a lot of Harry Potter alum moved to the theater after the series wrapped. Maybe they were a little tired from working on a movie set for over a decade.)
Chamber of Secrets debuted in 2002, when Coulson was 23 years old, and he played a convincing 16-year-old Tom Riddle thanks to his cute baby face. Before Harry Potter, Coulson was involved with in theater while at the University of Cambridge, and went back to his first love after the movie. He played perhaps the most romantic role for any actor: Romeo in a 2002 production of Romeo and Juliet by the esteemed Liverpool Playhouse opposite Shereen Ibrahim as Juliet.
Coulson's next turn on stage was in 2004 as Tristan in Travesties, a war drama about author James Joyce. He was in Journey's End, another war drama, and a review from The Cliffedge called him "suitably dashing and appropriately dismayed by events as the new young officer." Never seen it, but there's no doubt Coulson was dashing.
He also had TV roles in between. He appeared in an episode of the classic British show Agatha Christie's Miss Marple, and was James, Duke Of Marmouth in another very British production, the BBC mini-series Charles II: The Power Of The Passion. Stateside, Coulson curiously was on an episode of Gossip Girl (I'm not mad, GG is definitely one of my guilty pleasures), and in 2011, he was in an episode of The Good Wife.
As for film, Coulson dipped his toes in many different waters. Recently he was in a French-American film Love Is Strange in 2014, about a same-sex couple in New York. It got wildly great reviews, and had an all-star cast. Coulson appeared alongside John Lithgow, Marisa Tomei, and British actor Alfred Molina. I will have to watch this soon if not just to see Tom Riddle's cute mug.
When he was 23, Coulson was also in the wonderful Virginia Woolfe semi-biographical film The Hours starring Meryl Streep, Julianne Moore, and Nicole Kidman with an amazing prosthetic nose. Guess 2002 was a very busy year for him!
Afterwards, Coulson starred in the 2014 film Leaving Circadia about a group of friends in Brooklyn and the 2015 mystery film Peter and John.
Coulson also has a few projects that are premiering this year: Those Who Wander, a film by director and writer Christina Callas about, according to IMDb, "a high school where things spiral out of control when a terrible accident involving a science experiment injures a kid for life." Dark, dude, but sounds really great. There's also Those Who Wander, a film from Jay Craven, which delightfully stars Coulson's co-star from Chamber of Secrets, Bonnie Wright, aka Ginny Weasley, who was taken under the evil control of the Horcrux of Tom Riddle. But this film is a happier reunion, about kids falling in love on road trips.
It's safe to say that although sadly Coulson never came back as Tom Riddle because he aged out of the role, his talent has only had more room to be showcased post-Harry Potter. So, if you miss that great Tom Smoldering Riddle, you can now watch any of these other great films from his career. Or, as I plan to do as soon as possible, you can re-watch Harry Potter and the Chamber of Secrets, which not only features Coulson but an awesome basilisk and the first horcrux (spoiler alert). Coulson is super talented, but to me I will first and foremost love him for being my first bad boy crush at 12 years old. You're the only Tom for me, Christian.
Images: Paramount Pictures; Warner Bros. Pictures, CW; Giphy (2)