These 17 'Harry Potter' Actors Have Been Busy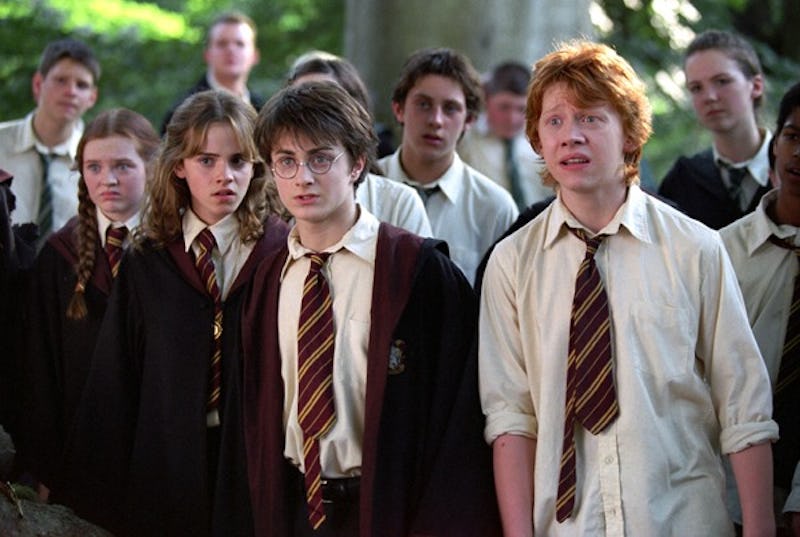 If you happen to be a fan of Harry Potter in the year 2015, it can be hard to get your fix. Sure, it's easy to read more material by J.K. Rowling, as she has barely stopped moving since Deathly Hallows, churning out The Casual Vacancy and the Cormoran Strike series, like it was nothing, but, beyond re-reading the original books or watching the movies, there's not much you can do to scratch that magical itch. It seems so unfair that so many of us grew up with the Hogwarts crew, only to be cut off from them after the seventh book and their seventh year at school, our only clues at how they turned out in the form of a brief epilogue. But, that's not enough for me. I need to know where the Harry Potter actors are now.
Learning the names of your kids are great, and I'm real happy for you, Ron and Hermione, and Ginny and Harry, but none of us has waited in line to buy a book at midnight in almost a decade, so we're going into withdrawal. Which is why I took it upon myself to see how some of these folks turned out. Not the characters themselves, of course, because I'm not a witch, ugh. But, I checked in on the actors who portrayed them. It's about as close as I can get to those familiar characters, so please don't rain on my parade.
Here's what 17 of my personal favorite Harry Potter actors have been up to lately. Minus Daniel Radcliffe, Emma Watson, and Robert Pattinson, because I feel like we keep pretty good eyes on them as it is.
1. Rupert Grint
Rupert Grint, who played Ron Weasley in the films, had a pilot in 2013 that didn't get picked up, then did a brief stint on Broadway in 2014 with It's Only A Play. Now, he seems to have found his way back to movies, favoring lower-budget indie films like CBGB (2013) and Moonwalkers (2015).
2. Tom Felton
In addition to getting into (faux) Twitter feuds with Matthew Lewis and loving his girlfriend more than you thought possible, Tom Felton, who was the delightfully creepy Draco Malfoy, has been working really hard. According to IMDb, he has three movies coming out next year alone: Stratton, Message From The King, and Risen. Busy boy!
3. Evanna Lynch
Lynch, who portrayed Luna Lovegood in the movies, has done lower-profile projects since Harry Potter. Many of these have been released only in the UK, such as Danny and the Human Zoo , which came out this year.
4. Matthew Lewis
Aside from performing the tale of "The Nerdy Duckling" before our eyes, transforming from the guy who played Neville Longbottom into a bonafide hunk, Matthew Lewis has been working pretty steadily. He appeared in a TV series called The Syndicate in 2012, and began another: A war comedy called Bluestone 42 in 2013, which just wrapped up its third season in April 2015. Apparently not one to rest on his laurels, Lewis also has a movie called Me Before You slated to come out next year.
5. Bonnie Wright
Since playing Ginny Weasley, Bonnie Wright hasn't slowed down for a second, racking up at least two projects a year since the final film was released. She's currently filming The Highway Is For Gamblers, where she stars opposite Nikki Reed, with a Scottish retelling of A Christmas Carol in post-production, and Those Who Wander completed but not yet released. Makes me tired just typing about it.
6. & 7. James And Oliver Phelps
I wouldn't normally lump two actors together, but, with how inseparable Fred and George Weasley were in the films, and the fact that these two do still work together a bit, it only made sense. The real life identical twins had no acting experience before they auditioned, but have since collaborated on A Mind's Eye, a short documentary about Plato, and Danny and the Human Zoo, with Evanna Lynch. They will star as Constables Berrow and Stroyde in Own Worst Enemy, due out sometime this year. James also has a film called Patchwork due out in 2015, while Oliver is waiting on Felo De Se, slated for a 2016 release.
8. Harry Melling
Harry Melling was far from the most popular character in Harry Potter — he played Dudley Dursley — which might go toward explaining why he hasn't gotten much more work since the films. He's done exclusively shorts and several brief arcs on TV series like Just William and Garrow's Law since his last appearance in the movies. I hope he finds his way to doing more, as he certainly has the talent.
9. Clémence Poésy
The French actress Clémence Poésy hasn't lacked for work after playing Fleur Delacour, starring opposite Michael Caine in 2013's Last Love, and appearing as Elise Wassermann in The Tunnel, a crime series that started in 2013 and will return for Season 2 in 2016. She's currently filming a movie called Demain Tout Commence, also due in 2016.
10. Stanislav Ianevski
The actor Stanislav Ianevski is almost as impenetrable as his character Viktor Krum, as he hasn't done a single project in the United States since the franchise wrapped. He's done a couple television series in his native Bugaria, one called Undercover, the other called Stolichani v Poveche, and a film called Resistance that was released in the UK, but so far nothing for our prying American eyes. Fingers crossed it happens sometime in the future!
11. Katie Leung
Surprisingly enough, Cho Chang was Scottish actress Katie Leung's first acting role, so after the Harry Potter series wrapped, she wasn't sure she wanted to continue with movies. Instead, she took a drama course at the Royal Conservatoire of Scotland, which appears to have given her the theater bug, because she's done several stage plays since: A London production of Wild Swans in 2012 and the National Theater's A World Of Extreme Happiness in 2013. She's also done several television roles, including the Channel Four miniseries Run in 2013 and BBC Two's One Child in 2014.
12. Devon Murray
It finally happened! I finally came upon an actor on this list who's had absolutely zero acting roles since Deathly Hallows, and it's Devon Murray, who played Seamus Finnegan. He did play himself in a documentary from 2013 called Vlogbrothers, but Murray weirdly had more credits before Harry Potter, such as playing Malachy in Angela's Ashes in 1999. So, it's clearly not an issue of talent — maybe he was just burned out after a full franchise?
13. Alfie Enoch
In comparison, Alfie Enoch has done quite a bit of high-profile work since taking on the role of Dean Thomas. In addition to televised Shakespearean performances from National Theater productions like Timon of Athens and Coriolanus, you might recognize him from any number of TV series, including Broadchurch, Sherlock, or How To Get Away With Murder, on which he's been playing Wes Gibbons since the show's premiere in 2014.
14. Scarlett Byrne
I thought Scarlett Byrne was almost criminally underused as Pansy Parkinson, but luckily that hasn't been the case in her projects since. She did the TV movies Lake Placid: Final Chapter and Sorority Murder in 2012 and 2015 respectively, and has been particularly busy this year, with roles on the TV series Falling Skies and The Vampire Diaries, and the completed thriller Skybound, which should be out by the end of the year. Also, fun fact: She's currently engaged to Hugh Hefner's son Cooper.
15. Louis Cordice
Louis Cordice was a great Blaise Zabini, which makes it all the more unfortunate that we haven't heard from him since 2011. Here's hoping he gets a plum role soon!
16. Jamie Waylett
And then there's Jamie Waylett. Sigh. The last time we saw him in a movie it was Harry Potter and the Half-Blood Prince, in which he played Vincent Crabbe, only to be replaced by the actor who played Gregory Goyle for the final two films after a Waylett was brought up on a drug possession charge in 2009. Then Waylett was sentenced to two years in prison in 2012 after participating in riots in England in 2011, specifically for being in possession of a Molotov cocktail. Yikes. He's presumably out by now, since March 2012 was more than two years ago, but I can't find anything about him on the internet. And, maybe that's a good thing? Keep your nose clean, buddy!
17. Joshua Herdman
Joshua Herdman is the actor in question who played Gregory Goyle and took over for his costar Jamie Waylett, and that sense of hardworking responsibility seems to have rewarded him well in the years since Harry Potter. He's done four films since — The Estate Film in 2011, Piggy in 2012, Common People in 2013, and Wasted in 2015. I haven't heard of any of them, likely because they're UK-based, but it's great to see Herdman working so consistently, even if it's on smaller projects.
For the most part, everyone still seems to be happily working away, and, even if they aren't, let's not forget that these kids made a poop load of money from Harry Potter and can probably do whatever they want at this point. (Although no, I'm not talking to you, Jamie Waylett. You be careful out there.) So, even if they aren't working, I'm hopeful that they're happy and think fondly back on their time in the wizarding world.
Images: Warner Bros.; jacknicholson, psychictwinsrph/Tumblr; Giphy (14)