4 'Bach' Ladies Who Might Get A Hometown Date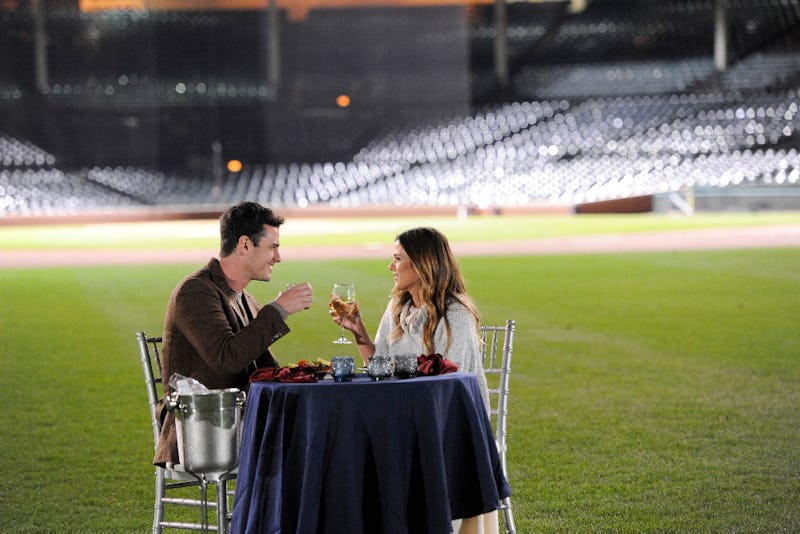 Can you believe we're already talking about hometown dates? It feels like Ben Higgins' Bachelor season has just begun and yet here we are, with six women left and some big choices to be made. On Monday, Ben will have to whittle down the group to four and then come the big hometown dates. So, which contestants will make it to hometown dates? I have some predictions, but first let's talk about what's going on Monday's episode. It looks like — in the words of Chris Harrison — the most dramatic episode ever.
In case you haven't seen the clip, there is a moment where Becca tells Ben she doesn't want to be blindsided. She says she's really falling for him and wants to know where he stands. As former Bachelor contestant (and recent newlywed!) Jade Roper tells Bustle, "I feel like Ben's body language is very obvious," and it's true. He may like Becca, but it doesn't seem like he likes her as much as the other girls. I think this may be Becca's last hurrah on the show. Now let's talk about Emily. I love her. I think she's the Carly Waddell of this season, and we are just starting to really know her. That being said, there is a room for her and her sister in Paradise, and there's no way the producers won't have her in Mexico. Ben might like her a bit, but I don't think she'll be around for the long haul.
So, who does that leave for the hometowm dates?
Amanda
Let's start with one we know for sure gets a hometown date. Last Monday the show previewed the rest of the season and showed Ben on the beach with Amanda's two little girls, which means we can definitely assume that Amanda is staying long enough for hometowns. Ben will travel to the beaches of the O.C. where Amanda hails from and get a sense of her life there. This is likely a defining moment for Ben. He's going to meet her daughters. That's a huge step in deciding whether or not Amanda is the one and whether or not he's ready to become a stepfather at 26.
Lauren B.
I mean, it's obvious that Ben is super into Lauren B. and it's probably OK to assume she will make it to top four. What does that mean for hometown date? Well according to her ABC bio, she lives in Marina Del Rey, California, which is in Los Angeles. However, she was born and raised in Portland, so I imagine these two will head back there to hang out with her family. To be honest, if I were Ben, I would rather spend the day in Portland than Marina Del Rey, anyway.
Caila
The last standing dark-haired gal will hopefully make it to Top 4. She's cute, and she and Ben have a lot in common. They understand each other's careers, because no one else really understands what a software sales rep really means, and she's constantly smiling, according to Ben. Now that she's shown him that she can be "complicated" and "scared to hurt him" you can tell he's loving the Caila chase. Caila lives in Boston, but according to her bio, is from Hudson, Ohio. I assume they will be heading to the Buckeye state, although Boston sounds way more fun.
JoJo
Ugh, JoJo is my favorite, and I'm adding her to the Top 4 because it's what I want to happen. However, I don't know if you guys noticed, but there was a scene of them on the pig swimming date where Ben pulled JoJo aside and had a real conversation with her. It seemed natural and it seemed like they were super comfortable with each other. So, here's hoping. JoJo grew up in Dallas, Texas so these two will definitely be heading to the Lone Star state for her date.
I can't wait to see what happens!
For everything Bachelor check out Bustle's latest podcast:
Images: ABC/Jean Whiteside (3); ABC/Rick Rowell (2)