Predicting The Top 4 'Bachelor' Contestants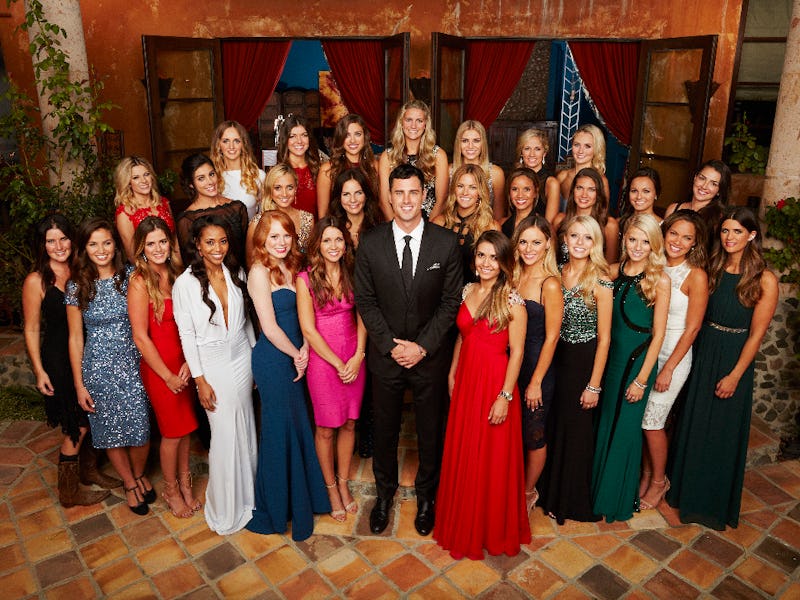 You know what the best part of The Bachelor is besides live-tweeting all your thoughts and feelings throughout the episode? Debating which women will be the last ones standing at the end of the show. Now, without Reality Steve spoilers, I have predicted who I believe will be Ben Higgins' final four contestants. These aren't my favorite four girls, but I really put a lot of time and effort into who is good for Ben and who I think he will chose. If I had it my way Jubilee would become The Bachelorette , because she's the coolest girl on the show right now and deserves everything. Regardless, Ben Higgins' season of The Bachelor is well underway and there have been some interesting twists thus far. Let's recap.
There was Lace. Lace promised Ben she was not crazy multiple times before actually deciding that she needed to leave and work on herself, which was actually pretty damn respectable. Then Jubilee, who opened up and talked about her hard past, was called out for making a joke to the other girls. Everyone pounced on Olivia because Ben really likes her and she's getting the villain edit, so there's that. There have been lots of one-on-one dates that involve hot tubs, dinner, and a band that literally no one has ever heard of. It's pretty much you're standard season of The Bachelor.
Now that you're all caught up let's get back to those predictions. Here's the Bachelor top four you can expect to see on hometown dates in a few short weeks.
1. JoJo
I have my money on JoJo winning the whole thing. I don't know what it is about her, but I like her a lot. I feel like she's a cool, normal, down-to-earth girl who's probably a ton of fun to hang out with. Just from reading her bio, I thought that she and Ben would be good together. She's from Dallas, loves country music, watches Wedding Crashers, wants to eat pizza and wine with Jesus and Ellen DeGeneres, and makes quesadillas. I mean, she just seems like Ben's perfect girl, no? I still feel like I don't know a ton of stuff about Ben, but most men would kill for a girl like JoJo and so far they've had some solid chemistry. Mark my words, JoJo is here for the long haul. If she loses, I sense the next Bachelorette here.
2. Lauren B.
This one is fairly obvious. They had pretty much the perfect first date and she's pretty much perfect for Ben. She's a simple girl and he's a simple guy. I don't mean that in a negative way at all, I just don't see Ben going for someone with a lot of baggage. Ben is a country boy from a small town in Indiana with a normal job and a normal life. I just think that Lauren B. is pretty much his counterpart in that way, which is why she will definitely make it to final two or at least top four.
3. Caila
I mean she's a "sex panther," you guys! No, but in all seriousness Caila and Ben have a lot in common between their jobs being exactly the same; they're both in software sales. A lot can be said for people who can find each other's work interesting. It also helps that these two have a ton of sexual chemistry and you can clearly see it every time they talk to each other. I would be kind of surprised if Caila didn't make it to top three. She's got the dark hair, perfect smile, and charming personality. Ben should keep her around if he knows what's best for him. Clearly, I know who he should pick.
4. Olivia
Hear me out for a second. I know we all see a woman on TV who's kind of ridiculous at times and has some pretty questionable moments based off the masterful editing of the show, but you have to remember that Ben isn't seeing the comments she's making to the cameras or the things that she says when he's not around. If you went back and watched all of their moments without her commentary, you would think they have a pretty solid relationship (minus the whole cankle talk after the announcement of his friends' deaths). But seriously, he seems to like her and at the moment no one has told him anything otherwise. I think she's a strong top four contender.
Of course, I don't really know what's to come this season — Who knows! The twin could stick around! — but if you ask me, these are the women worth placing your bets on.
For more Bachelor, check out Will You Accept This Podcast? Bustle's Bachelor podcast.
Images: ABC/Eniac Martinez; ABC/Rick Rowell (2); ABC/Craig Sjodin; ABC/Screenshot