Photos Of Jade Roper's Wedding Dress Are Stunning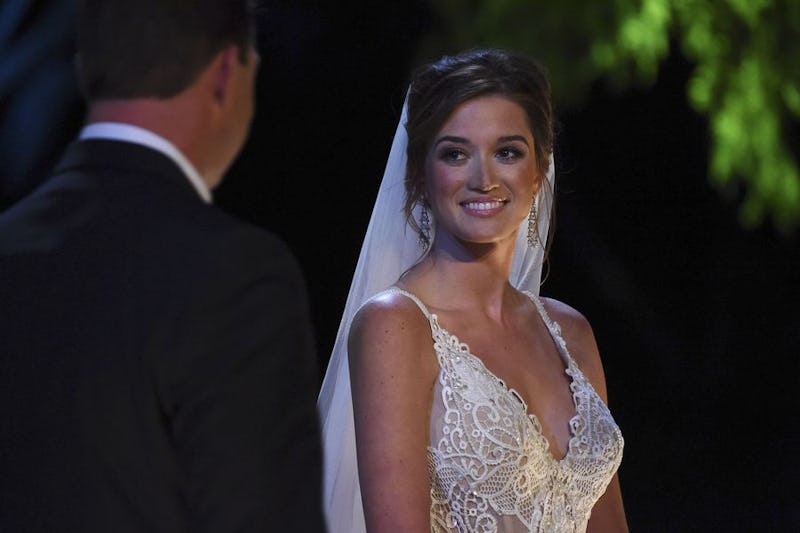 I know that when people get married the whole "two people uniting" thing is important. But, you know what else is important? The dress. Yeah, you know,the dress. That's what I was most excited about when I heard that Bachelor stars Jade and Tanner got married. Jade is beyond beautiful and has great taste, so I knew she'd pick a flawless gown. And, now that we get to see their ceremony on ABC on Sunday, we get to see photos of Jade's wedding dress in all its glory. And, man, is it a pretty gown.
According to the Kansas City Star, it's a custom-made Galia Lahav number, which, you know, means it's one-of-a-kind just like Jade and just like #Janner's special, adorable bond. The white, V-necked gown had a lace bodice with thin straps and Jade paired it with a stunning long veil. But, I know what you're probably thinking right now: Stop just talking about the dress and show it to me! I'm right there with you because I could look at this dress all day. And, I have, because I've been writing about Jade and Tanner's wedding all day. But, like, they're so sweet it wasn't even a problem, and this dress made searching for pictures all the better.
So, without further ado, here's Jade's gown in all its glory.
From Behind
That veil, though. I have serious veil envy.
From The Front
The detailing on the bodice is stunning.
From The Side
Literally this dress is beautiful from every angle, and it's so cool getting to see it. Thanks for sharing your wedding day with us Jade and Tanner!
Images: Matt Petit/ABC (2)