Precious Lee Made 'Sports Illustrated' History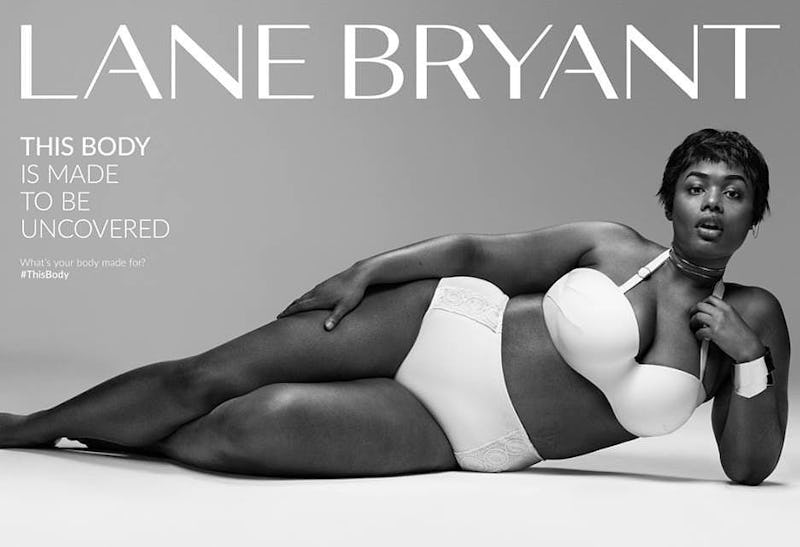 Sports Illustrated: I have to give you a thumbs way, way up. As PopSugar reported, plus size model Precious Lee is in the Sports Illustrated Swimsuit Issue for Lane Bryant's #ThisBody ad campaign, making her the second WOC visibly above a size 12 to land a spot in the publication's pages along with Philomena Kwao. Unfortunately, the kind of diversity Sports Illustrated has demonstrated in its latest issue is rare for anything related to the modeling industry. But personally, that's why I'm willing to celebrate it as progress.
To recap, on Feb. 14, it was announced that plus size model Ashley Graham, straight size model Hailey Clauson, and mixed martial artist Ronda Rousey would all have their own Sports Illustrated covers. This is the first time in its 52-year history that the swim issue will be printing three different covers. Assistant Managing Editor MJ Day of SI said on the publication's website, "The three covers of Hailey, Ronda, and Ashley celebrate the new SI Swimsuit. All three women are beautiful, sexy, and strong. Beauty is not cookie cutter. Beauty is not 'one size fits all.' Beauty is all around us and that became especially obvious to me while shooting and editing this year's issue."
And this message, I can totally get behind. Thankfully, this isn't the only progressive stride the magazine has made. British Ghanaian model Kwao will also be featured in SI's pages, along with 56-year-old mature model Nicola Griffin, and Graham herself in swimsuitforall's #SwimSexy ad for the swimsuit edition. And in their gorgeous gold bikinis, I'm going to have to agree with the hashtag.
Sports Illustrated kept things going, with curve model Robyn Lawley featured in an editorial for the Swimsuit Edition for the second time, giving models above a size 6 visibility in the iconic issue. And now, Lee's inclusion for Lane Bryant is only solidifying that we're seeing some kind of change. It might be slow, but it's happening.
And boy does she look incredible in that white suit. The Lane Bryant ad, reading, "This body is made to be uncovered," is so incredibly powerful, and sends a message to readers that all bodies are, in fact, badass. All those differences we've traditionally been told to fear? Nah, they should be celebrated. They're what'll help us make history, y'all! Although Lane Bryant has helped spark many a debate in the plus size community, this ad feels like a step forward.
OG plus size style blogger and swimsuit designer Gabi Gregg took to Twitter to congratulate Precious Lee and Philomena Kwao on their incredible shoots:
I've got to say it, 2016 is looking good on you, Sports Illustrated. This is exactly the type of content and advertisements that need exposure. It's about time. Lee told PopSugar, "I feel like it will help inspire people to do things that they didn't think they were able to do, and to see that there are different forms of beauty and actually celebrate it."