Charrisse Has A Breakdown On 'RHOP'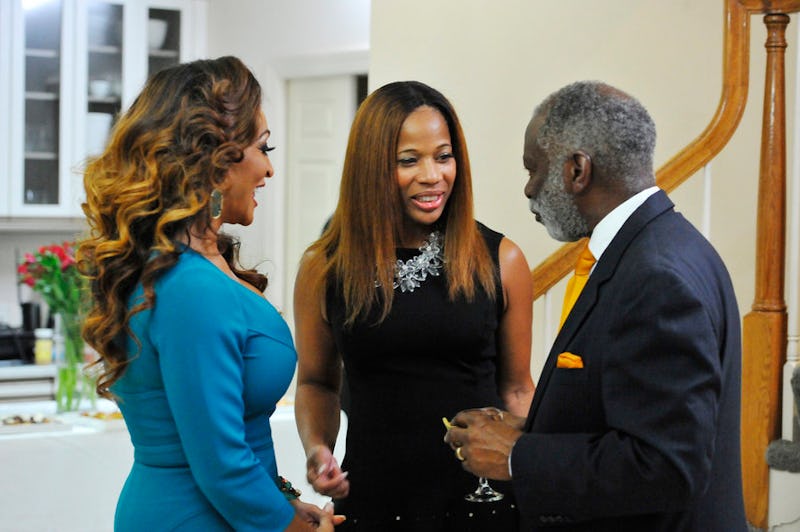 On the episodes of Real Housewives of Potomac that have aired so far, there's been a lot of infighting between the ladies. But when Charrisse Jordan broke down about her loneliness in a long-distance marriage, it was nice to see her supported by her fellow ladies and, in some cases, her fellow survivors of difficult martial situations. While until now Charrisse has been Karen's deputy of etiquette, seeing her get more vulnerable was sad, but also so relatable to anyone who's had a tough relationship.
As of right now, Charisse and her husband are not officially divorced, but that doesn't mean that she isn't having a challenging time dealing with raising her two children on her own while her husband, Eddie Jordan, is the head basketball coach at Rutgers University.
Eddie is still working at Rutgers, and Charrisse is still at home in Potomac, so the long-distance arrangement still stands. And while she got emotional on the show, Charrisse is still on top of motherhood (sans nannies), her friendships, and being a woman about town in Potomac. But it's nice to see that behind her tough exterior is a woman who opens up to her friends — it's good to see that Charrisse has a heart. And according to her Twitter, a lot of fans felt the same way and reached out to her after the episode.
As she says, despite the kind messages, she's been doing better — and spending time with her two kids at the NBA All-Star weekend in Toronto, complete with plenty of Russell Westbrook Instagrams. No pictures with her husband, but it seems like Charrisse is getting fulfillment out of spending time with her children.
But at the same time, Charrisse also shared a heart-filled Valentine's Day message, so maybe she's either repaired her connection with Eddie, or, intriguingly, is moving on with a different, new relationship. But only more Real Housewives of Potomac episodes will tell!
Image: Larry French/Bravo