Here's What's In The Smoked Butterscotch Latte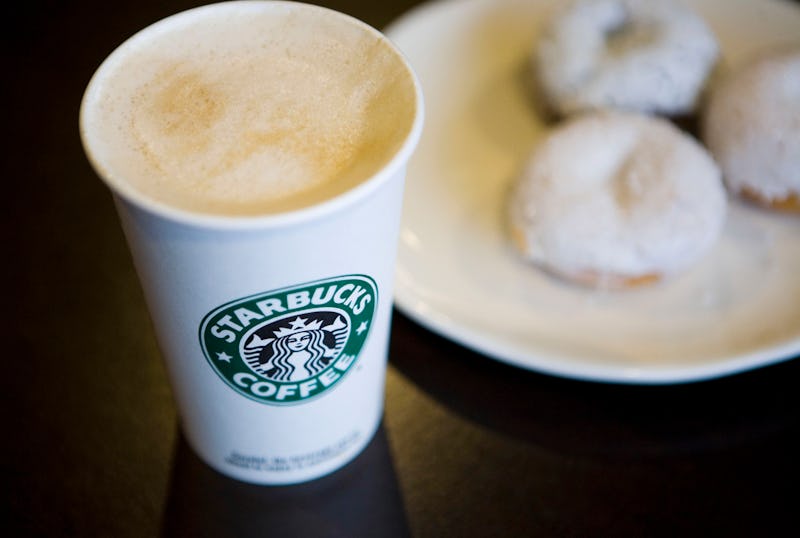 Bloomberg/Bloomberg/Getty Images
Hark, fellow enthusiastic consumers of caffeinated beverages! There's a hot (or cold, depending on your druthers) new drink on the horizon you should know about — Starbucks is rolling out a Smoked Butterscotch Latte in all company-operated and licensed stores in the United States and Canada this week. So what's in a Starbucks Smoked Butterscotch Latte, you ask? Trust me when I tell you it's every bit as enchanting as it sounds. It's basically Butterbeer's grown-up cousin, and you don't even have to head to Hogsmeade to score some.
First things first, though: Don't hesitate to try this beguiling new beverage. While it will be made available beginning Feb. 16 (yes, tomorrow!), the Smoked Butterscotch Latte is only available for a limited time while supplies last — much like the trio of Valentine's Day themed Molten Chocolate drinks Bux released last week. If you don't get your SBL on or before March 21, the sun will have sadly set on your chance to sip this exciting new Starbucks concoction.
Now, for a little backstory. If you're someone who is super in the know, the Smoked Butterscotch Latte might sound familiar. That's because a similar version of the beverage first launched as a seasonal offering at the (magical) Starbucks Reserve Roastery and Tasting Room last fall, and — after receiving an overwhelmingly positive response — subsequently earned a spot on Starbucks retail roster, where a Tall will set you back between $4.25 and $4.45. Plus, the Smoked Butterscotch Latte is reportedly already part of the Starbucks secret menu. It looks like this, in iced and hot form:
So, with all that said, what goes into making the SBL? Let's take a look. Be forewarned: You're about to be hit with a serious hankering for some butterscotch, my friends.
1. Starbucks Full-Bodied Espresso
I mean, obviously, right? You can't have a latte without espresso — and hooray for that! This ingredient gives the SBL its pep, kicking in 75 mg of caffeine (per Tall).
2. Steamed Milk
Because, latte. And just remember: if there's anywhere you can have things just the way you want them, it's Starbucks. Let your barista know if you prefer a certain type of milk.
3. Smoked Butterscotch Sauce
Clearly we all must have done something right in a previous life to merit the creation of smoked butterscotch sauce. This ribbon of deliciousness adds a kiss of buttery caramel to the SBL.
4. Smokey Butterscotch Sugar
Is there a better way to top any drink than with smokey butterscotch sugar? I think not. Butterscotch alone would have been lovely. A bit of sugar would definitely have made a difference. But Starbucks made this drink downright ambrosial by dusting it with smokey butterscotch infused sugar. That's some next level stuff, y'all.
Images: Bloomberg/Bloomberg/Getty Images; Starbucks; Giphy (4)