Starbucks Has Two New Drinks For You To Try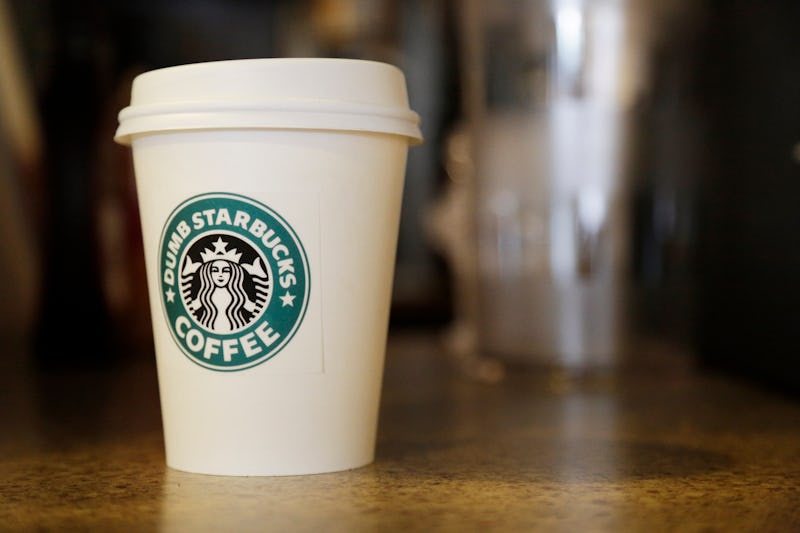 Dan R. Krauss/Getty Images News/Getty Images
What's that? You thought absolutely nothing in the whole world could warm up your icy cold, jaded heart following this freezing Valentine's Day weekend? How does two new Starbucks drinks sound? The coffee chain just revealed the latest limited time beverages to grace its menu, the Starbucks Smoked Butterscotch Latte and the Starbucks Teavana Citrus Green Tea Latte, and why yes, I'd like one of each, please. Thank you for asking.
According to Starbucks, the new drinks were both inspired by similar beverages served up last fall at the Starbucks Reserve Roastery and Tasting Room in Seattle. Apparently, the two drinks were so popular, Starbucks decided to bring them to the masses nationwide (and in Canada!) so that devoted coffee enthusiasts in the midwest and East Coast could also get their hands on the delicious, buttery notes of a SBL (abbrevs for Smoked Butterscotch Latte, obvs). Both drinks will be available starting Feb. 16, and will stick around stores through March 21, meaning you have plenty of time to give them both a whirl before the limited edition beverages go the way of the Starbucks Birthday Cake Frappuccino (RIP). Of course, if you end up being a huge fan of the SBL (and how could you not?), you can trek over to the Seattle Starbucks Reserve Roastery, where it's a part of the regular menu.
What do these two new drinks look like, you ask? Like caffeinated heaven.
Smoked Butterscotch Latte
According to Starbucks, this caffeinated, espresso-based beverage features a rich "Smoked Butterscotch sauce" and a "sprinkling of Butterscotch Sugar — perfect for when you need a little extra warmth on cold days, and just a kiss of buttery caramel." Prices for the drink start around $4.25, depending on where you live, which is a fair price to pay for liquid happiness. I'm getting vague butterbeer vibes from this drink, to be honest. It sounds like something I would head over to Hogsmeade to try, except I only have to walk down the street two blocks to get this magic for myself. Win.
Teavana Citrus Green Tea Latte
Not in the mood for something quite so sweet? Try out one of these refreshing bad boys instead. The drink is a slight variation on Starbucks' Green Tea Latte, and according to Starbucks, is elevated by luscious hints of lemon: "The beverage combines shade-grown, micro-ground full leaf green tea, sweetened with citrus mint syrup, hand-frothed with steamed milk and finished with notes of citrusy lemon." Starting at $3.45, it sounds like the perfect way to get your 3 p.m. pick-me-up.
To be honest, Starbucks' timing couldn't be better. The new drinks come on the heels of Starbucks' Molten Chocolate Latte, which made its brief but popular debut for one week only in the days leading up to Valentine's Day, along with a Molten Chocolate Frappuccino and a Starbucks Molten Hot Chocolate. The decadent chocolate-filled drinks were around just long enough to completely win over fans' hearts before they disappeared from the menu on Feb. 14, leaving us all to wonder how we might ever recover from such a void in our lives. But that's where the Smoked Butterscotch Latte and Teavana Citrus Green Tea Latte come in, obviously. Thank you, coffee gods, for hearing our calls. I don't know how we can ever repay you.
Images: Dan R. Krauss/Getty Images; Starbucks