Happy 25th, Aunt Becky & Uncle Jesse!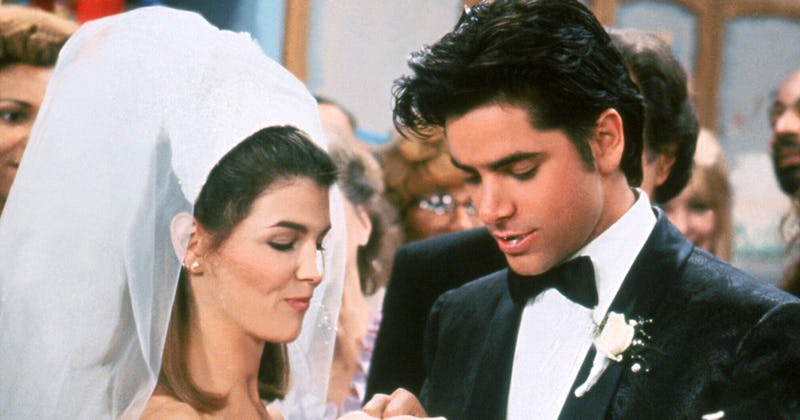 It's official: There will never, ever be a sitcom couple like Becky Donaldson and Jesse Katsopolis. Ever since getting together on Full House, the pair have been beloved. Thank goodness Netflix is reviving the series with Fuller House, because now fans get to see the two back in action. Anyway, did you know that Monday, Feb. 15 is a very special day for the TV duo? It is Aunt Becky and Uncle Jesse's 25th wedding anniversary! They clearly know what makes marriage work, and thankfully, they've shared their lessons with the world.
You know Becky and Jesse have made an impact when even Aunt Becky's actress is celebrating her onscreen relationship. On Monday, Lori Loughlin wished Becky and Jesse a happy anniversary via social media. She shared, "Happy Anniversary you crazy kids! 25 years! @JohnStamos #fullhouse #fullerhouse."
For those who don't recall (or aren't die-hard Full House fans), Becky and Jesse said "I do" on Feb. 15 in 1991 in the episode "The Wedding: Part 2." Can you believe it's been that long? It just seems like yesterday that Jesse went skydiving and landed in a tree, resulting in him falling into a tomato truck and almost turning his wedding into a disaster. I guess him singing "Forever" to Becky kind of made up for all of the other mishaps.
As all Full House fans know, Becky and Jesse are and will forever be #RelationshipGoals. With that in mind, let's talk about some of the lessons about marriage they taught to their fans throughout the series.
1. Supporting Each Other Is A Must
What is a marriage without mutual support? These two never failed in supporting one another, whether it was through the happy, sad, or tough times.
2. Don't Let Your Spouse Give Up On His/Her Dreams
They always pushed one another to do what they loved. Whether it was Becky hosting Wake Up San Francisco!, Jesse following his music career, or Becky pushing Jesse to get his GED, they always wanted each other to fulfill their dreams.
3. Happiness And Fun Are Key
Becky and Jesse never failed to have fun with one another, which is part of what kept their marriage fresh and filled with happiness.
4. Serenading Will Get You Far
How many times did Jesse serenade Becky? Yeah, she melted every time. Can you blame her?
5. Keep The Romance Alive
Even though Becky and Jesse were parents to twins Nicky and Alex, they always kept their romance alive. They knew how important it was to focus not only on their children, but also on themselves and their relationship.
6. Don't Be Afraid To Speak Your Mind
Keeping your true feelings and thoughts in can sometimes do more harm than good, so never be afraid to be honest. For example, that time Becky questioned Jesse for dyeing his already-perfect hair.
7. Never Give Up On Each Other
From what I've heard and learned from my parents, marriage can be tough, but you should never give up without first giving it your all. Well, that's exactly what Becky and Jesse did, no matter what troubles they faced.
8. All You Need Is Love
Just like the Beatles said.
Happy 25th, Aunt Becky and Uncle Jesse!
Image: ABC; Giphy (3); ahousefullofmichelle, mindykalings, 1882girardstreet, fallontonight, lorelaivgilmores/Tumblr