Aunt Becky & Uncle Jesse Are #RelationshipGoals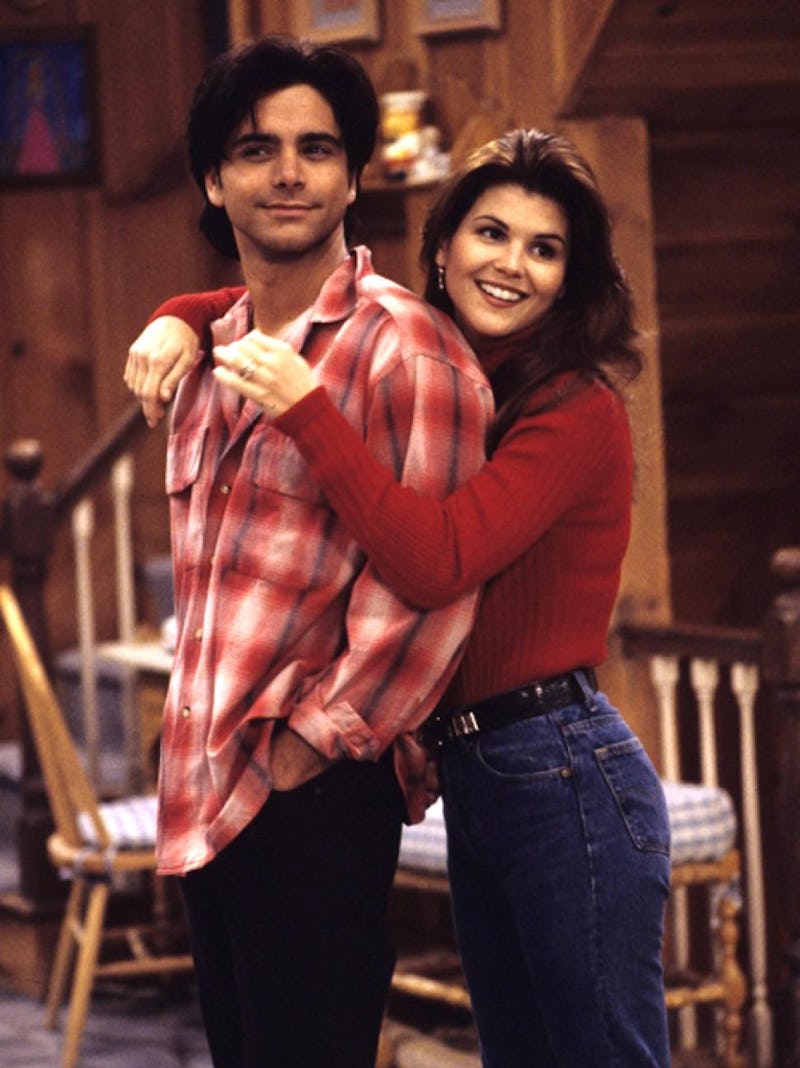 I've been watching Full House for as long as I can remember, and even as a kid, I've always thought two things while watching. One: I wish that I could switch lives with DJ so I could wear her clothes and date Steve. And Two: that someday I would have a relationship like Aunt Becky and Uncle Jesse's. As far as '90s sitcom romances goes, Becky and Jesse's is the best. From that first meeting to their wedding (which was, fortunately, not in Graceland) to the birth of Nicky and Alex and everything in between, their love story has always been adorable. In fact, they were so perfect together that all couple should aspire to have a relationship like Aunt Becky and Uncle Jesse's.
Because, think about it, they're not two particularly compatible people, but they love each other, so they make it work. Becky is a strong-willed, ambitious person who holds high standards for the people around her, and Jesse is a very, very good looking dude who's obsessed with Elvis and plays music for a living. They're not exactly a perfect match, but as a couple, they totally make sense.
If you, too, share in my belief that Jesse and Becky are #RelationshipGoals, you understand the never ending search of a perfect relationship like the one they have — even if it doesn't exist in the real world, beyond the walls of that gorgeous San Francisco house.
1. It Was Love At First Sight
The usually confident Jesse was totally tripping over his words when he met Becky for the first time, which is clear evidence that they are meant to be.
2. Becky Always Knew How To Put Jesse In His Place
He always thinks he's the funniest guy in the room, but when he tries to tease Becky about her cooking, she threatens to withhold sex. Boom. Take that, Jesse.
3. Their Family Was Adorable
Like, seriously. Most families aren't this beautiful all the time, especially with messy toddlers. The Katsopolises are flawless.
4. They Managed To Live Peacefully With The Tanners
It takes a special couple to be able to live as adults with their own, fully formed family in the attic of the house where your brother-in-law and his own kids live. I could never handle that much family togetherness, but it rarely seems to be a problem for them... despite the fact that Danny Tanner was a pro at annoying everyone in that household. Why are these people so well adjusted?! What are you hiding?
5. Their Wedding Was Perfect
Even if it started out as a hot mess, it ended up being beautiful and romantic — especially when Jesse performed "Forever."
6. Becky's Always Cared About The Tanners, Even Before They Got Married
Since the girls don't have a mom to girl talk with, Becky's always been there for them — even before she was "obligated" to as their aunt. She adapted so quickly and easily to Jesse's family... something that doesn't always happen in reality.
7. He San To Her At Disney World
OK, but how romantic is this?
8. She Convinced Him To Get His GED
Jesse was always super self conscious about not graduating from high school because he couldn't memorize "O Captain, My Captain," but with a little bit of encouragement from Becky, he managed to go back and get his GED, despite his stuffy, rude teacher.
9. She Outbit Everyone For Jesse At The Auction
Although, like Danny said, she totally could've had a date with him for free.
10. The Way She Told Him He Was Going To Be A Dad
You know, via Pictionary, which ended up being super adorable. Even cuter was her meal of baby-sized food items, even if Jesse didn't quite get the picture.
11. No Matter What Happened, They Always Loved Each Other
Isn't that all anybody wants?
Images: Warner Bros. Television; f-yeahfullhouse, fallontonight, oirpac, jacksawyr, contentafricant/Tumblr