Strobing Vs. Contouring Brushes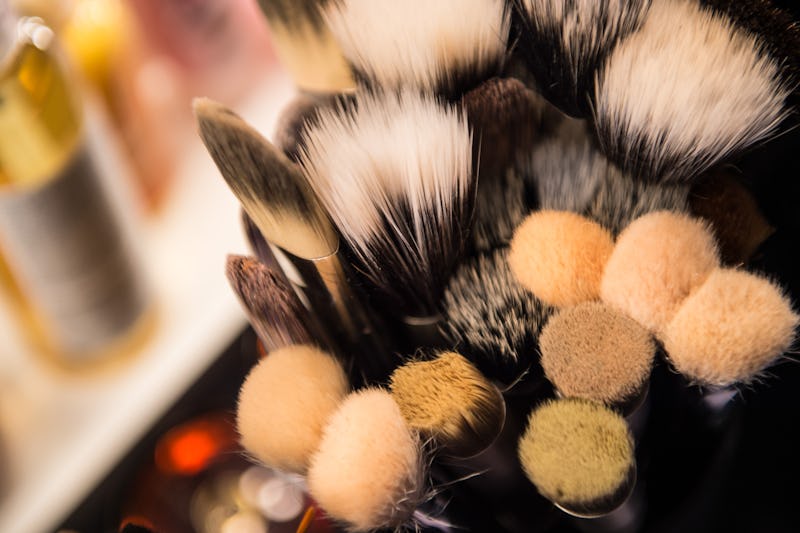 Ian Gavan/Getty Images Entertainment/Getty Images
You know everything there is to know about contouring, and by now, strobing is totally old news, but there's still a chance you aren't sure what the difference between strobing and contouring brushes are. While it might seem overwhelming and intimidating, the answer is simple and easy: You can use the same brushes for either technique, but there are preferred brushes if you really are trying to nail the method like a makeup artist pro.
First, let's talk about the difference between strobing and contouring. Strobing, at its simplest, is extreme highlighting without any dark powder or cream products to chisel out your features. If you're used to contouring, all you have to think about is trading in the contour powder for highlight, and applying shimmer to the tops of your cheekbones, your cupid's bow, the bridge of your nose, chin, and your brow bone. It creates a brightening, lifted look, but can sometimes highlight skin's texture problems or acne if you don't do it correctly.
Contouring, on the other hand, is about using darker shades to define your features. A powder or cream product two to three shades darker than your skin tone is applied to the hollows of your cheekbones, edges of your temples and forehead, and on the sides of your nose to create a hollowing effect. Contouring takes more time than strobing, and can be a bit of a disaster if it's not blended out well.
When it comes to brushes, however, you can use any brush any way you want to. Everyone's face is different, so what is the perfectly-sized contour brush for some may be too large or small for my face, and vice versa. Just because something says "contour" or "blending" doesn't mean you have to use it that way.
However, typically, the brushes that are best for strobing are light, fluffy, and tapered. These types of brushes allow you to apply highlighting product with a light hand, and in those tiny places like the inner eyelid and on the brow bone.
Sigma Beauty Ethereal Radiance Brush Set, $76, Sigma Beauty
Contouring brushes are typically angled and much more dense, giving you greater control during application. They're also larger, and slightly angled or rounded for a sharp or soft contour line.
Morphe 6 Piece Deluxe Contour Set, $23, Morphe Brushes
If you have a problem with over applying, try brushes made from natural, cruelty-free hair. The hair will soak up extra product and give you a sheer finish. If the opposite is your problem, synthetic brushes will give you a more direct transfer of product.
Want more style tips? Check out the video below, and be sure to subscribe to Bustle's YouTube page for more hacks and tricks!
Image: Ian Gavan/Getty Images