'American Crime Story' Tackles O.J.'s 'Time' Cover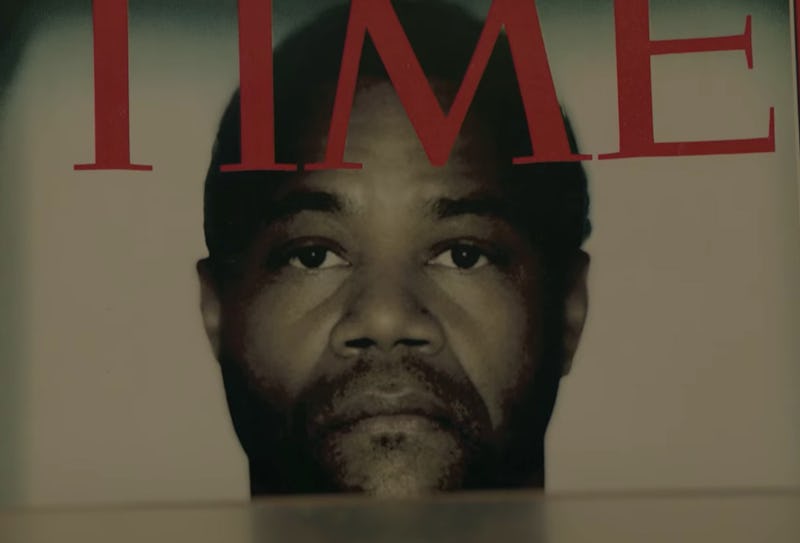 The very first scene of The People v. O.J. Simpson: American Crime Story showed the Los Angeles 1992 riots to demonstrate where race relations stood in the city two years before O.J. Simpson was arrested. And race will continue to play a pivotal part in American Crime Story as the FX series will highlight the controversial O.J. Simpson Time magazine cover that was published in June 1994. After Simpson was arrested for the murders of his ex-wife Nicole Brown Simpson and Ron Goldman, of which he was later acquitted, Time magazine put Simpson's mugshot on the front cover, which seems like just normal journalism. However, the magazine juggernaut received significant backlash for editing the photo of Simpson by darkening it, leading to claims of racism. In July 1994, then-editor of Time James R. Gains issued an apology for the cover, stating that "no racial implication was intended, by Time or by the artist."
Previews for the Feb. 16 episode of The People v. O.J. Simpson show how Courtney B. Vance's Johnnie Cochran is about to become an influential lawyer in the Simpson murder trial. Cochran was outspoken in his stance on racism and had previously sought justice for black defendants in many important cases. This prepared him well for Simpson's case, as there is no doubt that race became a prominent subject of the trial.
With multiple current cases of police brutality against African Americans and the Black Lives Matter movement at the forefront of American issues, Simpson's over 20-year-old trial is still extremely relevant, and so is the accusation of racist editing. After his infamous car chase from the police, Simpson was arrested and thus, put on the cover of Time. When people noticed that the publication had edited Simpson's photo, Time was accused of intentionally darkening Simpson's features. In Gaines' apology for the controversy, he also said, "To the extent that this caused offense to anyone, I obviously regret it."
What strengthened the backlash against Time was the fact that Newsweek used the same mugshot on their cover that same week. However, Newsweek decided to leave the photo from the police unaltered. You can see a side-by-side comparison of the two real-life covers below:
And here's American Crime Story's interpretation:
There is an undeniable stark contrast between the identical images that these magazines used because of the editing on Time's part and the fact that controversy ensued is understandable. As evidenced by the magazines' headlines ("Trail of Blood" from Newsweek and "An American Tragedy" from Time), they both were attempting to comment on the sensational nature of Simpson Brown's death. Yet, Time learned a hard lesson from this misjudgment and the racial implications brought up by this cover would continue to play a major part throughout Simpson's trial, as American Crime Story will show its audience on Tuesday night.
Images: FX (2)