10 Pretty Ways To Organize Your Makeup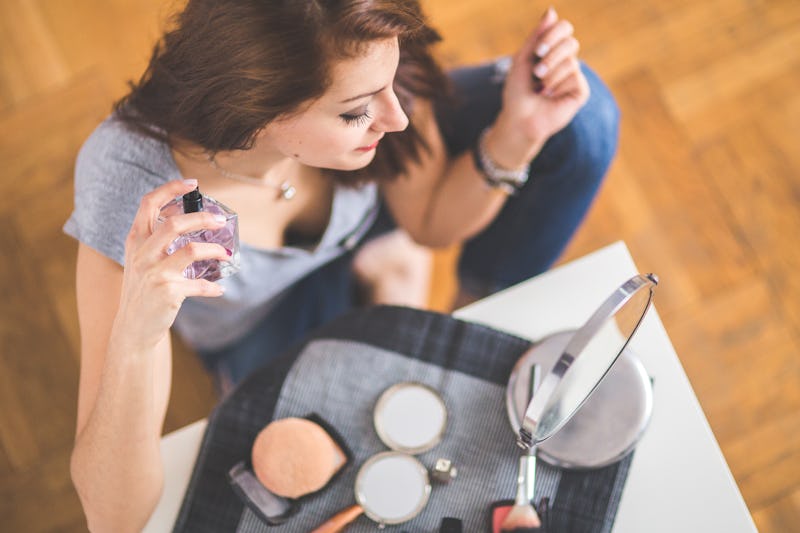 My family is really into organizational products. I'm talking baskets, labeled drawers, plastic containers, and wall hangers in every single closet. In fact, most of our best organizing products are used in an attempt to neatly display the organizational products themselves, which (now that I think about it) might be a little redundant. Still, I just feel better when everything's got a home. My motivation and efficiency levels stay at their highest because everything's in its place, and I can always find my stuff.
One thing that requires a whole lot of upkeep, however, is organizing my makeup. My go-to condensing tactic used to be buying a padded lunchbox and throwing everything inside, but things got jostled around, leaks ensued, and before long, the once-was-white interior lining became dirty and took on the coloration of my favorite foundation. So, I get it. It's hard to find a home for organizing all your makeup, especially if you're big into everything from nail polish to contouring sets. Nonetheless, it is possible. There are tons of tricks to help you keep your cosmetics ordered and easy to find. This list touches on the best of them, and if you're willing to reorganize, your morning routine will never again entail digging through everything you own to find that one shade of eyeshadow.
Pack Away The Messy Tools, Display The Pretty Ones
Ikee Design Cosmetic Storage Display Boxes, $20, Amazon
If you're looking for both private drawers and a system that's out-in-the-open, this No. 1, best-selling two-piece Cosmetic Storage Display is a great combination of both. The display features an assortment of different sized compartments ideal for all your Kylie-level amounts of cosmetics, and the drawers are easy to clean and entirely removable for optimal accessibility.
Use Spice-Rack Technology For Your Makeup
Nifty Cosmetic Organizing Carousel, $25, Amazon
This cosmetic carousel rotates 360 degrees for easy display of all your cosmetics. It's two-tiered for optimal use of small spaces, and it can fit everything from hairbrushes to nail polish. Not only is it sturdy, its easy-to-clean, mesh-like design is ideal for quickly grabbing whatever you might need.
Organize Your Liners While Showing Them Off
Eye/Lip Liner Organizer And Beauty Holder, $20, Amazon
If you're a makeup maven who switches out lip and eyeliner colors for every single occasion, this Liner Organizer is definitely something you should look into. It can hold up to 26 pencils in a sleek and easy-to-grab design. Best of all, your liners last longer and stay cleaner because they're no longer doodling on the inside of your makeup bag.
Save Space With A Chic Armoire
Over The Door Jewelry And Makeup Armoire, $129, Amazon
This Over The Door Makeup Organizer is a saving grace for small rooms and shared bathrooms. Not only does it hang right on your bedroom door (which is usually wasted space), but it's got a built-in mirror, hooks to keep jewelry from getting tangled, and shelves upon shelves of assorted sized compartments for makeup.
Display Your Nail Polish Like A Painting
Tree Silhouette 5 Tier Nail Polish Holder, $60, Amazon
Turn your nail polish obsession into a trendy wall decoration with this Tree Silhouette Nail Polish Rack. With five tiers, it will hold dozens of nail polish bottles. Plus, it's both beautiful and secure, and it's a great solution when it comes to saving time and space in the bathroom.
Roll Up Your Makeup
Joy Mangano Roll-Up Beauty Case, $46, Amazon
I love the convenience and travel-friendly nature of makeup bags, but I absolutely hate throwing everything into one pouch and having to dig through it later. This four-compartment roll-up case keeps everything snug and organized in separate pouches, but rolls up into one convenient bag. Especially after the recent film adaptation about her life, Joy Mangano is all the rage in home shopping networks, and her brand promises quality, smart design, and versatility.
Store Your Hair Styling Tools Over Your Cabinet
Over The Cabinet Door Tall Styling Center, $13, Amazon
Haircare products shouldn't be left out of the organization party, especially as they tend to take up the most space. This nifty little basket fits right over your cabinet door without tools or installation, and it's got a compartment for your blow dryer, hair straightener, and brushes. It's also well-built with padded hooks so you won't scratch your door, and it's tough enough for long-lasting use.
Magnetize Your Way To Organization
Magnet Plus Magnetic Organizer, $15, Amazon
If you're short on counter space, this magnetic organizer will help you utilize that extra space on the inside of your medicine cabinet. Though it's marketed as a must-have for office supplies, this three-compartment shelf will fit all your go-to brushes, shadow pallets, lipsticks, and concealers. And if the cabinet's stuffed, you can even attach it straight to the wall.
Don't Sacrifice Style for Travel Convenience
Micom Waterproof Clear Cosmetic Bag, $5, Amazon
If you know you're going to throw it all in one bag anyway, at least make it easy on yourself. This see-through cosmetics bag doesn't sacrifice on the pretty factor, while still making it easy to grab what you want and go. It's waterproof, and its single zipper closure means easy access — perfect for travel.
Save Desk Space With a Drawer Organizer
Cosmetic Drawer Organizer, $12, Amazon
Out of desk space on top? No worries: If your lipsticks, polishes, and concealers have begun to roll into your drawers anyway, simplify that drawer-digging process. This expandable organizer adjusts to fill your drawer space, and its clear plastic material means easy cleaning after your products leave their mark.
Bustle may receive a portion of sales from products purchased from this article, which was created independently from Bustle's editorial and sales departments.
Images: Pexels (1); Amazon (10)