Ed & Taylor Went Full Bestie At The Grammys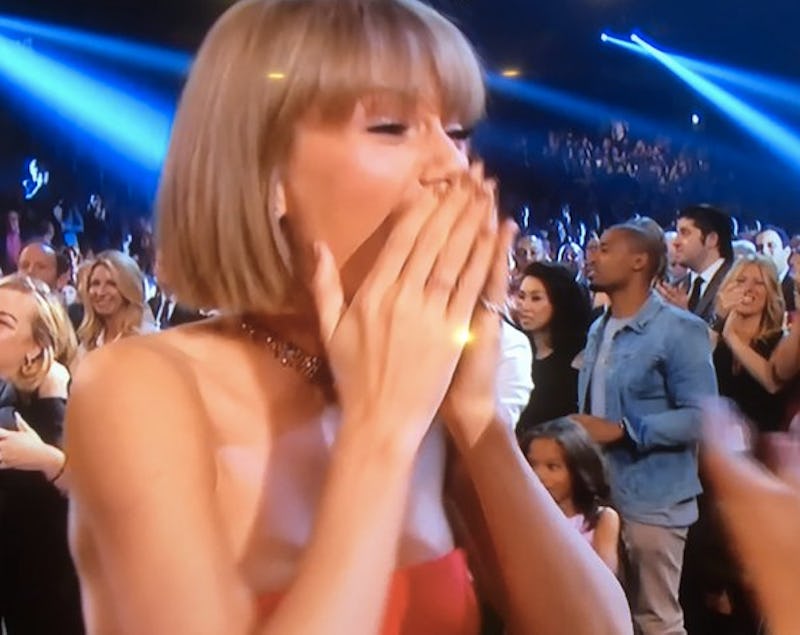 In somewhat of a shocking twist, Ed Sheeran won the Grammy for Song of the Year, beating out both his bestie and Kendrick Lamar. While some folks were shocked, no one reacted with more oomph than Sheeran's BFF Taylor Swift. After Stevie Wonder announced the honor, Swift jumped up and hugged her pal and continued to jump up and down as he ascended the stage to accept his award. Throughout his acceptance speech, Swift giggled happily, covering her face to keep from letting it all out there. Look, you could argue that Swift knew the camera would be on her, but I choose to believe she was actually thrilled for her buddy.
Swift and Sheeran have been friends for years, and earlier in the evening, Sheeran won his first ever Grammy for his Pop Solo Performance of "Thinking Out Loud." Swift simply responded to the official Grammys account tweet with a resounding "YES." If that's not the mark of a gal who loves her friends, I don't know what is.
Of course, it was even more important that Sheeran got his time in the limelight for his second ever Grammy, seeing as the his first ever Grammy was given out before the awards were being televised (sorry, pal). And I mean, if it was your bestie up there, wouldn't you be jumping up and down like a cartoon rabbit too?
I mean, you guys. My emotions.