How To Buy Kanye's Pirate Black Yeezy Boost 350s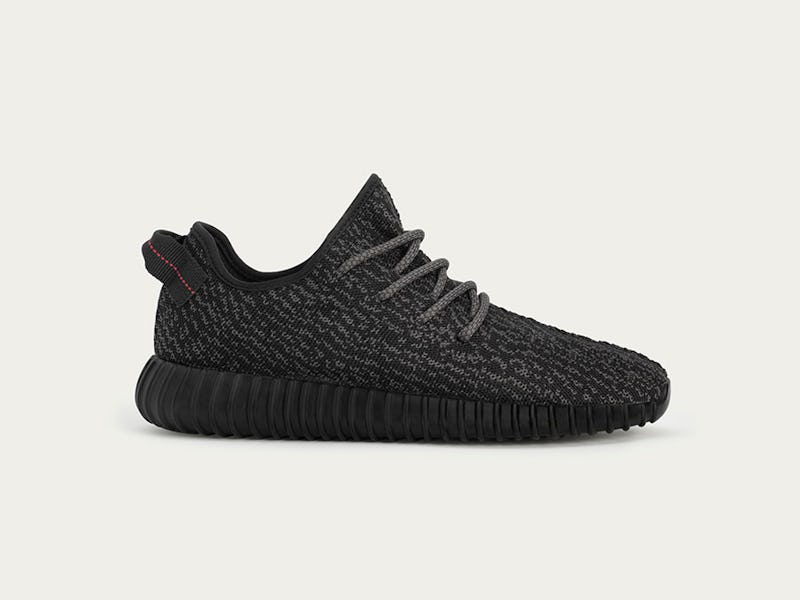 I don't think I've seen a fashion frenzy as big as the Yeezy Boost 350 release since Kylie Jenner's new lip kit colors were recently released. I can appreciate a great lipstick as much as the next person, but I have to say, I'm even more excited for the release of Kanye West's latest round of sneakers. Considering how fast the last line sold out, I expect the Friday, February 19 release of the shoes to be just as chaotic as the last time. Here's how to buy West's Pirate Black Yeezy Boost 350s when they're released later this week.
Just last week, Adidas confirmed the all-black Boosts come out Friday, February 19, and a select few retailers will be receiving a supply. Unfortunately for procrastinators like me, several retailers already closed their raffles for the shoes. Finish Line, Footlocker, and Champs all received a stock of the black Yeezy Boost 350s, but their raffles ended today. Lucky winners will be able to pick up a pair of the black Yeezy Boosts in stores on Friday. Adidas' Confirmed app also allowed people in New York, Los Angeles and Chicago to reserve a pair in stores, but it opened reservations at 4 p.m. today and then closed them 20 minutes later.
I mean, you can't blame people for trying, right? The shoes are seriously cool, and the black pair was particularly popular at its initial release. Fortunately, you have one more chance to get your hands on a pair of Yeezy Boost 350s on Friday. They'll go on sale on the Adidas website at some point during the day, and judging by previous releases, that'll most likely be between 11 a.m. and 12 p.m. If you're not lucky enough to get your hands on a pair of the Pirate Black Yeezys, these are a few good alternatives.
Adidas Tubular Runner Shoes, $110, adidas.com
These Adidas running shoes aren't a perfect match, but they're close.
Nike Roshe One iD, $115, nike.com
Love the interesting sole on these Nike Roshe shoes, which look strikingly similar to the Boosts.
Adidas Originals Campus Primeknit 80s Sneakers, $93, asos.com
A little more old-school, but these classic black Adidas sneakers are a good alternative.
Nike Orive NM Womens Shoe, $64.99, modells.com
The most budget-friendly option, this Nike Orive model is simple and classic.
Although I'm crossing my fingers that West and Adidas will release a billion pairs of Yeezy Boost 350s on Friday, at least I'll have these alternatives if I don't get some.
Images: Courtesy of Brands