'Love's Paul Rust Is A Comedy King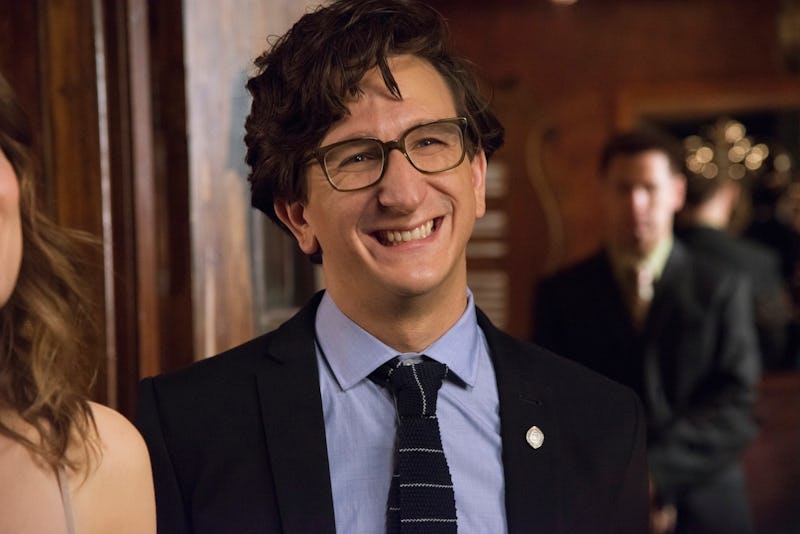 The newest original show to debut on Netflix — aka our online streaming service overlord (but I'm totally OK with it) — is Love, the new series from raunch-comedy king Judd Apatow. Following the burgeoning relationship of a nice guy named Gus and wild child Mickey, Love details the struggle of their unconventional romance and takes the whole concept of love to task along the way. But, who is Paul Rust, the man behind Gus?
Chances are, you've probably seen him somewhere else because he is deeply rooted in the Los Angeles comedy scene. For one, he did more than just star in the new Netflix comedy, Rust wrote and created Love along with Apatow and Lesley Arfin (who had worked with Apatow before on Girls). Rust has also worked as an actor — in both drama and comedy films — as well as a writer on a number of different projects. But he isn't relegated to the screen! Rust has also appeared in sketch comedy shows and on podcasts. So, if you're wondering what exactly I'm talking about, I've compiled a list of five projects Rust is best well-known for, including everything from movies, to talk shows, to comedy troupes.
Upright Citizens Brigade
Like many well-known comedians on television nowadays, Rust is a member of the UCB Theater and still regularly performs with the comedy troupe. Plus, he's written, acted in, and directed a number of online sketches that you can check out on his UCB page.
I Love You, Beth Cooper
Most likely, if you recognize Rust from anywhere, it's from this 2009 comedy. Rust starred in I Love You, Beth Cooper as the awkward valedictorian in love with his classmate (played by Hayden Panettiere).
Comedy Bang! Bang!
Rust has written for and appeared on Comedy Bang! Bang! , the comedy talk show hosted by Scott Aukerman. He's also appeared on the show's corresponding podcast and is known for his segment titled "New No-Nos."
Inglourious Basterds
Although Rust may be best known for his comedy work, he also took on a more serious role in Quentin Tarantino's film Inglourious Basterds — though it certainly does feature the director's unique brand of dark humor. Rust played Andy Kagan, a more minor character and a member of the Basterds.
Other Netflix Work
Netflix has been keeping Rust busy in recent years beyond Love; he worked as a writer on Season 4 of Arrested Development and penned Pee-wee's Big Holiday along with the upcoming film's star Paul Reubens.
So, if you don't immediately recognize Rust's name, it seems he's been involved in so many varied projects that's is near impossible to know it all. He has even more credits than the ones I've listed; he guest-starred in Parks and Recreation , Bob's Burgers, and Super Fun Night — just to name a few. But, if you have that nagging feeling while watching Love that you've seen Rust before, chances are you probably have.
Images: Suzanne Hanover/Netflix; Giphy (2)