Trent Harmon Outshines Jordin Sparks On 'Idol'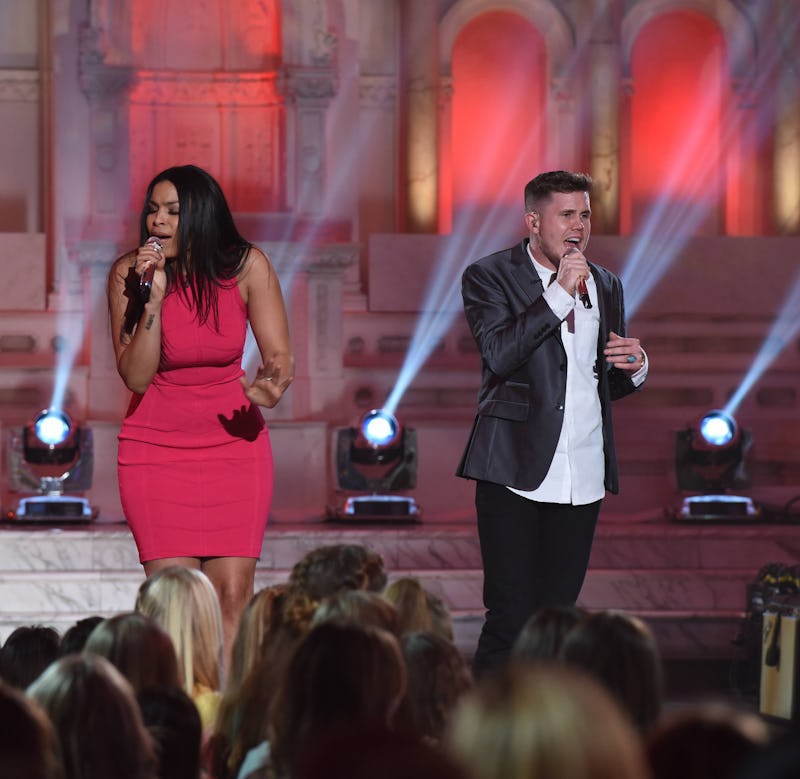 Tears. Actual tears are streaming down my face after Jordin Sparks and Trent Harmon's performance of "To Love Somebody" on the American Idol Top 24. I've been a huge Harmon fan from the start, but tonight really sealed the deal for me. Instead of letting himself be upstaged by Sparks', Harmon took the reigns and was able to share the spotlight — and it was absolutely amazing. Though his performance last night wasn't the best, Harmon redeemed himself tonight and is for sure heading to the Top 14.
Harmon has been a fan favorite since day one. His audition was great, but it was his Hollywood performances that really won over the crowd. Harmon killed it in Hollywood, even though he had mono. Now that he's healthy, Harmon is even better — and he proved that in the Top 24 duet round. His performance of The Beegees' "To Love Somebody" was raw, emotional and technically perfect, which is far beyond the level at which his fellow contestants are performing at. Harmon performed at the level of a true professional, which is why he'll be advancing into the Top 14 ahead of his competition.
Will Harmon make it to the Top 14? Absolutely — and way beyond that. He has a talent and level of professionalism that is unmatched by most of his competition. He's proved since day one that he has what is takes to win American Idol — and he hasn't let me down since. Harmon is one of the most talented artists of Season 15 and I'm glad he'll be sticking around to prove it.
Image: Ray Mickshaw/FOX