What To Pack For A Perfect Spring Break Vacation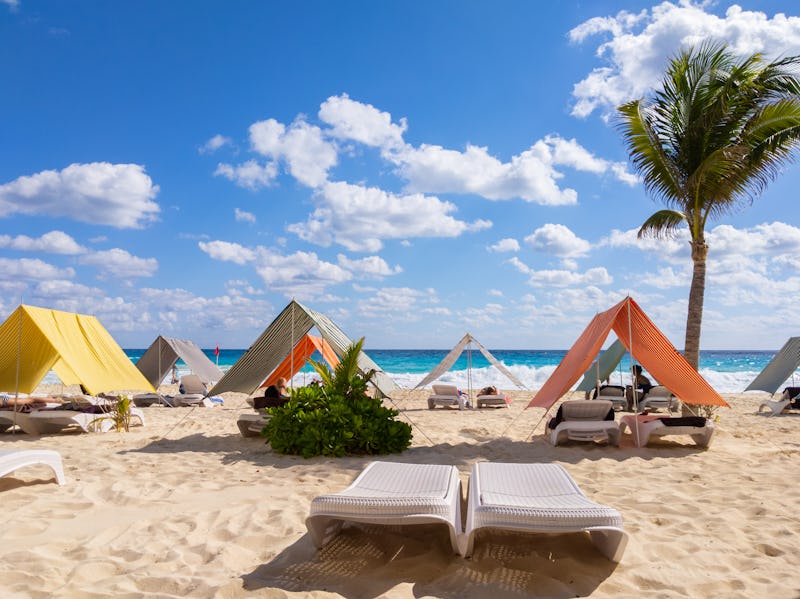 Gerard Puigmal/Moment/Getty Images
If you're planning on traveling to Cancun, Mexico for spring break (or, really, any time), I have two things to say to you: one, I'm jealous and would like to join. Two: speaking from experience, you need to figure out what to pack for Cancun, now. Cancun is a magical, tropical place full of very cheap beer, beautiful beaches, and attractive people who just want to have a good time, but there are definitely some things you need to keep in mind as an American tourist. Getting ready isn't as simple as throwing some bathing suits into a suitcase and calling it a day. Wondering what to pack for Cancun? I've got you covered.
While I am not a travel expert, I did vacation in Cancun a few years ago, so I feel like I know what I'm talking about. At 16-years-old, I stayed in an all-inclusive resort with my two younger siblings and my parents, which is probably the exact Cancun experience you're hoping you're going to have in the coming months. Oh, it's not? You weren't imagining a few days spent under your father's watchful eye as you try to convince everyone you're totally fine drinking beer while your brother and sister make fun of you? That scenario isn't what you picture when you think of a Mexican vacation? I mean, I feel like you're lying, but OK.
In all seriousness, though, if you've never been to Mexico, then you need to read this packing list before you go. You've probably heard not to drink the water (since this is the very first thing people feel the need to say to you when you tell them you're going to Mexico), but have you taken it seriously? You already know that too much sun is extremely damaging, but did you realize just how much stronger the sun is down there? And, yes, you know to bring lots of swimsuits, but... what else do you wear when it's that hot? Those questions and more are answered in this list of 18 items you need to pack for your next Cancun adventure.
1. Water Bottles
The most important thing to remember when you're going to Mexico is that you cannot drink the water. Everyone talks about it for a reason — because if you slip up, it sucks... a lot. I'm pretty convinced that every single person in America knows someone who's friend drank the water and then got sick, but I'll say this anyway: a good friend recently went to Mexico, drank water she thought was safe, and then felt sick for weeks after. You don't need that to ruin your vacation.
As a very neurotic hypochondriac who is more cautious than she needs to be, this is my advice: bring a few water bottles in your suitcase. I brought my own water and used it when brushing my teeth, then rationed it throughout the week to drink. Most all-inclusive resorts will offer water bottles that are safe to drink, and lots of touristy places will too. But if you're like me, and you don't like to trust anyone, bringing your own water can't hurt.
Sun Bum Moisturizing Sunscreen, $15, Amazon
This seems obvious, but is still worth repeating: you need sunscreen in Cancun. Not just SPF 15 spray-on tanning oil, but actual sunscreen. Despite being an anxious over-thinker, I am someone who is much too confident in her ability to tan at the beach without getting a sunburn. I went to Mexico, slathered on some SPF 15, then laid out on the beach... and promptly turned red and had to avoid the sun for much of the rest of the trip. My lifelong Long Island beach experience did not compare to the strong Mexican sun that is significantly closer to the equator.
Don't let this happen to you! Bring sunscreen with a high SPF and use it every single day, every time you go outside. I suggest this Sun Bum SPF 50 lotion because it smells wonderful and doesn't feel icky. Just don't buy anything over 50 SPF — that is a marketing ploy that gets you to spend more money even though anything over that works exactly the same as the 50.
Women's Floppy Wide Brim Sun Shade Hat, $12, Amazon
Unless you're from the southern part of the United States and you're used to never-ending heat and sun, you're going to be surprised at the temperature in Cancun. It's hot, and it's not comfortable. Just putting on sunglasses isn't always enough. You need a cute hat, whether you plan on going on excursions, hanging at the beach or pool, or shopping. I say something cute because you're going to end up wearing it a lot, and you want to feel comfortable in it. This floppy straw hat is perfect for adventuring and lounging on the beach — and at less than $25, you can't go wrong.
Cutter Backwoods Insect Repellent, $7, Amazon
Let's discuss the variety of things you could be infected with if you're bitten by the wrong mosquito. You know what, actually, let's not, because I liked Cancun and would enjoy going again one day and I don't want to scare myself. Let's just keep in mind that the possibility of contracting some things you don't want is there, and you need to protect yourself. Bring your own insect repellant spray and use it every time you go outside. I went to Costa Rica this past summer (which is certainly not Mexico, but anyway), I bought the strongest repellant I could find with lots of deet, and I used it every day. Cutter Backwoods spray is super strong — it smells awful, but it works. Just don't use it inside in an area without ventilation.
Poo-Pourri, $8, Amazon
I recently discovered Poo-Pourri and I now spend a good portion of my time acting as the brand's unofficial spokeswoman and telling everyone how great it is. Poo-Pourri is one of those things you just really need when traveling in general, but especially to Mexico. If you've never had actual Mexican food before, let me explain: it is delicious, but your stomach may reject it in, uh, some way. Keep in mind you'll be sharing a small hotel room and smaller bathroom with friends or even a potential bae, and that things could get embarrassing fast. You can bring a full-size bottle of Poo-Pourri or just a travel one that you can take everywhere in case.
6. U.S. Money
Before I went to Cancun, a lot of ~travel experts~ told me to get Mexican currency, but to also bring American money to tip people with because it has a higher value to the people who live there. To me, this sounded a little pretentious and kind of annoying, but my family did it, and as it turns out, it was a good idea. If you enjoy tipping people who work hard, as you should, bringing some American cash isn't a bad idea.
Pro Dive Dry Top Snorkel Set, $30, Amazon
Mexico offers some gorgeous beaches with beautiful, clear Caribbean water. It's nice to relax in, but it's also fun to snorkel and check out what's going on down there, if you're so inclined. A lot of hotels offer snorkels and masks free of charge, and if you're going on a boat ride where snorkeling is involved, they'll also give you that stuff. But as a certified germaphobe, I like to be safe and bring my own. You might want to do that too!
8. A Few Pens
This sounds weird, but I'll explain: when you fly out of the country, you have to fill out a little bit of paperwork on the plane. In my experience, most airlines give you the paperwork but they don't give you pens to fill it out with. This *literally* makes no sense at all, but I've never been on a plane where the airline supplied a writing utensil, and so I bring my own now. I say bring a few because everyone around you will need a pen also.
9. Plastic Baggies
You know what plastic baggies are really great for, besides holding food? Your cell phone. If you're going to Cancun for spring break, chances are good you'll be in or near the water with your cell on you. No one, and I repeat, no one, wants to break their phone due to water damage the second day of their vacation. A plastic baggie isn't going to allow you to float your phone in the pool, but it will keep it much safer than if it wasn't in one — and you can still use the touchscreen through the baggie. Major key.
Supergoop Acai Fusion Lip Balm, $10, Amazon
A lot of people, especially those who don't go to the beach very often, forget that other parts of their body besides just their skin can get sunburnt. If you've ever wondered why some lip balm has SPF in it, it's because sunburnt lips are the absolute worst. Slather that stuff on multiple times a day — you'll thank me later. I am boderline obsessed with Supergoop AcaiFusion Lip Balm, which feels nice, has a high SPF (most lip balms have 15), and makes your mouth look just glossy enough.
Eargasm High Fidelity Earplugs, $29, Amazon
Maybe I've watched Spring Breakers one too many times, but spring break seems like exactly the kind of place you need earplugs if you want to get any significant sleep. Cancun in general can be noisy, especially if you're in a "party" hotel. Bring along earplugs to rest. These Eargasm High Fidelity Earplugs are made with loud music in mind.
Invisibobble Hair Ties, $7, Amazon
I think we've already established that Cancun is hot. It's hot, it's humid, and it's sticky. No matter what kind of hair you have, it's going to get in the way. You'll want to keep it up, off your neck, most of the time, so make sure you stock up on hair ties. I personally love Invisibobble hair ties, which hold better than anything I've ever tried without ever tangling my hair. And they look cute on your wrist, so there's that too.
Sun Bum Cool Down Hydrating Lotion, $12, Amazon
No matter how much sunscreen you apply or how high the SPF is, spending a day outside in the sun is going to leave your skin feeling warm and maybe a little irritated. A cooling lotion like this SunBum Cool Down Hydrating Lotion is highly recommended, especially in tropical temperatures. This one is my favorite because it smells amazing and makes you feel so good.
Advil Liqui-Gels, $14, Amazon
I mean, does this really need to be said? Probably. You're going to need to bring your pain reliever of choice. Whether you're hungover, not feeling well, or you have a sun headache, you will not regret this. This pack of Advil Liqui-Gels is less than $15, and will get you through the trip.
Tums Smoothies, $4, Walmart
Like I said, authentic Mexican food can do some interesting things to your delicate American stomach. Bring along Tums or a similar antacid for the pain. You'll also want to bring Immodium just in case you accidentally drink some of that water you're supposed to be avoiding (remember: ice cubes too!).
16. Hand Sanitizer Or Wipes
Simple Pleasures Citrus Mint Hand Sanitizer, $2, Beauty Shop
I'm a germaphobe who can't travel without hefty amounts of hand sanitizer or cleaning wipes. You'll definitely want them for the airport and plane, to wipe down your seat and armrests and all that. You'll want wipes for the hotel room, too, to clean off the remote and such. And hand sanitizer is just good to carry around all over! This might sound weird to say, but this Simple Pleasures Citrus Mint is my absolute favorite hand sanitizer. It doesn't seem like straight up alcohol or like your grandma's house. It smells great and doesn't dry out your skin.
Macadamia Professionals Anti-Humidity Finishing Spray, $20, Birchbox
Like I said, the humid Cancun weather is going to wreck havoc on your hair — and the sun, salt water, and chlorine aren't going to help either. Even if you plan on letting your hair dry naturally and embracing the texture, you'll want to bring anti-frizz serum. I don't bring many hair products to tropical locales — I have naturally wavy hair and it's just not worth it — but I do make sure to have an anti-frizz spray on me at all times. Macadamia Professionals makes this awesome Anti-Humidity Finishing Spray that works wonders.
Reef Sandy Classic Sandals, $30, Reef
You already know you'll need flip flops for the beach/pool and wedges or something cute for going out, but what about the rest of the day? You need something comfortable, especially if you're exploring, and most sandals are not that comfortable. I suggest Reef Sandy Classics, which, while pricey, are also very comfy and last a long time.
19. Motion Sickness Reliever
Non-Drowsy Dramamine, $5, Amazon
Bring this along, even if you think you don't need it. I know too many people who go on little boat rides or sunset cruises in places like Cancun, and don't have motion sickness reliever with them and regret it. A lot of people assume that because the Caribbean is calm by the beach, boat rides are easier — not true. This can also be good for the plane and taxi rides throughout the trip. Get Dramamine in this non-drowsy formula in case you need to take it in the middle of the day.
20. A Portable Phone Charger
Gearonic Ultra Thin Portable External Battery, $12, Amazon
One of my worst nightmares is being stranded on vacation with a dead phone and no charger. That sounds dramatic, but I'm not really kidding. I've personally found that my phone dies faster in other countries, probably because it's searching for service or because I'm using it for photos so often. I love this portable charger because it's small enough to fit in any bag and it works. It's a lifesaver.
Images: Gerard Puigmal/Moment/Getty Images; Giphy.com