These Celebs Love 'Gilmore Girls', Too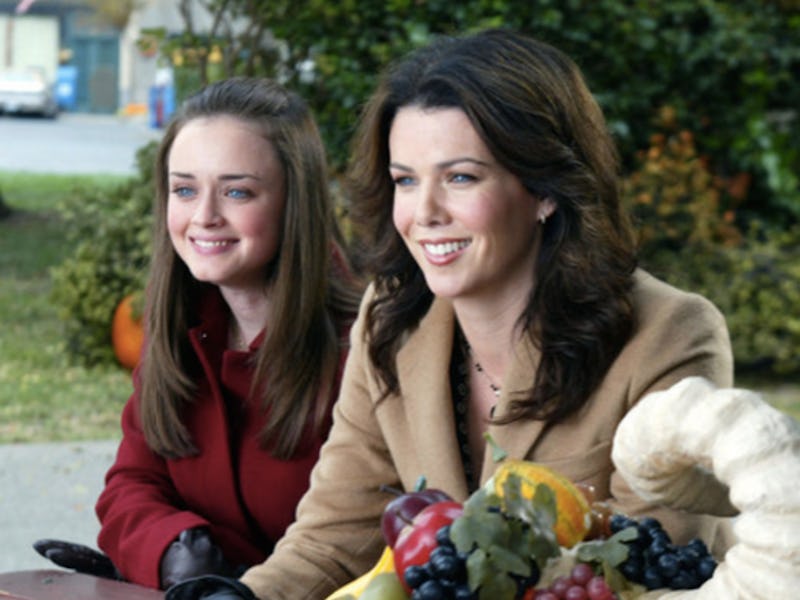 What a time to be alive right now — and to be a Gilmore Girls fan. Most of the show's beloved gang is back on set, filming the upcoming revival series for Netflix, and I, for one, could not be more excited. And clearly, I'm not alone — in addition to all of you, there are a bunch of celebs who are huge Gilmore Girls fans, too, from Parks and Rec star Retta to comedian and writer Mara Wilson. It's no wonder everyone's been showing their Stars Hollow pride lately; tthe dramedy series, created by Amy Sherman-Palladino, ran from 2000 until 2007, but the antics of Lorelai (Lauren Graham) and Rory Gilmore (Alexis Bledel) have been given new life since the announcement of the revival, with a whole lot of renewed interest.
Young mom Lorelai and teen daughter Rory's loves and adventures in Stars Hollow, Conn. — and later on, Yale University — are captivating a whole new audience these days, especially since the show is now available to watch on Netflix. Even celebs are apparently spending their time marathoning the show and trying to figure out which guy Rory is best with, whether that be bad boy Jess, filthy rich Logan, or sweet townie Dean. Perhaps that question will finally be answered when the Gilmore Girls revival premieres, which will take the form of four 90-minute episodes set over the course of four seasons (get it?). Here's hoping that it's the final season that Gilmore Girls fans — famous and not — have wanted all along.
Want to know which celebs are loving Gilmore Girls right along with you? Check them out below.
1. Sutton Foster
The Younger star (who also led Palladino's short-lived Bunheads) is set to appear in the Gilmore Girls revival. But she told People that she was a Gilmore Girls "superfan" even before this opportunity. "This is where my brain explodes: I go from supernerdy superfan to on-set talking to Lorelai Gilmore," Foster said. "It was my favorite show of all time. I was totally obsessed with it."
2. Retta
The Parks and Recreation star and comedian is famous for hilariously live-tweeting her TV watches, and she did the same with her marathon of Gilmore Girls. I think it's safe to say from the tweets above that Retta is a Luke and Lorelai fan.
3. Mara Wilson
The Matlida star is all grown-up now, and her love for Gilmore Girls is in full force. Her tweets above are evidence of the following: 1. She's not a big supporter of Jess for Rory, and 2. She's a superfanof the show.
4. Doug Benson
Last November, the comedian made a special appearance at the podcast Gilmore Guys' live taping in Los Angeles. In the video above, Benson admits that he's a Gilmore Girls fan "through and through," revealing that he became a fan when he was working at the then-WB network writing promos for the comedy shows — including occasional spots for Gilmore Girls.
"I would get every episode ahead of time and I would watch it in my office under the guise that I'm working," Benson told the audience. "In the case of Buffy [The Vampire Slayer] and Gilmore Girls, I wanted to watch every episode before they aired."
5. Jessica St. Clair
The Playing House star appeared on the Gilmore Guys podcast's live show last year (above). She told the audience that she started watching the series on the recommendation of comedian Jason Mantzoukas. "I needed to escape my reality and I found Gilmore Girls," St. Clair said. "I just devoured it and loved everything about it. This is my dream to talk about it."
6. Aubrey Peeples
The Jem and the Holograms and Nashville star tweeted the above to actor Scout Compton about the show. Just a natural superfan reaction.
7. Kate Nash
This singer has the best idea for weekend plans right here.
8. Lauren Collins
The former Degrassi actor decided to marathon the series on Netflix last fall.
9. Tasie Lawrence
The House of Annubis actor tweeted her excitement about the Netflix revival.
10. Charity Vance
The American Idol finalist tweeted that she owes her need for caffeine to Rory and Lorelai.
11. Robert Buckley
A fan asked the iZombie actor if he'd do a crossover episode. His choice: Gilmore Girls. Of course!
Isn't it nice to know that when it comes to loving Gilmore Girls, you're not alone?
Image: Warner Bros.