This Could Be The Best 'Gilmore Girls' News Yet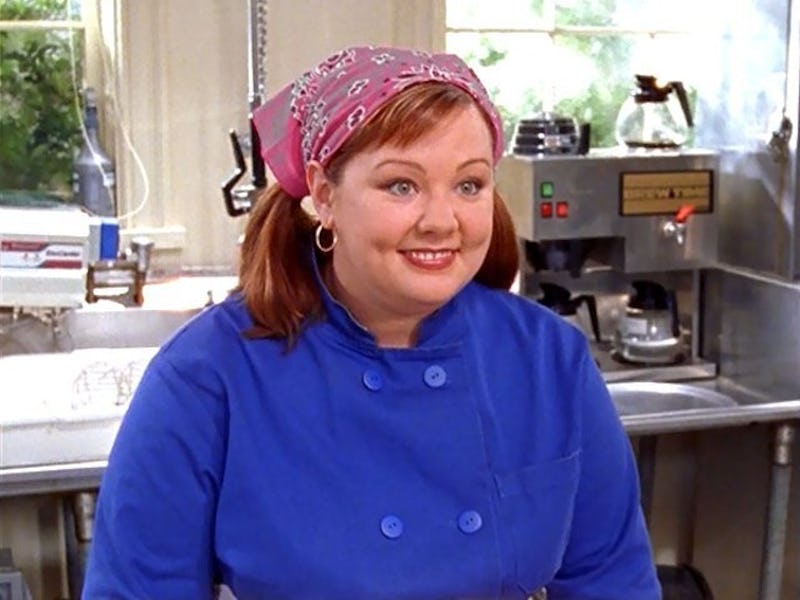 Michel still has the best gossip, guys: Yanic Truesdale posted an Instagram photo of himself having dinner with — wait for it — Melissa McCarthy. That's right: Michel and Sookie reunited, and oh, does it ever make my heart happy. Of course, now the question is does this mean McCarthy will return for the Gilmore Girls revival after all? If it does, then everyone will have to start believing in unicorns because wishes really do come true.
When news of the revival was first confirmed, it wasn't entirely clear what was meant to happen with Sookie's character. Series creator Amy Sherman-Palladino said she would write Sookie a scene if McCarthy had an afternoon free to come back to reprise her role as lovable chef Sookie, while McCarthy said on Twitter she never got the invite and wished the cast the best of luck. Many hearts broke that day, but now it seems like hope may still be alive.
OK, so the possibility exists that Truesdale and McCarthy just decided to have a catch up dinner together and then posted the glorious picture for the world to see. However, the timing is more than a little suspicious. Filming for the Gilmore Girls revival is in full swing, and it has been confirmed that Sookie's husband Jackson is returning. While McCarthy is a very busy women these days — you might of heard of this little movie she's starring in called Ghostbusters — she has a continued presence on TV, clearly still loves her former cast mate Truesdale, and has an open invitation to be as big or small a part of the revival as she wants from Sherman-Palladino. Could she really say no to a return visit to Stars Hollow?
Truesdale and McCarthy don't appear to be on set in the picture, so they could just be grabbing dinner together. If that's the case, then at least fans get to see "Michel" and "Sookie" again. I prefer to dream big though — the revival just won't be the same without Sookie. Her husband, kids, and house are all waiting for her in Stars Hollow, the only thing missing is McCarthy confirming a cameo. The world needs more Sookie in it — here's hoping this means McCarthy agrees.
Image: Warner Bros. Television