Urban Decay's Anniversary Palettes Are Here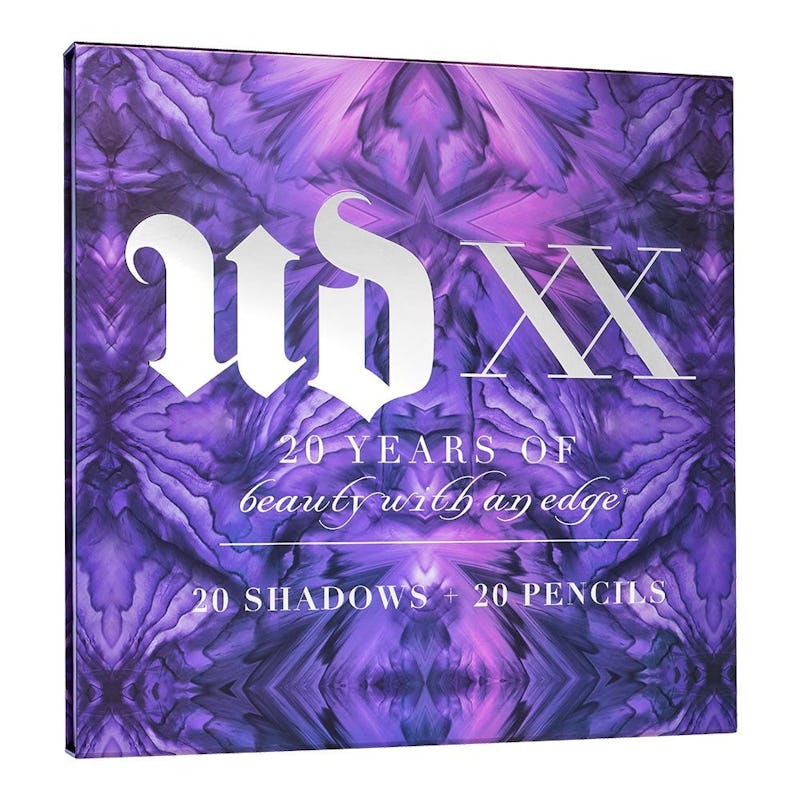 Happy Birthday to a brand that has spent the past two decades redefining beauty and making makeup fun again. Urban Decay is celebrating 20 years of beauty with an edge with a series of limited edition products under the "UD XX" banner. The first two products being released are palettes, because duh! At this point in its history, mega palettes are Urban Decay's calling card. Their Naked, Vice, and holiday palettes, among others, are released throughout the year and the only world I can think of to properly describe them is "blockbuster." The anniversary palettes are "UD XX 20 Years of Beauty With an Edge" and "UD XX Vice Ltd Reloaded" and they are eye-focused. Each palette contains tons of products, hues, and finishes, so you can create a new look every time you use them. These two anniversary palettes will blow your damn mind. So where can you shop them?
Well, you have a few purchase options.
You can get both of the UD XX palettes online at the Urban Decay site or at the standalone store in Newport Beach, California. I highly recommend pointing and clicking right away, since these palettes are "ultra limited edition" and "must own" for Urban Decay devotees. They are bound to sell out on the quick.
Currently, the UD XX 20 Years of Beauty With an Edge eye palette is only available via Urban Decay properties. That could change, though, based on the brand's wording in the promo email it sent out. The UD XX Vice palette is available via UD and it's also available at Ulta.
The "20 Years of Beauty With an Edge" set boasts 20 eye shadows and as well as 20 of the 24/7 Glide-On Eye pencils. The colors span the brand's entire history. Many are vintage and not currently available on their own. Some are brand new.
This palette has a $375 price tag, which may seem steep at first. But if you bought all of the products separately, the receipt total would be twice as much. Plus, there are vintage and cult favorites from the early days making a return, like Covet, Lucky, and Deviant.
Here's what's inside.
Eye Shadow: Oil Slick, Roadstripe, ABC Gum, Shattered, Grifter, Gunmetal, Polyester Bride, Baked, Mildew, Asphyxia, Mushroom, Midnight Cowboy, Smog, Lounge, Flash, Vapor, YDK, Roach, UV-B and Last Call.
24/7 Glide-On Eye Pencil: Zero, Oil Slick, Gunmetal, Mushroom, Whiskey, Roach, Smog, Lucky, Midnight Cowboy, Underground, Stash, Mildew, Covet, Deep End, UV-B, Deviant, Asphyxia, Ransom, Last Call and Crash.
UD XX Vice Ltd Reloaded includes 20 eye shadows, including exclusives from past palettes and shades from the current run. There are also a few new hues. So it includes merges the past with the present and includes, oh, pretty much everything you need.
It's $58 on the UD site and $56 via Ulta and the set is worth every penny because you can create so many custom looks. Gash and Acid Rain make a return here.
I'll give you some time to process the breadth, depth, scope, and general awesomeness of these palettes.
Happy anniv, Urban Decay. I love that it's your year yet you're giving us the gifts that keep on giving.
Images: Urban Decay (5)