Behind The "Damn Daniel" Meme Hospitalization Hoax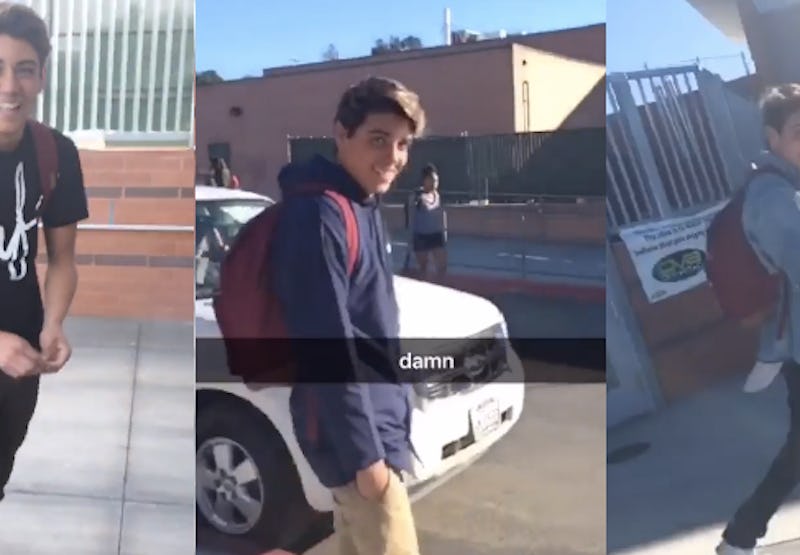 This week, the Internet has enjoyed yet another random viral trend, this time in the form of "damn Daniel" meme which you've probably seen pop up on your dash by now. But with it comes a sinister rumor: Was "Damn Daniel" hospitalized after the video went viral? You will be relieved to hear that Daniel Lara, the high schooler who stars in the video, was not beaten by robbers who wanted his iconic white Vans, even though a rumor claiming as such circulated almost as fast as the meme itself.
If you haven't seen this meme yet, then get ye on the social media to see the beauty of Gen Z's latest shenanigans. A California teen started filming his friend Daniel looking cool around school while uttering the now iconic phrase "Damn, Daniel" and moving the camera up and down. He also praises the glory of Daniel's aforementioned white Vans, which I'm sure is about to do the same thing for Vans sales what Beyoncé did for Red Lobster. I may not be a #teen myself anymore, but even I can't resist the hilarity of it, or the other memes that it has spawned. The original video was posted to Twitter on February 16, and has since been retweeted hundreds of thousands of times.
As a result of the meme, a story started trending which claimed that as a result of his new viral fame (and trust me, Lara now has plenty of viral fame), Daniel was beaten up for his shoes.
They even successful got #DamnPrayForDaniel to trend on Twitter. And while beating a kid for his shoes is no laughing matter, I do, unfortunately, have to laugh a little at this. After all, the trending article is from Huzler, a known fake news site. So no, y'all, Daniel Lara was not beaten for his shoes. I imagine he is living his ordinarily extraordinary meme'd-up life somewhere in California, safe from shoe thieves.
In the meantime, we can safely enjoy a few iterations of this meme, now that we can rest assured of its star's health.
I mean, the kid even has a T-SHIRT in his honor. (Why am I not famous enough for this to happen yet?)
("Damn Daniel" Shirt, $28, Look Human.)
And what would a good meme be if the brands didn't chime in?
Looking forward to seeing his bright future as a Vans spokesman unfurl.
Images: Twitter Video