Jillian Michaels' Assistant Nichole Is So Cool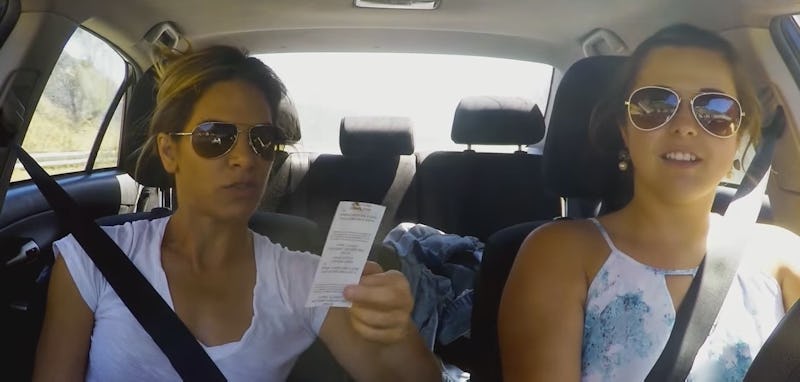 If you've seen Just Jillian, you know that the fitness expert can be tough to work for, but Jillian Michaels' assistant, Nichole, handles even the most stressful days with ease. But, since we haven't seen that much of her on Just Jillian so far, who is Nichole Pellant? So far, she has shown herself to be a reliable assistant, but she is surprisingly laid back when it comes to the celebrity trainer's jokes and teasing — and her many intense opinions. That's one of the many things that makes her a good fit as a personal assistant to Jillian, who can be so intense sometimes that it takes all of her family and friends to get her to relax. And, sometimes even a mistake from Nichole, like when she accidentally booked the wrong hotel room for Jillian and her family, can make Jillian channel her own "don't sweat the small stuff" attitude.
Like the Just Jillian scene where Jillian made fun of Nichole for her dirty car — clearly these two love laughing together, since almost every scene between the two of them features some kind of joke or prank between the two. Jillian is not the type to have a car that's filled with random trash and books about teaching cats how to speak foreign languages, so it's no surprise that she'd be rolling her eyes at Nichole's messiness. But, rather than be fazed, Nichole just laughed off the car critique. But, Nichole actually had a reason to appreciate the constructive criticism about her mode of transportation. Later on that Just Jillian episode, Michaels surprised Nichole with a new car as well, saying that she never wanted to drive in the messy old car again. Score! But, even when she's not working with Jillian, Nichole has some cool experiences.
She's Not The Only Assistant To Get A New Car
It must be something of a habit for Jillian to give her assistants a new set of wheels — she bought another longtime assistant, Ines, a car for Christmas in 2014, according to Us Weekly.
She Saw Hamilton
Something that everyone wants to do, yet almost no one can accomplish.
She Almost Got Chomped By An Alligator
And, she somehow managed to multitask by taking a phone call at the same time — that's a brilliant assistant.
She Hung Out At Disney
According to her caption, she was there for work — best day at the office indeed.
She Received A Sweet Gesture
Whether the flowers were from a BF or just a friend, it's an IG-ready arrangement.
She Has Great Taste In Drinks
She has a love for all kinds of energy-giving beverages, from a poolside Bloody Mary to an extra-large cup of iced coffee, also known as the breakfast of champions.
She Learned From Her Mistakes
While she still may have PTSD from a bad day at work, it seems like Nichole has what it takes to remain Jillian's longtime assistant — the ability to know when she messed up and the drive to keep trying. That's what Just Jillian is all about, so I'm looking forward to seeing more of Nichole as the show moves forward.
Image: E! Entertainment