King Shark Returns For A Rematch On 'The Flash'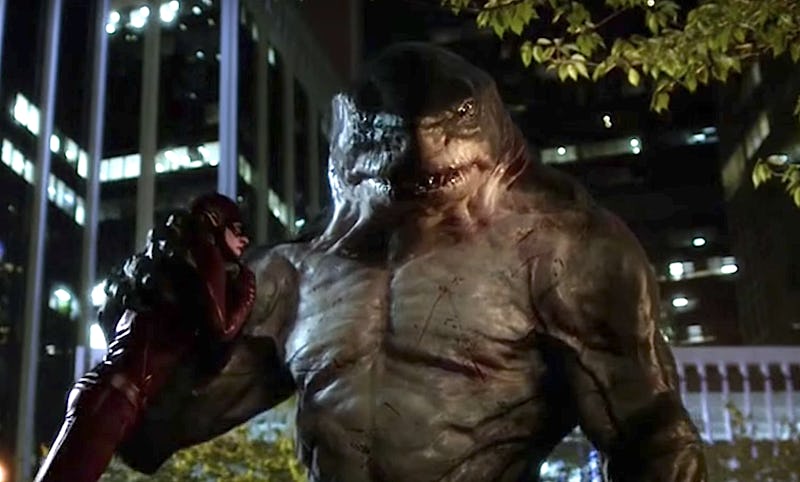 Now that we're into Season 2 of The Flash, the S.T.A.R. Labs team has dealt with their fair share of metahumans, some even arriving in Central City from the alternate universe of Earth-2. One of the more outlandish metas that The Flash faced in both Season 1 and Season 2 was Gorilla Grodd — outlandish because he was more super-intelligent gorilla than anything else. Now, The Flash will face a different non-human meta. So, who is King Shark on The Flash and how will this villain's comic history come into play on the show?
First off, in the DC Comics King Shark isn't technically a metahuman — that is to say, he isn't a human that was transformed into the half-human, half-shark villain — but the son of The King of all Sharks, also known as the Shark God. However, according to government officials in the comic books, King Shark is simply the result of a "savage mutation" in a genetic experiment gone wrong. Throughout his history, King Shark has terrorized human law enforcement agencies as well as superheroes, including Superboy and Aquaman. Plus, he's served on the villain-turned-anti-hero team Suicide Squad under Amanda Waller of A.R.G.U.S. and as part of the Secret Society of Super-Villains.
Now that we've completed the crash course in King Shark's comic history, let's talk about his appearance on The Flash. This villain first appeared in Episode 4 of the second season as one of the metahumans sent from Earth-2 by Zoom. King Shark briefly captured The Flash only to be hit with an energy gun wielded by Earth-2 Harrison Wells. Now, according to the episode synopsis for "King Shark" his return to Central City will welcome some allies from Arrow:
ARROW'S DIGGLE (DAVID RAMSEY) AND LILA (AUDREY MARIE ANDERSON) CROSS OVER TO THE FLASH TO TAKE ON KING SHARK – When King Shark escapes from an A.R.G.U.S. holding tank, Lila (guest star Audrey Marie Anderson) and Diggle (David Ramsey) travel to Central City to warn The Flash (Grant Gustin). King Shark shows up at the West house and attacks Joe (Jesse L. Martin), Iris (Candice Patton), Wally (Keiynan Lonsdale) and Barry.
So, although I don't know much about how similar King Shark will be to his comic book counterpart, I do know The Flash's version will have ties to Amanda Waller and A.R.G.U.S.
Even though King Shark is the big bad of the episode — it's even named for him! — he barely appears in the above trailer. Despite the lack of information about King Shark's role as the villain (like his motivations for attacking Joe, Iris, Wally, and Barry) or how The Flash uses his super-speed to capture the metahuman, there is one guaranteed aspect of this episode I am looking forward to: Jaws jokes. With a shark-like villain on the loose, you can bet Cisco will be there with references to the Jaws soundtrack and quotes from the classic film. Plus, it's a missed opportunity if not a single character hums the famous Jaws theme!
Images: The CW (screenshot); Bettina Strauss/The CW